Current Issue
Challenge Presents Opportunity

Europe's domination in the Atlantic Challenge Cup should spark a sense of urgency to better develop youth players in U.S.

By Mike Panozzo
Photos by JP Parmentier
In just two years, the Atlantic Challenge Cup (a cooperative event produced by the Billiard Congress of America and the European Pocket Billiard Federation, featuring junior players) has earned its own identity as a premier international pool tournament. Still, after Team Europe's 11-3 stomping of Team USA at the Schaumburg Convention Center in suburban Chicago in mid-July, it is difficult to avoid comparisons to the Mosconi Cup that the junior transatlantic match-up is patterned after.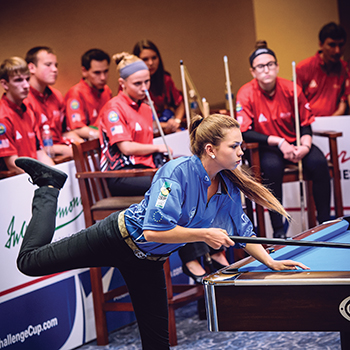 Europe's Khodjaeva gave her U.S. counterparts an eyeful.

In the 2012 Mosconi Cup in London, the underdog U.S. squad showed amazing resolve in overcoming a steep deficit to tie the contest at 9-9, before losing the final two matches. The following year in Las Vegas, the Americans vowed to ride their home field advantage to victory, only to have a talented and focused European squad hammer them in an 11-2 drubbing.

Fast-forward to 2015, when the first ACC was played in Austria. The nervous youngsters from the U.S. were intimidated and unsure from the start, and Europe forged an 8-3 lead. On the final day, Team USA mounted a dramatic comeback that had the favored Euros on their heels. In the end, the European team held off the Americans' charge to claim the title.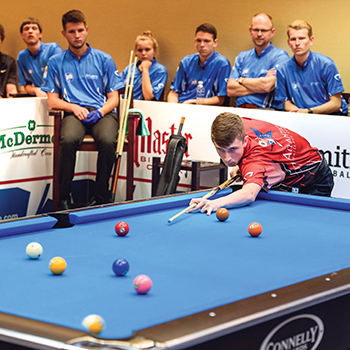 15-year-old Evans offered hope for the future.

Again, the scene shifted to the U.S. in 2016. The young Americans' hopes were buoyed by a partisan crowd and the support of some of the game's top professionals. Instead, the confident and experienced European team capitalized on virtually every American miscue and rolled to victory. The lesson learned in each instance is shockingly similar: Today's American players simply lack the coaching structure and tournament experience to compete with the top European players. The gap isn't insurmountable, but it is significant.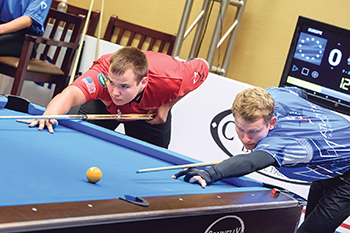 Wolford and Madsen took aim for their respective squads.

Junior Team USA certainly fielded a solid squad in 2016, headlined by four-time (soon to become five-time) Billiard Education Foundation (BEF) Junior National Champion April Larson of Minnesota and 2015 Junior National Champion (and Mezz West State Tour regular) Chris Robinson. The team (four boys and two girls) was rounded out by 15-year-old Ricky Evans, who captured the BEF Junior Nationals 14-under crown in 2014, 2015 American Poolplayers Association Junior National Champion Serena Black, multiple Super Billiards Expo junior champion Shane Wolford and four-time American Cue Sports junior champion Ryan Ponton. Talented though they may have been, the U.S. squad was still a group of high school students (save for Ponton, who attends Illinois State University) who primarily play in bar-table 8-ball leagues.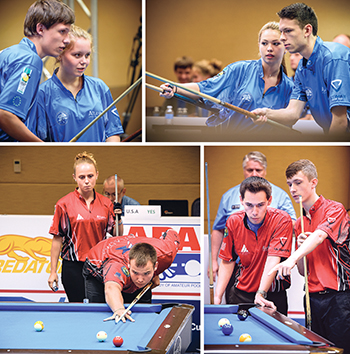 Team play afforded players the opportunity to communicate tableside. Clockwise from top, left: Dudanets and Tkach; Cwikla and Khodjeava; Black and Wolford; Robinson and Evans.

To counter, the Euros unleashed a squad of disciplined, tournament-tested players who defied their youth. Surprisingly, five of the six players on Team Europe were from Eastern Europe, which is becoming a hotbed of great, young talent. Incredibly, the team featured a pair of teens who have snagged titles in major adult European events in 2016. Seventeen-year-old Kristina Tkach of Moscow earned her first Euro Tour women's title by winning the North Cyprus Open in June. Tkach, who is coached by her father and claims to practice six hours a day, earned her spot on Team Europe for the second consecutive year by scoring a pair of gold medals and a bronze at the 2015 European Youth Championships.

Even more impressive, 18-year-old Vitaly Patsura of the Ukraine captured the men's division European 8-Ball Championship in April. In a 121-player field that featured all of Europe's heavyweights, Patsura shot his way to victory, topping former World 9-Ball Champion Niels Feijen and Team Europe Mosconi Cup captain Marcus Chamat along the way.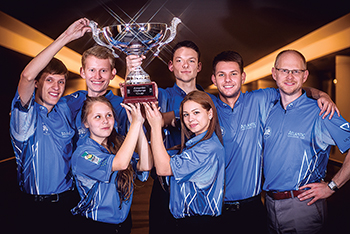 Team Europe

Also returning for a second ACC birth was Russia's Maxim Dudanets, two-time European Youth Championships gold medalist and runner-up in the 2015 Junior World Championships. Dudanets was also part of a six-player Russian contingent (all under the tutelage of former Team Europe Mosconi Cup captain Johan Ruijsink) that left players and fans at the 2016 Derby City Classic duly impressed.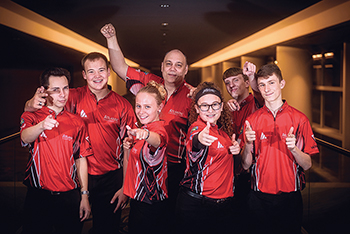 Team USA

The European firepower continued with Diana Khodjaeva, 17, who stockpiled six medals at the European Championships, including a gold in the Youth Championships and three bronze medals in the women's division. European Youth 9-Ball Champion Krystian Cwikla, 17, and Denmark's Andreas Madsen, who secured a spot by being the highest-ranked junior on the Euro Tour, rounded out the impressive squad.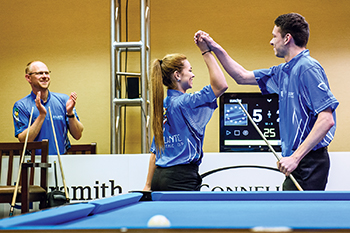 Cwikla and Khodjaeva finished the job for Team Europe, to Brikmanis' (far left) delight.

"I have a very easy job," confessed Team Europe captain Tomas Brikmanis, a longtime EPBF instructor and national team coach in Lithuania. "All the players have their own coaches. They are very mature in the game. My role was not to teach. My role was more as a mentor, making them relaxed and feeling good. I wanted just to plot the strategy, maintain some structure and get them to spend time together."

The approach on the U.S. side was noticeably different. No fewer than six "coaches" (captain Earl Munson, trick shot champion Tom Rossman and BCA Hall of Famers Jeanette Lee, Allison Fisher, Johnny Archer and Nick Varner) hovered over America's impressionable youngsters. Theoretically, a four-day spring camp hosted by Lee's Black Widow Foundation should have prepared Team USA for battle. But during the ACC main event in Schaumburg, the players were bombarded with instruction, tips, encouragement and playing strategies. The helicopter approach may well have led to more angst than assistance. "It was all a little overwhelming," said Robinson, who scored one of Team USA's wins in a singles match. "Lots of different pointers from lots of different people. The coaches were great. They're all legends. But the camp is the time to learn. Match time is time to play." "Everyone needs to be on the same page," added Larson. "There were a lot of different perspectives. I'm grateful to everyone, but sometimes it was a little overwhelming."

Still, Team USA got off to an encouraging start, winning the six-on-six event-opening team match, 6-5. The tide quickly changed in trios matches, however, with Patsura, Dudanets and Tkach topping Robinson, Evans and Larson, 6-4, and Madsen, Cwikla and Khodjaeva stopping Wolford, Ponton and Black to give the Euros a 2-1 at the close of the opening night.

The Euros quickly extended their lead to 4-2 in doubles play on Day Two when the duo of Dudanets/Madsen bested Robinson/Evans, 6-2, and Tkach/Khodjaeva bounced Black/Larson by the same score. Robinson temporarily stopped the bleeding with an impressive 6-3 win over Cwikla, pulling the U.S. to within 4-2. But the Europeans quickly shuttered any U.S. hopes of a comeback by rolling to back-to-back singles wins, with Patsura dominating Wolford, 6-3, and Khodjaeva beating an error-prone Larson, 6-1. With a commanding 6-2 advantage, Team Europe entered the third day determined to close out the match, which would afford the teens an extra day of shopping in the U.S. With thoughts of new American blue jeans dancing in their heads, Team Europe stormed to an insurmountable, 9-2, lead. A pair of mixed doubles wins (Tkach/Patsura over Larson/Robinson, 6-4, and Khodjaeva/Madsen over Black/Wolford, 6-1) and Dudanets' 6-5 win over Evans had the favored Euros on cruise control. Ponton earned the U.S. its third and final point with an impressive 6-4 win over Madsen, but Team Europe secured the title with back-to-back doubles wins. Tkach and Dudanets topped Larson and Evans, setting up Khodjaeva and Cwikla for the clincher. The Euros cruised to the win over Black and Ponton, with Cwikla depositing the case 9 ball.

Not surprisingly, the U.S. players expressed disappointment with the result, but gratitude for the experience and optimism for the future. "Because of last year's result," said Larson, "I thought we would do better. Overall, I think we need to work on confidence. Not just showing confidence, but never doubting. I think we had doubt. The European players seem to have more focus and dedication. That's really important." The poise and confidence of the Europeans were undeniable. According to Brikmanis, those traits were all that separated the two sides. "These kids play against the pros a lot on the Euro Tour and at the European Championships," he pointed out. "The American players just lack that kind of experience. There is lots of talent on the U.S. team. The technique and fundamentals are there. It's just a matter of experience." Even the European players noted that experience against top-level talent was the difference.

"Experience is the key," said Patsura, tabbed Team Europe's MVP. "For many of us, pool is all we do, so we practice a lot. But after that it is all mental." "We just have more experience because we play against the pros," Tkach concurred.

"To me," countered Ponton, "the difference was discipline. The European players are very methodical and careful." "We're learning what we need to do to catch up," said Munson. "For starters, we recruited younger this year. We looked to the future. But the nature of the junior program in the U.S. also means we draw a lot from bar box players. It's a different game, so we need to develop a solid curriculum and training program." The process going forward, said Munson, will be based on what has been learned in the past two years. "The training camp is great," he said. "But we have to work more on the mental process. We need to work on handling pressure. Also, this year there was too much coaching. It seemed like a good idea, but it only confused the kids." For all of the players, however, the experience of participating in an international team competition was unique and memorable. "This is a different animal," said Robinson, no stranger to high-level tournament pressure. "The pressure was huge and different from most tournaments." "The first day, I wasn't ready," admitted Ponton, named MVP for Team USA. "It was a shock. I adjusted as the tournament progressed. I realized it was my last shot at a junior event, so I was going to go out strong.

"But the experience was incredible. We bonded so well as a group. You can't reproduce an experience like this." "It is very different than an individual tournament," said Madsen. "There is much more pressure because you are playing for a team. In a singles tournament, you only win or lose for yourself."

"It was a very nice event," added Dudanets. "The atmosphere was really good, and it helped us focus. And I enjoyed hanging out with friends. It was much more fun than most tournaments."

"This year was more fun," said Tkach. "I was impressed by the organization. They made us all feel very professional." "This is a special event," concluded Patsura. "All junior players should try to play in this event."
MORE VIDEO...