Current Issue




BATTLE-TESTED

Kelly Fisher's road to the BCA Hall of Fame has been fraught with tests and challenges, both on and off the table.

By Mike Panozzo

It's been a long, arduous journey from martial arts and snooker championships to the Billiard Congress of America Hall of Fame for Kelly Fisher. A journey that has taken Fisher from the United Kingdom to the United States and back again — with no shortage of frequent flyer miles to Asia thrown in for good measure. A journey whose physical and mental challenges would have driven most players to toss their cue into the ocean on one of those transatlantic trips.

But Kelly Fisher isn't "most players."

"I started martial arts when I was seven," said Fisher, who earned a black belt in kung fu at 15. "It bred in me a definite discipline, focus and determination."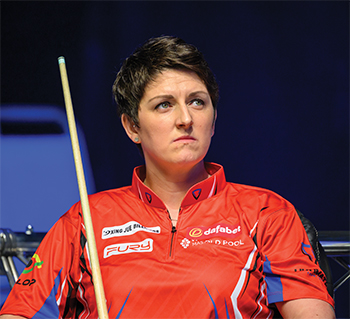 Photo By JP Parmentier



Those traits comprise the starting blocks for Fisher's charge through every challenge placed before her, competitively and otherwise. Even her playing style, an aggressive, take-no-prisoners approach at the table, is in lock step with her mantra.

Fisher's journey in cue sports started early, playing on a toy table at age three at her home in the West Yorkshire town of Pontefract. By seven, she had graduated to a six-foot coin table, which Fisher's parents installed in her playroom. Before she was 10, Fisher was dominating all comers playing English 8-ball in a local pub.

At 13, Fisher took on the challenges of the big table, switching her focus to snooker under the tutelage of a local coach, Lionel Payne. When Payne told her that her determination and natural ability were champion-caliber, Fisher became a relentless pursuer of perfection.

"I wanted to be a champion right away at 13," Fisher recalled. She quit school and kung fu to concentrate on women's snooker, which, at that time, was peaking in popularity and dominated by Allison Fisher.

"Allison was my role model," Kelly said of Allison.

Following Allison Fisher's departure to the U.S. in 1995, Karen Corr ascended to the top of women's professional snooker. It was defending champion Corr that 20-year-old Kelly Fisher beat in 1998 to win her first world snooker crown. Shortly thereafter, Corr followed Allison Fisher's lead by leaving snooker behind for the more lucrative Women's Professional Billiard Association Classic Tour.

Kelly Fisher then went on a six-year tear, claiming six world titles. She won the coveted World Professional Billiard and Snooker Association title at London's famed Crucible Theatre five times and claimed a sixth title in China. Following Fisher's last title in 2003, the WPBSA shut down funding of the women's snooker tour.

Confused and disillusioned, Fisher briefly took a job in a seatbelt factory. Soon thereafter, Fisher packed up all her worldly possessions and set sail for the U.S. After all, both Allison Fisher and Corr were already dominating their American foes and earning decent livings.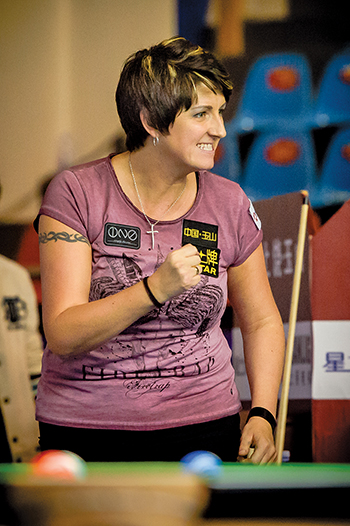 Fisher fought through dry spells and medical challenges to win three world titles in nine years.



"When Allison and Karen came here," Fisher recalled, "there were no other snooker players and they dominated right away."

But while the polished Allison Fisher dominated with a flawless technical game and the introverted Corr zeroed in with laser focus, Kelly Fisher attacked the WPBA Tour with an aggressive game that kept her opponents off-guard and under constant pressure.

"Right from the start, Kelly's game was explosive and punishing," remembered Hall of Famer Ewa Laurance. "And she has the heart and mental strength to go with it."

"She's a fantastic shot-maker," echoed Allison Fisher. Kelly Fisher made her mark early, winning the WPBA Amateur National Championship to earn her Classic Tour card. A year after her arrival, she manhandled Gerda Hofstatter, 7-3, in the ESPN-televised final of the WPBA West Coast Classic in Alpine, Calif., to claim her first pro 9-ball title.

The Kelly Fisher Era had begun.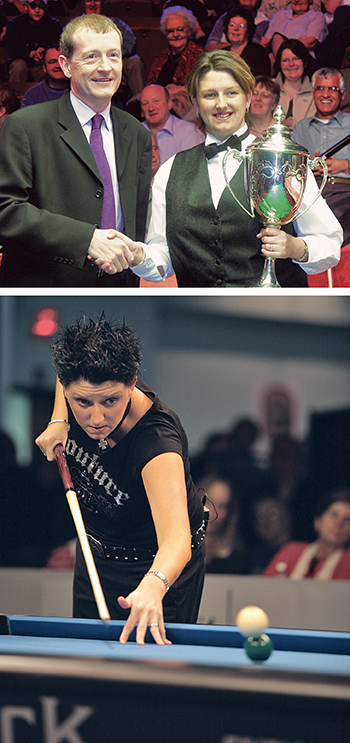 Fisher (above, with snooker legend Steve Davis) made the jump to 9-ball, bringing a different look with her.



Over the next three years, Fisher gobbled up six more Classic Tour titles and the WPBA U.S. Open Championship. In addition to rising to the WPBA's No. 1 ranking in 2008, Fisher earned the Billiards Digest Player of the Year, becoming only the second woman other than Allison Fisher in 13 years to claim the honor. (Karen Corr was BD Player of the Year in 2001.)

Fisher suffered through several mediocre years, winning just the WPBA U.S. Open for a second time but grabbing a pair of International Tournament of Champions four-player winner-takes-all prizes.

In November 2011, Fisher nabbed the first of her world titles, topping China's Pei-Chen Tsai, 10-4, in the World 10-Ball Championship in Manila.

"It meant a lot to me," Fisher recalled, "because I had some ups and downs the previous two years. It had been a frustrating time."

But while her first world title was rewarding, Fisher had an even bigger fish to fry.

"I wanted to win the World 9-Ball Championship," she admitted. "I was very happy to win the World 10-Ball, but 9-ball is what I came to the U.S. to play."

Just seven months later Fisher was back in Asia, playing in the final of the WPA Women's World 9-Ball Championship in Shenyang, China. She trailed China's Xiaofang Fu, 5-2, when Fu fouled by touching a ball with her hand. Fisher rolled to victory from there, although her shining moment came and went without the customary thrill of victory.




A year after her arrival, Fisher won the WPBA West Coast Classic title in 2005.Photo By Carla Bonner

"I thought the final was a race to 11," said Fisher, after making the score 9-6 and pulling the balls back onto the table for the next rack. "I didn't know I'd won. All of a sudden, Fu is standing there to shake my hand. I had a bit of a delayed celebration."

Fisher, who also won the brutally competitive China Open in 2012, was quickly becoming a regular visitor and fan favorite in Asia. She enjoyed the culture and thrived on competing against the glut of talent coming out of Asia.

"We hadn't seen most of these players until we started coming over to China," Fisher said. "There are so many great players, it's really difficult to dominate."

With tournaments and opportunities in Asia growing, Fisher made a critical decision in late 2012. She and longtime partner Val Finnie moved back to the U.K. First and foremost, Fisher wanted to be with her ailing father. But Fisher's decision to stay in the U.K. following her father's death in early 2013 was in large part because of her frequent trips to China. A U.K. address, she rationalized, offered a more manageable journey to events in Asia.

"I came to the U.S. shortly before tournaments for women started their decline," Fisher pointed out.

In the years following the recession of the late 2000s, the WPBA tournament schedule continually receded, shrinking to just two or three events a year.

What might Fisher's body of work have looked like had women's pro pool in the U.S. stayed as robust as it was in the decade preceding her arrival? "It's a shame, really," she admitted. "But, thankfully, Asian tournaments boomed, and I did well over there. And the standard was so high. That made me push my game even more."

As it turned out, the shifting tournament scene was the least of Fisher's worries. In 2014, after having moved from West Yorkshire to Dumfries, Scotland, Fisher was diagnosed with a small hole in her heart. Surgery to repair her heart forced her out of action for six months, but she recovered in time to compete in the 2014 World 9-Ball Championship, finishing 17th. A year later, however, she underwent more surgery, this time a double mastectomy as a preventative measure against early concerns of breast cancer.

Miraculously, Fisher again recovered in short order and was back competing at the table, finishing in the top five at the China World 8-Ball Championship. She managed to win professional titles in 2016, 2017 and 2018.

"I had to change my game a bit," Fisher said, "because both surgeries were on the upper part of my body. It really affected my cuing, but I was determined to get back to my 2013 form."

In 2019, at 41, it all came together once again for Fisher. She posted a runner-up finish at the WPBA Masters and won the WPBA Aramith/Dr. Pool Classic.

Then came the 2019 WPA Women's World 9-Ball Championship in Sanya, China. Fisher played flawlessly throughout the event.

"I worked tirelessly to fix things in my game that needed fixing," she said. "My style of play is predicated on doing things naturally, without thinking. I finally got back to that point in 2019."

In the final in China, Fisher admitted to playing her worst match of the tournament, but she persevered to grind out a 9-7 victory over Austria's Jasmin Ouschan.

"The most gratifying thing is having won the world title again by getting my game back to where it was," Fisher said. "I knew I was still capable, but the quality is so high. And, at 40, you don't know how many more chances you'll get."

Already well liked and respected by her contemporaries, Fisher's return to the top has drawn astonishment and praise from even her top rivals.

"[World No. 1] Siming Chen told me some time ago that if she had to go through something like I had gone through she would have quit pool," Fisher recalled.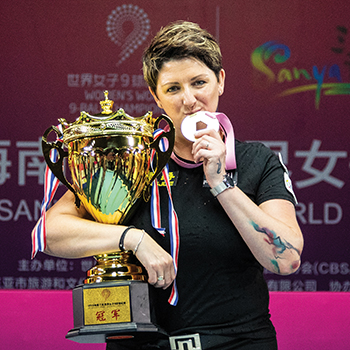 Fisher's 2019 World 9-Ball Championship was worth a kiss.Photo By Alison Chang

"I like Kelly as a competitor and a friend," Chen said recently. "I enjoy playing her because she is very competitive and is aggressive and attacking. It makes the game more enjoyable.

"Also, we are good friends. She's very patient teaching me more about the game.

In fact, if there is one thing that Fisher's contemporaries find even more admirable than her attacking style at the table is the grace and humility with which she both wins and loses, and the way she treats others.

"Kelly is so incredibly focused when she plays that she may look mean," said American star Jennifer Barretta. "But if you get to know her off the table, nothing could be further from the truth.

"One year, we played each other in the World Championship in Taiwan," Barretta continued. "I was playing terribly and, during the mandatory five-minute break, we walked out of the arena together. She put her arm around me and gave me a pep talk. She's not only a great player, but a great ambassador of the game."

In retrospect, Fisher's claiming a third world title in December at 41 was the perfect response to falling just short of BCA Hall of Fame election in her first year of eligibility (losing in 2019 to Canadian Alex Pagulayan in a special run-off vote).

"You don't think about the Hall of Fame while you're competing," Fisher said. "But you dream about being remembered that way as a player. It's hard to explain. It's the ultimate."

As defending world champion, Fisher has no intention of slowing down and vowed to continue to drive herself to become an even better player.

Given her determined charges in the past, it's unlikely her journey is near its finish.