Current Issue
Growing Pains
As World No. 1 Joshua Filler settles into marriage and a calmer demeanor, foes can expect the pain to continue for years to come.

By Keith Paradise

Joshua Filler had just completed his first-round match in July's Predator World 10 ball Championships when he received a request.

The world's top-ranked player was leaving the professional tournament arena in the ballroom of the Rio All-Suites Hotel with his wife, Pia, wading through the adjacent BCA amateur league venue which consisted of 100 pool tables and significantly more players. Suddenly, one of the league players sprang up in front of him. The player explained that his wife is a huge fan and asked if Filler would say hello to her at the nearby table where she was playing.

"Just go up and tap her on the shoulder. You don't have to say anything," the husband assured.

For a person who is awkwardly shy around people he doesn't know, it's not an easy request for Filler. Nevertheless, he sheepishly made his way to the table, approached the woman from behind and tapped her on the shoulder. The young blonde woman spun around, looked up and reacted as if she had just hit on one of the nearby slot machines. She jumped up and hugged Filler, her mouth agape and eyes wide open.

"You're my hero," she gushed, while the semi-embarrassed Filler blushed.

Out of the tournament room and heading down the hallway, Pia couldn't help but be amused by the moment.

"I think she loved Joshua more than her boyfriend," Pia said with a laugh.



Josh and Pia are rarely apart, and celebrate victories as a team. (Photo by Erwin Dionisio)

Filler and American pool fans seem to be warming up to each other, which is a good sign since neither appear to be going anywhere anytime soon. After making a chilly first impression at the Mosconi Cup two years ago, when he screamed and preened during Team Europe's rout in Las Vegas, Filler thawed the ice during his demolition of the 256-player field at the U.S. Open 9-Ball Championships in April at Mandalay Bay. For the most part, Filler controlled his emotions at the table and, with Pia always at his side, cut a more endearing figure away from the action.

Then again, it must be easy to stay relaxed when you have enjoyed a 24-month stretch many professionals would love to accomplish in a career. The young German has earned U.S. Open 9-Ball and World 9-Ball Championship crowns to go along with a Most Valuable Player performance during his rookie appearance in the 2017 Mosconi Cup.

After turning 22 in October, the only aspect of Filler's game more noteworthy than his recent dominance is the age at which he's accomplishing them.

"I can't think of anyone who has achieved what he's achieved at 21 years old," said Billiards Congress of America Hall of Famer Darren Appleton. "He's taking the game to a different level. The bigger the occasion, the better he plays."

Noteworthy, but not exactly surprising. Ask anyone who saw him compete as a teenager in junior events and they'll tell you there was something different about the young man. Whether it be the confidence with which he carried himself or his ability to pocket balls from anywhere, Filler was a tough draw from an early age.

"He was already able to compete with the best German players at the age of 13 or 14," said Jochen Maurer from Touch, Germany's billiard magazine. "He seems to see all angles and he knew how to control the cue ball very early."

Growing up in the village of Kamen, Filler got hooked on pool because he was told he wasn't allowed to play the game. He overheard his older brother talking about going to play billiards with his grandfather when he was around eight years old. The young boy had never heard of the game and was immediately interested, but his parents told him he was too small to be going to a poolroom.

As is usually the case with kids, young Joshua desperately wanted what he was told he couldn't have.

"I started crying and went to my mother and said, 'I really want to go with them and play and look at what it is,'" Filler said.

As is also the case with children in many instances, his parents eventually relented.

Pool suited him perfectly. Filler was never a fan of team sports, including the European pastime of soccer. A perfectionist to the core, Filler couldn't stand the idea of relying on others for his success. He would play the game with his friends and grew frustrated at the idea that he could execute a move flawlessly only to still lose because a teammate failed to execute.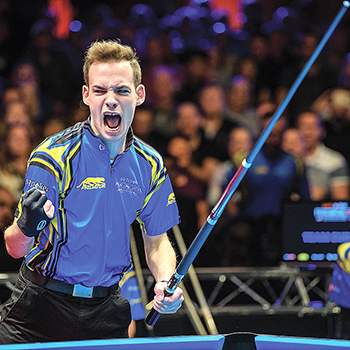 Filler's exhuberant celebrations were turn-offs for many fans. (Photo by JP Parmentier)

As Filler started racking up wins in local tournaments, he immediately started thirsting for stiffer competition. He participated in youth boot camps and eventually began working with a coach, practicing four hours a day after school. With a father who operated a hair salon and mother in sales, time off wasn't available to take their boy competing throughout Europe. So Filler reached out to Andreas Sommer, a German youth billiards mentor who put together a traveling unit of competitors. Sommer would pay for the entry fees as well as transportation costs for Filler and a host of other players — including a rising young female named Pia Blaeser.

"He really was more than a mentor or sponsor, he really was more of a second father to us," Pia recalled.

With its structured training as well as local and national competitions, Germany has a history of producing world championship-caliber players. Countrymen Ralf Souquet, Oliver Ortmann and Thorsten Hohmann have each won a World 9-Ball Championship and earned a combined 28 Mosconi Cup appearances. Even in that environment, Filler stood out. Swedish instructor Tomas Brikmanis said he didn't offer coaching to his players on how to defeat Filler, instead encouraging them to minimize damage. He recalled a straight pool match where his player had a 60-point lead against Filler and left the German an extra difficult shot. He executed the shot perfectly and then ran out the match.

"When he was 16 he was way above everyone else and no one could really stay close to him," Brikmanis said. "If you want to beat him you must be close to a god because if he has a chance, even a small gap, he takes it."

Filler would go on to become one of the most proficient youth players, not just in Germany, but all of Europe — winning 11 German youth championships while taking home the European championship seven times. When fellow competitors discuss his game, the word "fearless" inevitably comes up. Even as a junior player, Filler had a supreme confidence in his abilities that bordered on arrogance. Transitioning from top junior to an aspiring professional can be a difficult adjustment for young players. The competition is stronger, and in many cases, neophyte players can be star struck competing against a Shane Van Boening, Niels Feijen or Souquet.

Filler didn't shy away; instead he welcomed it.

Darren Appleton played a 16-year-old Filler in the semifinals of a straight pool tournament in New York around 2014. Prior to the match starting, Filler asked Appleton for his autograph and to pose for a picture.

"That's the last thing I would do," Appleton said. "I thought he might just be happy to be playing me."

When the two started playing, Filler's demeanor flipped. Using a quick pace in which he practically ran around the table, he pocketed 125 balls out of the gate in a 200-point game. Appleton battled back and won, but the experience left a unique first impression.

"Once the match started, he didn't look at me, he showed me no respect on the table and he had no doubts in his abilities that he could beat me," Appleton said. "He basically isn't afraid to play the top players. He wants to play the top players because he believes he can beat them."

Fellow countrymen Hohmann disagrees with the concept of a player being fearless, instead crediting additional intangibles.

"He's learned how to deal with the fear," he said. "I don't think there's anyone fearless. Then you're talking about a machine, but we're all humans."

While Filler gained a reputation as a sharpshooter with a smooth stroke who could run out from almost anywhere on the table, he also became known for his in-match antics. He was like Dennis Rodman with a cue stick, pumping a fist or letting out a yell during a game, sometimes more than once. He once played Jayson Shaw and celebrated nearly every ball pocketed during the match, letting out a "Yes!" each time.

"It was weird. After I said, 'This kid is not well. Something's up with this kid,'" Shaw said. "And people laughed and said, 'That's how he is.'" Intrigued, Shaw continued watching Filler throughout the tournament and observed the reactions of his fellow competitors.

"I watched him play others and it was pissing them off like crazy," he said. "People like Mika (Immonen), although I think he would do it sometimes to wind Mika up."

"There was a certain point where I felt a little more disrespected," Immonen said. "It wasn't something a touring pro would do."

The Hall of Famer and two-time U.S. Open champion faced the young junior in a Euro Tour event several years ago, building an 8-3 lead. When Immonen gave Filler an opportunity at the table, he made the most of it with his cue and his outbursts, yelling and fist-pumping his way to a comeback 9-8 win.

"When it comes to this, he's very un-German, so to speak," Souquet said. "For whatever reason, that's his personality. But not every German person is the same."



Filler was a child prodigy, playing far above the level of his contemporaries. (Photo courtesy of Touch)

For as much charisma as Filler shows on the table, he's the polar opposite when the cue is packed away. Even as an adolescent, he disliked even minor interaction with strangers, asking his parents to order him a drink at a restaurant instead of doing it himself. Unless he already knows a person, there's little chance he's going to strike up a conversation with someone new. He would rather be hanging out with his wife, his close friends or playing video games. Or maybe making another McDonald's run. Man, does Filler love his McDonald's.

"I thought I was a fussy eater," said Chris Melling, who has roomed and traveled with Filler. "The only thing he eats are McDonald's chicken nuggets or wings. We went out for meals and he literally wouldn't eat anything else."

The young German quickly climbed the ladder on the European professional circuit. In 2014, he won the 9-ball banks and straight pool competition at Holland's Deurne City Classic — the Netherland's version of the Derby City Classic — and placed second at the Austria Open the following year. Three years ago, he won the 10-ball division at Deurne and was a runner-up at the Treviso Open.

His breakthrough came at the 2017 China Open, working his way through Francisco Sanchez-Ruiz, Albin Ouschan and Jung-Lin Chang to become the youngest player ever to win the event. His immediate victory celebration was equal parts jubilation and reality television show: screaming, throwing down his cue and rolling on the ground. After shaking Chang's hand, Filler swept Pia into his arms and then bounced her up and down before sitting down in his chair. The spontaneous reaction, which is viewable online, drew both positive and negative comments on social media.

"When we won the China Open we really became famous in China," said Pia, giggling as she recalled the moment. "We really didn't think about what we were doing there. It was just our real and honest emotions we were feeling in that moment."

The victory, along with top-eight finishes at the U.S. Open 9-Ball Championship and two Euro Tour's events, earned Filler his first ever spot on the European Mosconi Cup squad, pool's version of the Ryder Cup. Captain Marcus Chamat had a well-seasoned roster, with veterans Souquet, Nick van den Berg and David Alcaide providing experience and second-year team member Shaw arguably the hottest player in the game. Since he was the new guy on the block the previous year, Chamat asked Shaw to take him under his wing.

"I was trying to tell him if he's feeling pressure to just let it go," Shaw said. "Let your emotions get rid of the pressure."

Anyone who didn't know about Filler at the start of the event found out soon enough, both for his play and the extra-curriculars. His European teammates found out what they were in store for during the very first match of the event, pitting the entire rosters against each other in a five-on-five race-to-five. Filler came to the table in the third game after Billy Thorpe scratched on the break and began methodically clearing the table. He left the cue ball further away from the game-winning 9 ball than he would have liked, requiring a walk to the team bench to snatch the cue extension. While he was at his seat digging through his case, he delivered a declaration to Alcaide, who was sitting nearby.

"Amigo, don't worry," He said. "It's over."

Two years later, the Spaniard still laughs at the moment.

"Two or three thousand watching, he has a lot of pressure but he loves the pressure," he said.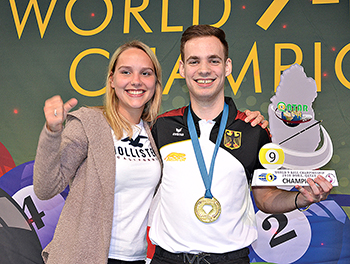 Filler used a Mosconi Cup snub as fuel and won the World 9-Ball title in 2018.

"When you're that age nothing really affects you," Shaw said. "You're flying. Your brain isn't really working. You're not mature. All you want to do is pot balls and run out."

Chamat tried getting a feel for where his rookie wanted to play on the first day. The captain initially wanted Filler to play with a partner when the event switched to a singles and doubles format but the German waived him off. Remember: Filler hates team sports. Not only did Filler want to play singles, he wanted to lead off.

"I love that. If you have a rookie saying 'I want to go first,' I love that mindset," Chamat said.

Filler faced Dennis Hatch, a player who was a dynamite talent in his own right as a teenager, reaching the finals of the 1991 U.S. Open 9-Ball Championships as a 19-year-old. Throughout the match, Filler played as he customarily does: quickly, confidently and, when he got a fortunate roll, he would smirk. He'd coach the cue ball with his mannerisms. The two battled to a 4-4 tie in a race to five, with Filler holding the break in the deciding game. As the young German cleared a routine table layout to clinch the match, he called a timeout to sit down and take a drink of water.

That, along with the facial expressions that he believed were directed at him, were strikes one and two for Hatch. When Filler ran to his teammates to celebrate instead of shaking Hatch's hand following the game-winner, Hatch had seen enough, leaving the arena without shaking Filler's hand. Chamat attempted to broker a handshake between them but was rebuffed.

"It was probably just too many irons in the fire," Hatch said by phone last month, acknowledging that he was upset by his own play as well as Filler's antics. "I don't have any ill will. I'm not putting him down in any way. If I was 19 or 20 in the Mosconi Cup I don't know how I would have acted."

Although Hatch considered the looks as disrespectful, Brikmanis has a different take on Filler's mannerisms.

"Everyone knows that when Joshua is smiling, he is under pressure," he said. "When he is making faces he is fighting demons. I think in Europe no one cares how he acts. In the U.S., I think his smile can be translated a little bit the wrong way. Our social types are different in the U.S. and Europe."

By the next day, the incident was largely forgotten. Filler compiled a 4-0 record in singles and doubles competition and earned Most Valuable Player honors as the Europeans won an eighth straight Cup over the Americans, 11-4.

Ask 10 different people in the world of pool about Filler's antics and you're liable to receive 11 opinions. One side thinks it goes too far and borders on showing up opponents, while the other half considers it a breath of fresh air at a time when personalities and emotions could be used to sell the game to sponsors and television.

"It's okay to celebrate, but sometimes it's a little bit over the top," said Shaw. "But, he's young, and we all do stupid things when we're young and he'll grow out of half of the things he does."

"Most people who are fans of pool complain that players have no personality, they don't show any emotion. Then you have a guy who lets it all out and they think that's wrong too," said Hohmann.

"I think that's what the game needs, characters like him," said Appleton. "TV will love it. He's making the game more popular. He's a guy that's going to put butts in seats."

Although his antics were originally perceived as cockiness by fellow competitors, it's really more of a release mechanism. Think of Filler as a stovetop pressure cooker. As the match progresses and his competitiveness burns, the pressure builds up. Towards the late stages there may be an occasional popping off to release tension, but the really audible explosion occurs when the match is completed.

Whether or not people like Filler's demonstrations, one thing is certain: He is going to do what he does regardless of what people think.

"He's always showed his emotion," said Pia. "He's always been the same person whether he is a pro or not. He's really, to say it in English, authentic. People can think whatever they want, that's just how he is."

Pia and Joshua have known each other for a decade and still look at one another like they're on a first date. When they walk they move in the same stride and usually on the same foot. As they sit inside the casino's coffee shop, they take turns stealing glances at each other.

The two met at the German national championships when they were 11. They really didn't get to know each other until they both won their respective straight pool divisions in 2011. They became part of the German youth national team soon thereafter, frequently training and traveling together. Through all of the time spent together they eventually became friends. Sommer brought her onto his traveling team when Pia became one of the most successful German female players — the same team Filler was already a part of. During one of their weekend practice and competition sessions together, he made it known that he was interested in being more than friends.

"He didn't need words. He just kissed me," Pia said.

"As I said, I'm shy," said Filler, laughing. "I don't need to talk."

They dated for a year and were married shortly after Filler's MVP performance at the Mosconi Cup.

Spend an extended period of time with the Fillers and it's apparent that they're working as a team. In the beginning of the relationship, Joshua was the one who made arrangements on the weekends. As they became closer as a couple, Pia recognized that her new boyfriend didn't like to organize things so she took on the responsibility. So, while Joshua is competing in events and practicing, Pia is the public relations department, the travel agency and the sports psychologist. She's posting the results of their events on social media, booking flights and hotel rooms for upcoming events and sweating each match her husband plays. As a result, his only responsibility is to stay in stroke.

How beneficial is that to Filler's regimen?

"What do you think?" he said, bursting into laughter again. "It's very important. I'm a mess, I would say. If I would book the flights I don't think we would go to the right country."

The couple's social media platform, KillerFillers, really started out of spontaneity. With both of them playing in tournaments throughout the year, it seemed redundant to maintain two social media platforms. Additionally, personal Facebook pages are capped at 5,000 followers, while an athlete page has unlimited capabilities. Currently, the couple has over 11,000 followers between Facebook and Instagram.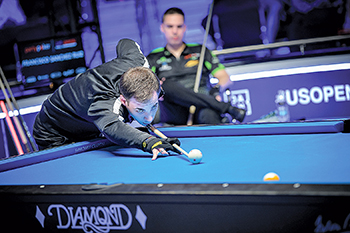 Like a "Killer," Filler seems to play best when the stakes are high. (Photo by JP Parmentier)

"I could not see myself getting married that young. There's so much life to live," said Hohmann. "But then when I thought about it more deeply it's actually perfect. None of us can afford to have a manager and I think that would be the next step in evolution, if we all had a team that takes care of certain stuff for us. He has that in his wife."

Although both excel at their roles, it didn't come easily at first. A competing professional herself (reaching the semifinals of last year's Portugal Open), Pia conceded that at first it was difficult to see her husband receive all of the accolades while she did the work behind the scenes.

"In the beginning, I was struggling with it but I just realized that he really deserves it," she said. "He never makes me feel like I don't get that spotlight. He makes me feel like I get it because he's really thankful for what I'm doing for him."

And when the roles are reversed and Pia is at the table, Josh can be found sweating her matches — literally.

"It's really cute," she said. "He's playing on the big stage and he can handle all of this pressure and I know when he's watching me play he's dying. He's shaking so much and hoping that I don't make mistakes." "I'm getting so old so fast when she's playing," he said. "I'm getting gray hairs."

By Filler's standards, 2018 was a bit of a down year. He won the Interpol Open and a couple of World Pool Series events but didn't place in the top four in the three Euro Tour events he entered. As a result, Filler failed to qualify for last year's Mosconi Cup team through points and had to hope for one of two available wildcard selections. After Shaw was announced as the final addition, the captain called Filler and the two had a lengthy chat.

"I said, 'You're probably going to make something good now," Chamat said. "Use it as fuel."

He cried for a week, then contacted German coach Michael Wahl. Filler knew Wahl from his work with Germany's female team. He saw the practice drills that were assigned for his wife and felt they made sense. Filler hired him as a coach after traveling with Pia to train with the German ladies team. He put away the tears and got out his cue, practicing drills that Wahl had prescribed four to eight hours a day.

Meanwhile, Chamat and his European team traveled to London with rookies Alex Kazakis and Eklent Kaci and were upset by the Americans, losing for the first time since 2009.

Watching at home was Filler.

"I watched on TV and when I saw them losing I was thinking, 'Well, you didn't pick me so maybe that's why you're losing,'" he said.

Two weeks after the Cup, Filler won the World 9-Ball Championship, coming from behind to defeat Kazakis in the semifinals, then surviving defending champion Carlo Biado in the final. He traveled to New York the following month and defeated an international field of 50 players to win the World Pool Series' Predator Grand Final. His hot streak continued in April while playing in the same ballroom where he had his Mosconi Cup triumph two years earlier, winning his first U.S. Open 9-Ball Championship.

"Now I can say I'm just thankful that Marcus didn't pick me," Filler said.

As the victories and top finishes have increased, something else has been noticeably decreasing — Filler's excitable outbursts at the table. He'll still pump a fist or yell out "Come on!" on occasion to fire himself up, but it's just that; on occasion. The reduction in on-table theatrics is part of what appears to be a calmer, more relaxed complete package.



Hungry at the table and content away from it, Filler is poised to claim more major titles, and a place in pool's history books. (Photo by Erwin Dionisio)

"You can tell he was trying to carry himself more professionally," said Hatch. "In my opinion, once he gets that under control he'll be even better."

If you speak to 10 people in pool about his new demeanor, you're liable to get 11 different answers on that subject too, with some crediting Pia with settling him, a few believing his recent rash of success has caused a mellowing and others excusing it as good, old-fashioned maturing.

"A lot of the events that were on his list to win, he can cross off now," said Souquet. "I'm not saying he's satisfied but a lot of the monkeys that were on his shoulders are off at a young age."

"I would attribute it to maturing, but I hope he doesn't take it too far," said Jerry Forsyth, who broadcast Filler's performance at the Mosconi Cup and has been involved with the game for five decades. "We don't need another boring pool player."

On Friday night at the Rio, Filler was milling around the arena about a half hour after losing in the finals to Ko Ping-Chung, 11-8. He had taken an early lead but struggled with safety play and couldn't capitalize on his available opportunities.

"I didn't feel as strong as I have in the other matches," Filler said after the match. "I don't know. I think it was just a bad day for me."

Well, not a completely bad day. Hours earlier, Matchroom Sport had announced Filler as its first locked-in player for the 2019 Mosconi Cup. It hardly came as a surprise, as Filler had been atop the Euro Tour and the WPA rankings for the majority of the year. It also figures to be another nice payday in a year in which he's already earned over $130,000 in prize money.

As Pia and Joshua headed out for the evening, a reporter extended his hand for a handshake before departing — but the young German refused the gesture.

"You get a hug instead. I like you," Filler said, hugging the writer before departing with his wife, again walking together in perfect stride.