Current Issue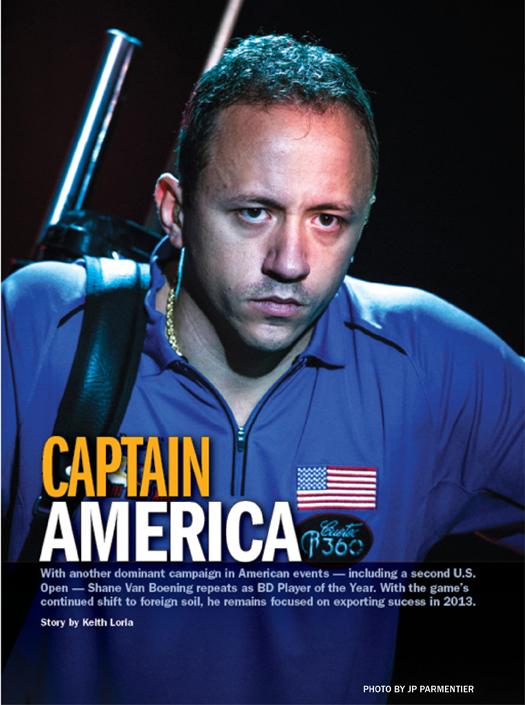 IN A conversation with Shane Van Boening in 2007, the rising pool star remarked, "Whenever you lose, you should learn something."

The South Dakota Kid certainly took his own advice to heart and over the past five years has turned every loss into an opportunity to better his game, dissecting each match and making note of what he did wrong and what his opponent did right.

"My goal is to work hard every day and the way I see it, most of the pool players out there don't practice every day; I practice five to six hours a day," he said. "I have a lot of confidence in myself to win."

That confidence was evident throughout 2012 as Van Boening proved one of the most dynamic players in the sport. He earned a victory at the U.S. Open 9-Ball Championships and also took home the Derby City Classic Master of the Table, the U.S. Open One-Pocket title and the Players Championship.

These achievements have earned Van Boening Billiard Digest Player of the Year honors for 2012.

Amazingly, it was only about five years ago that not many people around the game really knew who he was and those that did, knew him more for the fact that he is hearing impaired (he is 97 percent deaf and uses a hearing aid) than for what he was accomplishing on the tables.

Anonymity is something Van Boening no longer has to worry about. At 28, he's the type of player that has done billiards proud. He has received praise for his respectful manner during matches and for living a healthy lifestyle.

Of course, it's his strong game that has also earned him the respect of so many in the billiards world.

Take last October's U.S. Open 9-Ball Championship, where Van Boening plowed through the 217-player field to grab the title and the $25,000 first prize purse. In the final, where he faced Dennis Orcollo, a frequent rival in money games, he never looked worried and jumped ahead to a commanding 9-2 lead. Orcollo closed the lead to just two racks, at 9-7, but Van Boening took the next four to clinch his second U.S. Open title.

Those with an eye on Van Boening in 2012 knew it was a special year. And it all began at January's Derby City Classic. He won both one-pocket and 9-ball divisions for a second time, while taking runner-up in 9-ball banks, falling a match short of what was considered an impossible hat trick. When it was over, Van Boening easily captured the $20,000 Master of the Table all-around crown and walked away with $53,000 in total winnings.

Considering the massive fields and short races in the Derby's three main tournament divisions, it's incredible to contemplate one player advancing to three final matches. But this was clearly Van Boening's week, and his reaction foreshadowed his dominance on American soil.

"I'm excited knowing where I am," Van Boening said at the time. "My goal was to win the all-around again. - Now I just have to do it again next year."

Speaking of one-pocket play, Van Boening was also the victor at May's U.S. Open One Pocket Championships in Las Vegas, Nev., which anyone who saw him play in January pretty much expected. He captured his second major one-pocket title with a 5-3 win over Darren Appleton in the final.

Considering his dominance in multiple disciplines throughout 2012, Van Boening has established a firm grip as the dominant player on American soil - something made more impressive by Europe's Appleton, Thorsten Hohmann and Mika Immonen living primarily in the U.S. But with big-money events continuing to pop up in Asia while U.S. events struggle to survive, Van Boening knows he will have to take his winning ways abroad if he hopes to take the next step in an astounding yet brief professional career.

"I'm playing a lot of pool," he says. "And I feel like I am going to win a world championship."

Future Player of the Year honors are far from guaranteed. But anyone who's kept an eye on the lanky kid from South Dakota shouldn't be surprised if he starts knocking off international events.
MORE VIDEO...