Current Issue
Mr. America!
World 9-Ball Championship be damned, it was a decade of dominance for the greatest American player of his generation.

By Mike Panozzo
Photos By JP Parmentier
As the decade of the 2000s came to a close, it was readily apparent that Shane Van Boening was well on his way to becoming the winningest American player of his generation. The then-27-year-old from Rapid City, S.D., had already captured his first U.S. Open 9-Ball Championship (2007), his first Derby City Classic title (2009 9-Ball) and had pocketed the clinching 9 ball for Team USA in the 2009 Mosconi Cup in Las Vegas.

Still, it's unlikely that anyone foresaw the utter dominance with which the quiet, confident star would roll through the next 10 years.

Then again, it's unlikely that many people knew just how focused, determined and dedicated Van Boening was to the sport he'd been playing since his second birthday. A tireless perfectionist, Van Boening has been known to spend countless hours a day on nothing more elaborate than his break shot. But what a break shot it is. Few players have spent the time and energy to perfect every part of their break than Van Boening has with his. And his work ethic extends beyond practicing his break shot.

And more than perhaps any other American player of the past decade, Van Boening has shown the willingness to travel the world and test his skills against the best players from Europe and Asia. Despite his small-town upbringing, his lifelong hearing impairment and his soft-spoken demeanor, Van Boening has never shied away from extended trips to the Middle East and Asia. In fact, he has been known to express disappointment in his American contemporaries that eschew international events.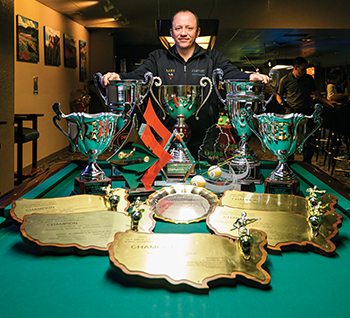 Photo by JP Parmentier

"You have to play in the international tournaments if you want to get better," he has scolded.

In addition to helping him constantly improve his game, the international travel has been a major factor in his personal growth over the past decade.

"I am so thankful to have the opportunity to travel and see the world," he said. "I see different countries and different cultures, meet new people everywhere and always see new faces coming into the game."

Incredibly, only once in the 2010s did Van Boening win fewer than four meaningful titles. That was in 2010, when he captured just the Super Billiards Expo Players Championship and the Ultimate 10-Ball title.

Equally impressive is Van Boening's collection of titles in recurring events during the decade — four U.S. Open 9-Ball championships, two World Pool Masters titles, three Derby City Classic 9-Ball titles, six Turning Stone Classic titles, two Derby City Open One-Pocket titles, two Derby City Master of the Table crowns, four U.S. Open 10-Ball championships, three U.S. Open 8-Ball titles, two U.S. Open Bank Pool crowns, two U.S. Open One-Pocket titles and a pair of Mosconi Cup wins. His 17 total U.S. Open trophies dispel any doubt as to which pool player has earned the title of Mr. America.

But while Van Boening is proud of his piggish trophy haul, he spends very little time dwelling on the past — win or lose. There is always the next event to conquer.

"I don't think much about the tournaments I've played in," he admitted. "I just keep moving to one tournament after another."

And what drives him?

"Staying on top of the game is what drives me," he added. "It's all about goals, dedication and fearing no one."

From 2012 through 2015, Van Boening was virtually unstoppable. He steamrolled to three consecutive U.S. Open 9-Ball Championship wins (2012, '13 and '14), something no other player had accomplished in the event's 40-plus-year history. We scored back-to-back World Pool Masters titles (2014, '15), and reached the World Pool-Billiard Association World 9-Ball final (2015), where he fell to Taiwan's Pin-Yi Ko, 13-11.

Over that four-year span, Van Boening won a mind-bending 25 pro titles.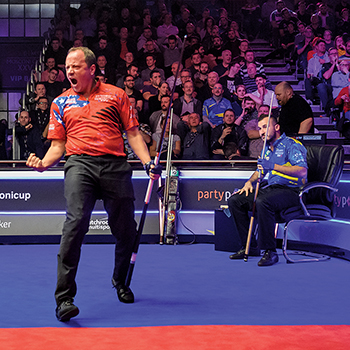 Van Boening said his Mosconi-clinching combo topped his list.

The second half of the decade proved nearly as fruitful, led by his fifth U.S. Open 9-Ball Championship crown in 2016, placing him second only to Earl Strickland (six titles). He added four Turning Stone Classic titles and a large portion of his other U.S. Open crowns. He narrowly missed a third World Pool Masters title in 2018, when he lost to Holland's Niels Feijen in the final. And he reached the final of the World 9-Ball Championship a second year in a row in 2016, where he fell to Austria's Albin Ouschan.

But while the World 9-Ball has proven to be elusive for Van Boening, perhaps his most gratifying redemption wins came in the last two years of the decade, when he led Team USA to back-to-back wins in the Mosconi Cup. Prior to 2018, the Americans had not won the Cup since Van Boening's clincher in 2009, and the undisputed leader of Team USA had not performed well. Constantly expected to carry his team against the vaunted Europeans, Van Boening's record was sub-.500 each year during the eight-year losing streak.

All that changed at Alexandra Palace in London in December 2018, when the American squad defeated the Europeans, 11-9, punctuated by Van Boening's heart-stopping 1-9 combination against Greece's Alex Kazakis to seal the win. The shot exorcised every Mosconi demon that may have been trapped in Van Boening's soul.

"Winning three U.S. Open 9-Ball titles in a row and two World Pool Masters championships in a row were some of my best memories of the decade," Van Boening admitted. "But nothing tops the 1-9 combination at the 2018 Mosconi Cup. That's still the biggest pressure shot I've ever made in my life."

In all, Van Boening collected 55 pro titles in the 2010s, and came in just shy of $1.5 million in prize money.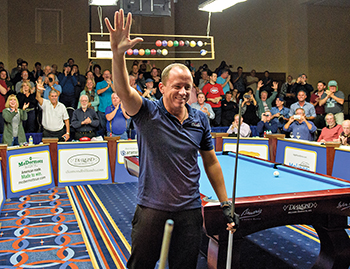 Van Boening's four U.S. Open 9-Ball titles in the 2010s ran his total to five.

Still just 36, Van Boening figures he's got another solid decade of wins ahead of him, and who would argue.

And what titles are in the goal-oriented star's sights?

"My top goal is to beat Efren's [Reyes] career prize money winnings on AZBilliards," said Van Boening, whose $1,877,816 mark is a mere $224,000 behind the recently retired Reyes' $2,102,294. "I also want to win one more U.S. Open 9-Ball Championship, the World 9-Ball Championship and play in more Mosconi Cups."

By the time Van Boening is through with the 2020s, he will almost certainly be the winningest pool player in American history in both titles and prize winnings.

In the meantime, there is no argument that he was the Player of the Decade for the 2010s.


---
Shane Van Boening

2010 Titles: SBE Players Championship; Ultimate 10-Ball Championship

2011 Titles: Derby City Classic One-Pocket; U.S. Open 10-Ball; Mizerak Open; Seminole Open; Turning Stone

2012 Titles: U.S. Open 9-Ball; Derby City Classic 9-Ball; Derby City Classic One-Pocket; SBE Players Championship; Mercer Memorial; U.S. Open One-Pocket, Championship 10-Ball

2013 Titles: U.S. Open 9-Ball; U.S. Open 8-Ball; SBE Players Championship; Turning Stone; Steinway Classic; Mercer Memorial; U.S. Bar Box 9-Ball

2014 Titles: U.S. Open 9-Ball; World Pool Masters; Derby City Classic 10-Ball; Derby City Classic 9-Ball; SBE Players Championship; U.S. Bar Box 9-Ball; U.S. Bar Box 10-Ball

2015 Titles: World Pool Masters; International Challenge of Champions; Derby City Classic 10-Ball; U.S. Bar Box 9-Ball

2016 Titles: U.S. Open 9-Ball; Derby City Classic 9-Ball; Tornado Open; U.S. Open 10-Ball; U.S. Open 8-Ball; U.S. Bar Box 8-Ball

2017 Titles: U.S. Open 10-Ball; SBE Players Championship; Turning Stone; U.S. Bar Box 9-Ball; U.S. Bar Box 8-Ball

2018 Titles: U.S. Open 10-Ball; U.S. Open 8-Ball; Turning Stone; U.S. Open One-Pocket; Euro Tour; U.S. Open Banks; Mosconi Cup

2019 Titles: Mosconi Cup; Turning Stone; U.S. Open Banks; U.S. Open 14.1; World Tournament of 14.1

Total Prize Money: $1,479,500

Dennis Orcollo

Titles: World Pool Masters (2010); World 8-Ball (2011); Derby City Classic 9-Ball (2011, 2017); Predator 10-Ball (2011); China Open (2012); U.S. Open 10-Ball (2012); World Cup of Pool (2013); Derby City 10-Ball (2013); U.S. Open One-Pocket (2013, 2014); Derby City Classic Banks (2014); U.S. Open 8-Ball (2015); SBE Players Championship (2015); Tornado Open (2015); Space City Open (2015); Break Room Classic (2016); Mercer Memorial (2016); West Coast 10-Ball (2018); Houston Open (2018); Derby City Classic 14.1 (2016, 2018); Houston Open (2018, 2019).

Total Prize Money: $868,000

Alex Pagulayan

Titles: Derby City Classic Banks (2011); Jay Swanson Memorial (2011, 2012); U.S. Bar Box 10-Ball (2011); Southern Classic (2012); Derby City Classic 9-Ball (2013); Southern Classic Banks (2013); Derby City Classic One-Pocket (2015, 2016); Midwest One-Pocket (2016, 2018); U.S. Open 8-Ball (2017); Carom Room Classic (2017); Midwest Banks (2017); Scotty Townsend One-Pocket (2018, 2019); Sparkle City 10-Ball (2018); Texas 10-Ball (2019); Buffalo One-Pocket (2109).

Total Prize Money: $656,000

Darren Appleton

Titles: U.S. Open 9-Ball (2010, 2011); Euro Tour (2010); International Challenge of Champions (2011, 2012); Derby City Classic 14.1 (2011); World 9-Ball (2012); World Games (2013); World Cup of Pool (2014); World Tournament of 14.1 (2014); American 14.1 (2014, 2015); China World 8-Ball (2015); SBE One-Pocket (2016). Total Prize Money: $893,000