Current Issue
Killer Filler

German star makes the most of second chance at World Pool Series.
By Keith Paradise
Photos by Erwin Dionisio
Joshua Filler couldn't have scripted a worse debut in World Pool Series competition than April's Aramith 9-Ball Players Championship.
Facing the fatigue that comes with international travel as well as a tough draw, the 20-year-old German sensation was eliminated on the event's first day — losing to Jayson Shaw in his first-round match and then later in the day on the one-loss side to Ralf Souquet.
"I traveled seven hours from Germany to the U.S. and lose the first two matches," Filler said at the time. "It's tough."
Fast forward to June's PWS Rasson 10-Ball Masters Championship and it appeared history might repeat itself after Filler again lost in the first round, an 11-6 decision to Shane Van Boening.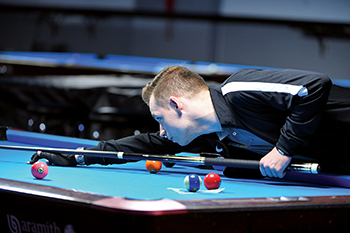 After being eliminated on the first day in the WPS's April event and losing his first match in June, Filler went on a title run.
This time, however, the Mosconi Cup Most Valuable Player flipped the script, battling back to win eight consecutive matches and earn his first World Pool Series title. Filler capped off his comeback with a convincing 17-10 victory against Greece's Alex Kazakis at Steinway Billiards in Astoria, N.Y.
After his first round loss to Van Boening, Filler made quick work of Ruslan Chinahov, 11-4, then gutted out victories against Tony Robles, 11-8, Jeffrey De Luna, 11-9, and Omar Al Shaheen, 11-8. He started believing he might have a chance to win the event after his Friday night final-16 match against Shaw. Filler found himself trailing 4-0 early, but turned the tables when Shaw committed a handful of unforced errors. Filler won 11 consecutive games to advance to the quarterfinals.
"I think I got my confidence back in that match," Filler said. "I won against Jayson. That's just amazing. He's one of the best players. He's the world's number one in my eyes."
From that point on, Filler was virtually untouchable. He used three break-and-runs, as well as a few fortunate rolls, to build an early 5-1 lead in the quarterfinals against Estonia's Denis Grabe, who had won April's Aramith championship. The German also capitalized on Grabe's breaking woes, rattling four straight racks in the match's middle stages to pull away, ultimately winning 13-5.
"He was getting some rolls in the beginning and I didn't get into the game," said Grabe. "Every time I got to the table I had some funny situations."
Filler was equally impressive in the semifinals against Lee Vann Corteza, jumping out to an 8-2 lead and cruising to another 13-5 victory.
Waiting for Filler in the finals was Kazakis, a young Greek who would love nothing more than to win a tournament in the Greek family-owned New York poolroom. A couple of missed shots by Filler allowed him to hang around early, but the German used two safety battle victories along with a break-and-run to win four consecutive games and take an 8-3 lead. Kazakis scraped together a couple of racks, but Filler extended his lead to 11-5 heading into the 15-minute mid-match intermission.
"In the second half I just said to myself to take every chance that Josh or the table gives me," Kazakis said.
When play resumed, the Greek had his chances. Despite several missed opportunities, Kazakis still managed to climb to within three games at 14-10. A misplayed safety in the next game scuttled yet another opportunity.
"I'm really disappointed about the match because the balls I missed, they were all easy balls," Kazakis said. "I don't know what happened. I guess I was just tired."
Filler closed out the match with a challenging table-length cut shot and a break-and-run.
"He got more time at the table," noted Filler. "He got more chances. But sometimes he didn't take advantage of his chances. That's why I won in the end."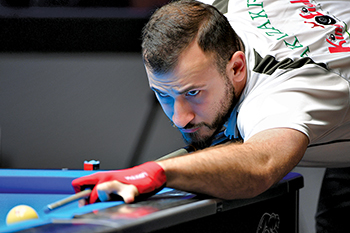 Greece's Kazakis reached his second consecutive WPS final, but again got off to a slow start and fell short.
It was a second consecutive runner-up finish for Kazakis, who seemed to be playing the entire weekend with a lucky rabbit's foot in his pocket.
On the event's second day Filipino Lee Vann Corteza botched an 8 ball with a chance to close out the match, and the Greek ultimately won a sudden-death shootout. The following day, he appeared to be headed to another shootout, until talented young James Aranas of the Philippines missed a routine 8 ball, handing Kazakis a short run out for the match. In his semifinal match against yet another Filipino, Dennis Orcollo, Kazakis appeared to be on the verge of letting an 11-3 lead slip away. But after winning six consecutive racks, Orcollo missed, gifting that rack and the next to Kazakis.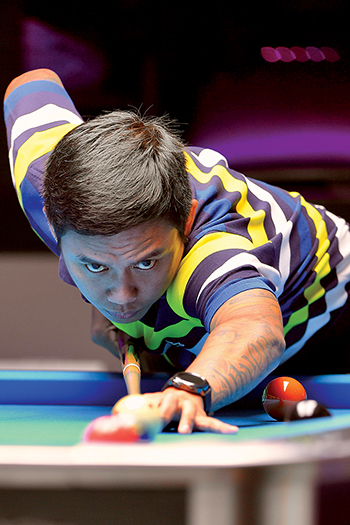 Corteza was zeroed in until the semifinals, where Filler coasted to a 13-5 victory.
"I was once again lucky", Kazakis said. "But once again, everybody needs luck. Without luck, it's tough to win."
Prior to the start of the event, tournament creator Darren Appleton had the pockets altered on main Rasson table used from the quarterfinals to the championship. The diameter was reduced from 4.5 inches to 4.25 inches and the pockets also were form-fitted to play like those on a snooker table. After watching numerous players run five and six racks in a row in April's 9-ball event, Appleton wanted a table that was more challenging but also fair.
The results were evident in the final, in which Filler and Kazakis failed to pocket a ball on the break over a span of six consecutive racks.
"Obviously, in my opinion it was way too loose and a lot of the players complained, but I didn't anticipate it being this tight," Appleton said. "But most of the players like the table because it's a true test. And at this level, with these world class players, they should be tested."
Not all of the players were echoing Appleton's sentiments about the table.
"This table is brutal this time. It's nothing compared to the last time. I think that it's too tough," said Grabe after his match with Filler.
"The pockets are super tight and, in my opinion, they are too tight for pool," said quarterfinalist Ralf Souquet.
The good news is this second event of the four-tournament World Pool Series created last year by Appleton drew more players than the first event in April. The bad news is the list of competitors still only topped out at 41, far fewer than what tournament organizers had seen a year ago at this time. Once again, many of the top American players opted to stay home — with roughly a quarter of the field coming from the United States. The competition did remain a who's who in international pool, with Filler, Orcullo, Souquet, Shaw, Chinahov, Alex Pagulayan, Niels Feijen and Chris Melling all making their way to the east coast for the event.
"Lack of support from the Americans has been the big disappointment really, but the quality of the field is probably more important," Appleton said. "It's been like a miniature world championship."
One possibility under consideration is relocating some of the tournament's events out of New York. Appleton said venues in Europe have expressed interest in hosting the third event as well as future tournaments, and he solicited interest from American poolroom owners while providing commentary on the tournament's live stream broadcast. Since many American players appear to be discouraged by the current travel costs associated with the event, Appleton is wondering if a change in location to another east coast or possible Midwestern venue might increase participation.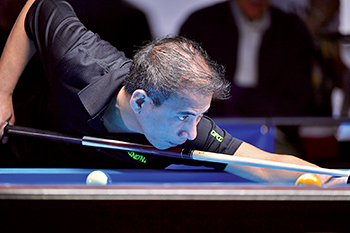 Orcollo's run was stopped by Kazakis in the semifinals.
"It seems like the expense of the city is putting some of the Americans off, so it would be nice to go to another city to see if that's the reason," Appleton said. "If that's not the reason, then we have a big problem going forward."
One American player who was at the June event was three-time U.S. Open 10-Ball champion Van Boening. Making his WPS debut, the South Dakotan went undefeated in his first day of competition only to be eliminated on the tournament's second day — losing to Orcullo, 11-8, and suffering an 11-3 drilling at the hands of Aranas in the loser's bracket.
"That happens in pool," Van Boening said. "We can't always have it the way we want it to be. Everybody gets bad rolls and has bad days."
"Shane coming adds that little bit of buzz to the tournament. I just hope he continues to support the events in the future," Appleton said.