Current Issue

Previous Page Page 3



Classic Derby City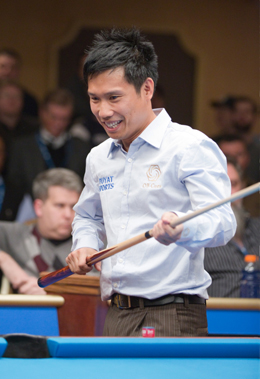 Pagulayan had the last laugh in Derby's 9-ball finale.
When the 9-ball event really gets moving in Derby's final weekend, at the same time tournament officials will gladly take three hours sleep, players and fans alike often have to do napkin calculus to decipher the race for Master of the Table.

Just two years ago, the race came down to Pagulayan and Van Boening, with each passing round offering fresh data for hundreds of hypotheticals. And in the end, after Pagulayan's elimination, the Derby's biggest prize came down to a single set, which Van Boening then won.

But the 2013 race hardly hit the backstretch by the time Bustamante ended it for good. His win in banks and second in one-pocket, along no other player posting top finishes in both divisions, left him with an arena's worth of room for error - not that he'd need it.

Undefeated after a sixth round win over Niels Feijen in 9-ball, Bustamante got the good news from tournament directors: The 2013 Master of the Table award was his.

"I was happy," Bustamante understated. "I was so tired, after just three days. For my age, I got to pay for that. That's why, these last days, I played no good. I'm happy it was over [quickly]."

While "no good" is a relative term in this case, he remained alive as the 9-ball field dwindled from 285 to just seven by the 10th round. And unlike previous years, where it was expected that a local hotshot or up-and-comer would shoot his way into the late rounds, this year's event had a murderers' row of hopefuls. With event organizers extending the races to 9, to become a points event recognized by the Billiard Congress of America, the odds were that much more against the Cinderellas.

By the time Bustamante bowed out, with Van Boening eliminating him in a tie for sixth, all five remaining players had major titles on their resumes. While Pagulayan caught the fortunate draw and received a bye, Putnam eliminated Kentucky's bank specialist John Brumback and Mike Dechaine ousted Van Boening, 9-2.

It was then Putnam's turn to get a break, and he moved into the final with a bye while Pagulayan faced Dechaine. The American, shaking off a rough Mosconi Cup, looked in prime form as he took the first four racks against Pagulayan. But the Filipino responded, eventually knotting the set, 8-8. In the case game, following an exchange of safeties, Pagulayan hit an incredible table-length kick on the 1 ball and cleared the table, securing his spot alongside Putnam.

And while Putnam kept pace with Pagulayan, the Lion proved too much for the 41-year-old American. After Putnam closed to within a rack at 7-6, Pagulayan forced his opponent to foul in each of the next two racks to take the $16,000 title by a final count of 9-6.

With the victory, Pagulayan went into his Vaudeville routine, mixing "Gangnam Style" dances with a parting shot about Bustamante only winning the Master of the Table because his buddy Reyes wasn't around.

"But that's OK," Pagulayan joked. "Everything's funny when Busty's got all the money."

It's always nice to have the most when wins and losses are as important as the presidents in your pocket.



Previous Page Page 3


Top
MORE VIDEO...