Current Issue
Next Page >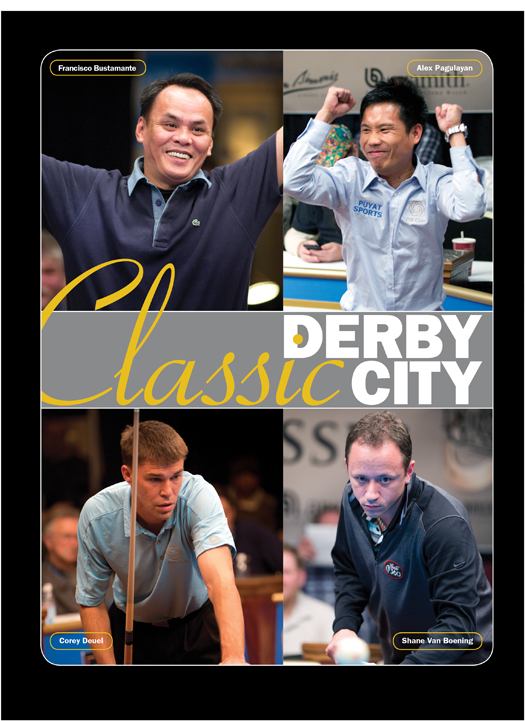 Dependable entertainment for fans and a daunting challenge for players, the Derby City Classic continues to deliver the goods in the otherwise turbulent domain of American pool.

Story by Nicholas Leider; Photos by David Thomson
BY THE time Saturday - the second Saturday - of the Derby City Classic rolls around, it's fair to assume everyone's a little delirious. Nine days, three main tournaments, nearly non-stop money games and a few hundred pool players sequestered in a southern Indiana casino can leave you wondering whether it's time for a midnight cup of coffee or a breakfast beer.

So when Derby City - held Jan. 25-Feb. 2 at the Horseshoe Casino in Elizabeth, Ind. - wrapped up with Alex Pagulayan erasing the final 9 ball and capturing the last of Derby's three main titles, the sprightly Filipino brought a much-needed boost of energy to the usually lethargic awards ceremony.

The 36-year-old, whose 9-ball victory was his first Derby title, followed his 9-6 win over American Shawn Putnam with an improv comedy act that has made him a fan favorite. Like he had after previous wins on the Accu-Stats arena's main table, he tucked the cue ball between his black leather shoes and eyed a 9 ball hanging in the opposite corner pocket. His attempt to flip the cue ball up onto the table and into the 9 failed, but that hardly mattered to the super-talented cuesmith who was $16,000 richer.

In his typical style, maybe best described as a you-win-some-you-lose-some microwaved Zen, Pagulayan reflected on what has been a strong run in recent months. "Third at the U.S. Open and I win this?" he said. "Can you ask for anything more?"

At which time, asked to pose for a photograph with the burly Putnam, Pagulayan jumped on the table. "Now we're about the same size, right?" he asked.

A few friendly barbs with Francisco Bustamante - who reminded everyone that he was going home with the most cash, as the $20,000 Master of the Table - and Pagulayan closed out his show and the 2013 event with fans and event organizers laughing to themselves and looking forward to recuperating from the endurance sport that is Derby City.

While the crowds inside the Horseshoe Casino were a little light compared to recent years; the total number of entrants in the 9-ball, banks and one-pocket events was down nearly 10 percent; and a number of headlining superstars, namely Efren Reyes, were absent, the annual jamboree and unofficial hustlers convention continues to deliver the goods. American pool players and fans are plenty familiar with uncertain event dates, prizes and payment schedules - but all of that remains conspicuously absent in Derby City.


MORE VIDEO...