Current Issue
Prime Time
Kelly Fisher dominates the Amway World 9-Ball Open to take her third international title in nine months, this one her first in Taiwan.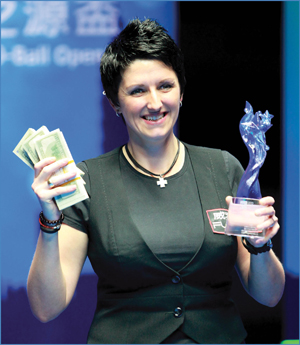 Fisher had little trouble advancing to the Amway Cup final, where she survived a strong challenge from Ouschan. (Photo by Top147.com)
AN ATHLETE'S "prime" - the perfect mix of supremely refined physical skill and mental awareness that results in one's highest possible achievements - is hardly a one-size-fits-all proposition. Thanks to scientific (and (and pharmaceutical) developments, athletes can delay the effects of age. And in precision sports like golf and pool, professionals can remain in elite company well past the usual retirement age for more physically demanding endeavors like football and even baseball.

Which made it all the more surprising when Kelly Fisher, the No. 1-ranked player in the world, admitted to hearing the heavy boots of Father Time gaining on her. Immediately after a dominant display at the Amway World 9-Ball Open - held March 14-17 in Taipei, Taiwan - the 34-year-old said now's when she has to be greedy when it comes to major international titles.

"I've been practicing hard the last year," she said, during the event's closing ceremonies. "I've been enjoying it. My game has grown. And I need to win before I get too old - so that's why I need to do it now!"

If Fisher is feeling a sense of urgency, it's clearly paying off. With her $34,000 win at the Amway Open, the two-time BD Player of the Year has won three consecutive major titles in East Asia, and four in the last 15 months. She conquered the 2011 World 10-Ball event in Manila, her first in Asia, and then took two titles on Chinese soil in 2012 (the China Open and World 9-Ball Championship). Now, with this year's Amway Open, she's ended a winless streak in Taiwan that stretched back to the beginning of her 9-ball career in 2004.

"I still can't believe it," she said. "It's so exciting to win here in Taiwan. I've been coming here many years and never made a final, even. So to win this, I'm absolutely thrilled."

From the start of the 40-player event, which opened with a round-robin stage where players were divided into eight groups of five, Fisher showed her top form. In four group matches, she ceded just seven racks in grabbing the No. 1 seed in the 24-player knockout bracket.

Receiving a bye into the round of 16, Fisher then trounced Japan's Chuchiro Kawahara, 7-2, and Xiaoting Pan, 9-2, to take a spot in the final four. She was joined there by Jasmin Ouschan and the Taiwanese duo of Chou Chieh-Yu and Tsai Pei-Chen.

Continuing to build the momentum, Fisher collected the first five racks of her semifinal with Chou. From that point, in an alternate-break format, Fisher looked content to trade racks with her opponent - and she eventually took the set, 9-4. The other semifinal followed a similar script, with Austria's Ouschan easing ahead for a 9-5 victory.

The final proved to be the track meet that one would expect from arguably the world's two best women. Ouschan grabbed an early 2-0 lead, with Fisher taking the next two. The hot-and-cold trend continued, with Ouschan jumping out to 4-2 and 7-5 leads. But at that point, she couldn't keep Fisher in her chair.

Winning the next three, Fisher took an 8-7 lead. Ouschan took the next 9 ball to even the set, but it'd be her last. Fisher collected the final three racks for an 11-8 ending to what was an impressive title run.

"I played well in the beginning of the final," Ouschan said. "But in the end, I made more mistakes than Fisher and she used [those chances]."

Considering how Fisher's been collecting international titles, it's evident she knows her time is now - and there's no telling when it'll stop.
MORE VIDEO...