Current Issue
Game On

Billiards fun always now just a download away.
Story by Sean Chaffin

Maybe it's a layover in an airport. Or a wait at the doctor's office. What better way to kill some time than at the billiards table – virtual table that is. There are numerous pool and billiards mobile games available, all just a download away. Billiards Digest takes a look at just a few of them this month. So bring your A-game and grab your cue, er, phone – no chalk needed.
Game: 8 Ball Pool
Publisher: Miniclip
Format: iOS, Android
Difficulty: Easy
Cost: Free, in-game purchase options
Rating:
One of the best billiards games on the market, 8 Ball Pool offers numerous options for potential pool sharks. This social game allows players to challenge friends and other random players. In one-on-one mode, players can earn (or lose) coins for each victory and advance along to differing locales – from London and Moscow to Dubai and, of course, Las Vegas. There's even a virtual table called the All In Lounge, where players can bet it all. Along with new locations to play, players have a chance to add new equipment including cues and table felts. Another fun aspect is that the game offers multiplayer tournaments.

As for gameplay, the game offers a horizontal view above the table. Players adjust a cue for the correct angle and manage a power meter to make just the right shot. A cue ball in the right top corner allows for the perfect striking point to avoid a scratch – and the dreaded ball in hand. The gameplay is fairly easy but pocketing balls gets a bit tougher the higher a player advances. There are a couple of fun mini-games to work on shots that are worth the time as well. Miniclip also recently added a new 9-ball game mode, which carries on the fun. Rack 'em!
---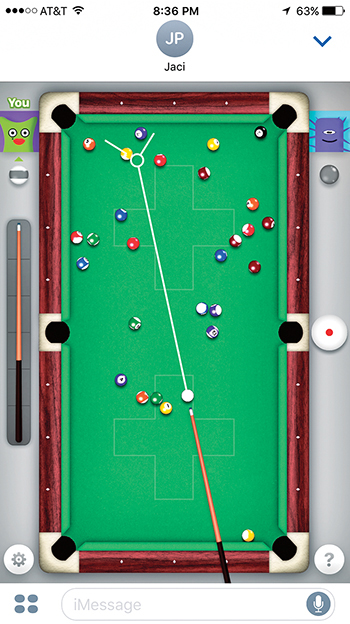 Game: GAME PIGEON
Publisher: Vitaliy Zlotskiy
Format: iOS iMessage Extension
Difficulty: Easy
Cost: Free
Rating:
More than just a billiards game, the GamePigeon extension offers users the ability to battle it out with friends in several classic games including 8-Ball and 9-Ball via Apple's new iMessage extension, which allows for matchups through text. Game play is fairly straightforward with a vertical overview of the table. The cue appears from the side of the table and also appears beside the table with a power meter. A cue ball guide also allows players to select where to strike for maximum control.

Players can select their own characters and send messages back and forth, making for some nice trash talk opportunities. Each player is notified of a shot via text with a graphic of the pool table and a replay of their opponent's move before making a shot. However, control of the cue ball is a bit stiff compared to some other games, and there aren't too many bells and whistles when it comes to options like wagering or moving to new venues. But for a quick game with a friend for killing some time, pop up your Pigeon app.
---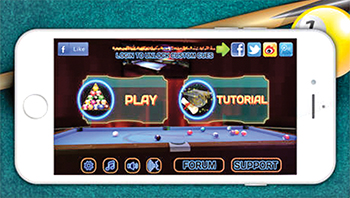 Game: Real Money Pool
Publisher: Coeus Creative
Format: iOS, Android
Difficulty: Advanced to difficult
Cost: Free, in-game purchase options
Rating:
Real Money Pool brings realistic, 3-D graphics for real billiards aficionados seeking as close to the real thing as possible. Players are given a couple of different views including a table top view that can be rotated 360 degrees when selecting the best shot and also an overhead view showing the entire table. Shot selection and contact become more of a challenge in this game with a cue ball shadow showing the shot's contact location and a "check aim" feature allowing players to zoom in and fine-tune the shot. The game offers real chances for precision shots and angles. There are detailed tutorials to help learn the intricacies of the game and they are suggested for those looking for success at the tables – including using angles, controlling the cue (even curving the ball), and adding some English to your shots.

This game offers numerous bells and whistles for real pool fans, including prizes, leagues, additional cues, achievement trophies, and several game options (8-Ball, 9-Ball, Straight Pool, Speed Pool, and practice). Players can even earn prizes and play for real cash. The game's location is set in a professional billiards tournament, complete with advertising placards, overhead lighting, and cool background music. The game offers a real sense of community and achievement, but may be a bit too complex for those looking for a more casual game. If you're looking for some Real Money Pool, bring some real skills.
---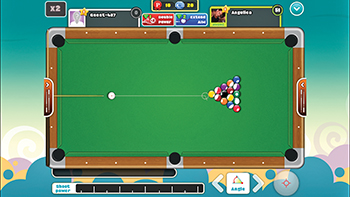 Game: Pool Arena
Publisher: LazyLand Ltd.
Format: iOS, Android
Difficulty: Easy
Cost: Free, in-game purchase options
Rating:
The game is somewhat similar to MiniClip's 8 Ball Pool with novice-friendly game controls and options. Players can square off against friends or against random players in this social game that adds some extra excitement with power ups that make for more powerful, accurate and better shots. Players move to new virtual tables and arenas as they advance and win more, add trophies for their accomplishments throughout their billiards journey, add improved cue sticks as they advance and can even earn honors in the Hall of Fame.

Gameplay is pretty standard and similar to several others. The table is viewed in an overhead layout with the shot power meter located at the bottom of the screen. There is a pop-out menu at the top of the screen allowing for some phrases to use to communicate with opponents. The game did appear somewhat small on the screen and information above the table about the two players is a little tough to read. The overall feel of the game controls doesn't seem as smooth as other billiards options. Pool Arena is a decent game with some interesting options for casual players. More serious players may seek others.
---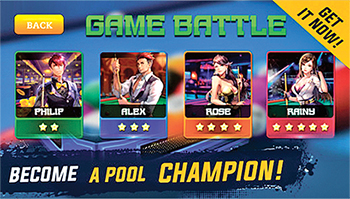 Game: BILLIARDS MASTER 2
Publisher: Min Yang
Format: iOS
Difficulty: Easy to advanced
Cost: Free, in-game purchase options
Rating:
This is an impressive game for those looking for some fun, but a game with some nice extra shot-making skill options. This social game offers a chance to play against others and put some "fake money" on the line. Players have the chance to advance to numerous levels and locales (Singapore, London, Berlin, Tokyo and Chicago) based on skill level and wins. Some positives include great speed of balls and play, and very fluid shot making. The game features an overhead horizontal view and is visually appealing. The ease of aim and "quick aim," which moves the cue quickly to aim at a ball with a simple screen touch, is also a huge plus.

Billiards Master 2 also offers some shot options not available on other games such as angling the cue stick to allow for more ball movement when needing a massè shot to curve the ball. Players can even jump the ball if necessary. A few negatives: lots of pop-ads and videos. It also takes a bit to get past the training section until you have accumulated enough points to begin taking on real challengers.
---
Game: POOL BALL CANNON
Publisher: Robinn
Format: iOS
Difficulty: Easy
Cost: Free, in-game purchase options
Rating:
Another social game, but offers something quite different for billiards fans than the traditional 8-ball and 9-ball. It combined a shooting style strategy game with billiards. A moving cue stick at the bottom of the screen allows the player to fire cue balls at other descending pool balls. The shots can be fired directly at the ball or ricocheted off the sides of the screen, and players can accrue some extra powers such as a machine gun shot. The object is to strike as many balls as possible before they descend and destroy a protective barrier. Once they touch your barrier (or you fire at a descending bomb), the game is over.

The game makes use of Apple's GameCenter feature to track scores, but lacks the real strategy in a traditional billiards game. While fun as a novelty for a bit, this one may fail to keep many pool fans' interest. Also, there are numerous ads and videos one must watch and the game is pretty basic when it comes to graphics and gameplay.
---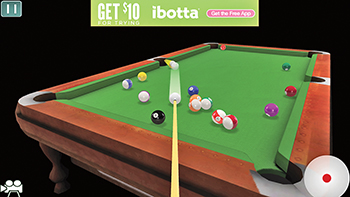 Game: POOL 3D PRO: ONLINE 8-BALL BILLIARDS
Publisher: App Holdings
Format: iOS
Difficulty: Easy
Cost: Free, in-game purchase options
Rating:
Also making use of the Apple GameCenter, players have the option of playing a random opponent, a friend online, or even via Bluetooth connection. On my trial run, no opponent was available so I tested it out in "exhibition" mode against the computer, where you can select easy, medium or difficult. While graphics are not great, players have a unique 3D view of the table when shooting that is a bit different than most games. There is also an overhead shooting option available as well. It takes a bit to get the hang of it, but it mimics the challenges of finding the right angle to make a shot. Players can advance and earn tokens to purchase new sticks as well as earn points for certain in-game accomplishments such as "perfect break" and "perfect play."

A negative is the power control element when it comes to shooting as well as the lack of major level advances. Gameplay is pretty nice, though the aiming and shooting may seem kind of stiff when compared with others.
---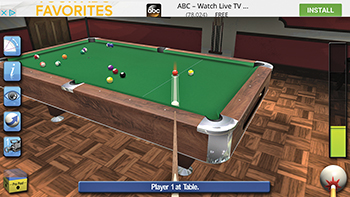 Game: Pro Pool 2017
Publisher: iWare Designs Ltd.
Format: iOS, Android
Difficulty: Moderate
Cost: Free, in-game purchase options
Rating:
Features abound in this game featuring a cool soundtrack, great graphics and plenty of options. Savvy hustlers can play single games, tournaments, or even leagues. Players can even choose number of racks per match, several rules, and difficulty levels when playing against a computer-generated player. Several table styles are also available as well as ball style. Players can challenge friends (passing one device), players around the world, or even on a local network.

The 3D feel of the game is very nice and sound effects really mimic the realism of a pool match. Aiming takes a bit as you manage a kind of vertical overview of the whole table. Players can really get specific in how much power to give each shot using a power meter that is a bit different from most games reviewed. Multiple camera angles are available as well as complete ball control and massè shots. The aiming and ball control options take a bit of work to master, but this is a game that goes the extra mile to give pool fans all the possibilities of a real game at the tables. It's hustle time!
---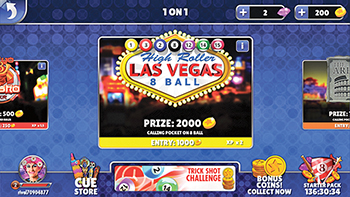 Game: POOL RIVALS
Publisher: Pocket Play
Format: iOS, Android
Difficulty: Easy
Cost: Free, in-game purchase options
Rating:
This social game is well designed with smooth aim and feel for players to make their way up in the billiards world to numerous arenas from Moscow to Las Vegas to Beijing.

Pool Rivals features great graphics and numerous options for players — one-on-one, world tour, casual play,and some cool mini-games including a slot machine to earn free prizes. There are several nice options for pool fans including adding new cues as you progress. One nice feature is that aiming is not an exact science when it comes to angles. The player has to really eyeball and make adjustments based solely on his own feel for the game. Some games are extremely easy when it comes to aim, but may lack in fluidity with the cue sticks and balls rolling on the table. Pool Rivals offers great control and feel, but still requires some skill in this aspect of the game. This is a top-notch pool game that will please hard-core billiards fans and casual players alike. Rack 'em!
---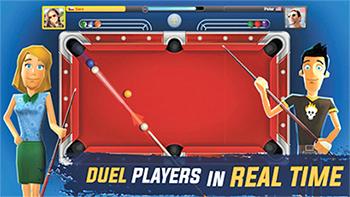 Game: POOL LIVE TOUR: CHAMPIONS
Publisher: Geewa
Format: iOS, Android
Difficulty: Easy
Cost: Free, in-game purchase options
Rating:
Yet another nice billiards game with smooth play, precision aiming and nice ball controls. Also, there are some nice sound effects in the arena, including applause from the audience for a nice shot and vocal "oohs" and "ahhs" for a miss. Players earn trophies for achievements, new cues, and can advance to differing clubs and arenas the more they win. Players earn coins to wager and accrue more hardware, and the whole experience is nice for a billiards fan. There is a very cool look to the game graphically with unique avatars and detailed scenes at the clubs and arenas that add a nice touch. Players take on random opponents in an overhead view of the table. The aiming and shot making is fairly easy and standard in Pool Live Tour; however, some additional shots like the jump and massè might have been nice. This one is a nice experience nonetheless and no doubt will prove a nice time killer for video pool sharks. Choose your favorite avatar and line up your best shot.
---
Sean Chaffin is a freelance writer in Crandall, Texas. His new book is Raising the Stakes: True Tales of Gambling, Wagering & Poker Faces, available at his blog PokerTraditions.com, Amazon.com, and BarnesandNoble.com. Follow him on Twitter @PokerTraditions.