Current Issue
Pool Royalty Bids Adieu

By Mike Panozzo - Photos by Jonathan Smith
The end is nigh for Brooklyn's Hall of Fame Billiards, the family poolroom owned and operated by the family of BCA Hall of Famer Jean Balukas.
Jean Balukas remembers when her father, Al, sold his deli in Brooklyn and purchased what was then Ovington Bowling Lanes with former New York pool great Frank McGown and two other partners.

"He owned a deli with my uncle called Al & Jim's," recalls the now-58-year-old Billiard Congress of America Hall of Fame great, who was five at the time. "He just got tired of working 16 hours a day at the deli."

So, in 1964, Al and his partners bought the bowling center on Ovington Avenue and converted it into the Ovington Billiard Lounge.

"At the beginning," Jean said, "the tables were directly on the wood lanes. You could see the arrows on dots on the lanes under the tables. We put the pins in the gutters and put plywood over them for a level floor."

Over the next 45 years, Al Balukas would build and nurture Ovington Billiards (later renamed Hall of Fame Billiards) into a Brooklyn landmark, a haven for kids and adults who simply wanted to shoot pool in an unpretentious, alcohol-free environment. Following his death in 2009, Jean, the fifth of six Balukas children, became the room's primary caretaker.

"[Hall of Fame] is a Brooklyn poolroom," she said, emphasizing the room's neighborhood reputation in the shadow of Manhattan's glitzier and higher-profile rooms. "Every age came here. We never cared what nationality you were, what you looked like or what you believed in. When you walked through those doors, you were a pool player."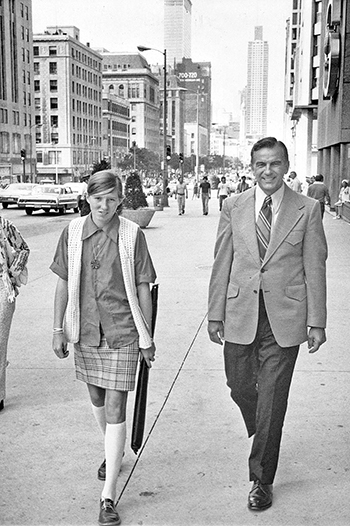 Al Balukas, shown with 13-year-old Jean in Chicago for the 1972 BCA U.S. Open, opened Ovington Billiards in 1964.

Now, after 54-year run that has seen pool as a sport and an industry boom and bust several times over, Balukas said the business (and the building, which the Balukas's have owned since '64) is on the market, a casualty of ever-increasing taxes and higher costs of doing business.

"Big buildings like ours require a little bit more in terms of income," Jean's brother Paul, a retired attorney, told the Brooklyn Reporter. "And, honestly, it's just getting too expensive."

And while the Balukas's would love to see a buyer continue to operate a billiard room, the truth is that scenario is unlikely.

"It just doesn't seem like it's going to happen," Paul Balukas added. "It's a hard sell and we can understand that from an expense point of view."

"This is something [the family] has discussed for a while," Jean said. "We actually met realtors the summer that my father passed away. Next thing you know, nine years have flown by. I have finally come to peace with letting it go."

Ovington Billiards was a gathering place for top East Coast pros long before Jean developed into the world's top woman player. McGown was a top caliber pro and the room staged weekly King of the Hill tournaments. Straight pool was still the game of choice on the East Coast in the late '60s, and the weekly 150-point match tournament drew the likes of Steve Mizerak, Ray Martin, Jack Colavita, Allen Hopkins, Ernie Costa and Peter Margo.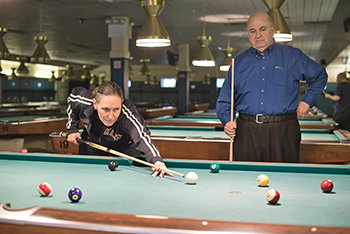 Hall of Fame's original Brunswick Gold Crowns are still in use, even by Jean, shown here sparring with longtime patron "Tony Mosconi."

The room featured 48 Brunswick Gold Crown tables, outfitted with gold cloth. (At one time, the two-story room held 52 Gold Crowns.) By the early-'70s, Al Balukas had bought out the other partners, including McGown, who moved to Montana and became part of the short-lived Corner Pockets chain.

"That's when I started to really get involved in the room," remembered Jean. "My first memories are going in there with my uncle and brothers to renovate a bit and run it like a true family business.

"There was a little section where the 'house' table was, with some bleachers. I remember going behind the bleachers and taking the paneling down from the walls."

By that time, of course, Jean was in her mid-teens and already boasted four of her seven BCA U.S. Open 14.1 titles.

"I only worked there when my dad was working," she recalled. "And I practiced there all the time. Back then, the customers were all men and my dad would encourage them to challenge me. It was good practice for me, but after a while the guys got a little tired of 'losing to a girl.'"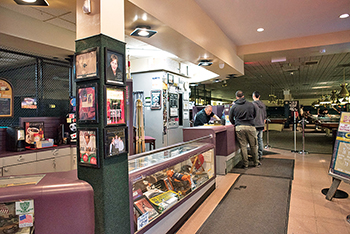 The counter area and walls of Hall of Fame are draped with photos and clippings that span more than 50 years.

Over the years, the room withstood the industry's roller-coaster business cycles, surviving through the troubling economy of the early '80s, taking advantage of the game's boom period later that decade and even battling through the mid-2000s recession.

Several years after Jean's induction in the BCA Hall of Fame (1985), Al renamed the room Hall of Fame Billiards. Each table on the main floor featured a tiffany-style lamp above it with a glass panel displaying the name of a BCA Hall of Fame member.

(Al Balukas even devoted an entire wall to issues of Billiards Digest, framing each issue after it arrived and mounting them in neat rows.)

"We did a big renovation around 1990," said Jean. "That was during the post-'Color of Money' boom period when new rooms were opening all over New York. I told my dad we needed to keep up with the Joneses. We needed to modernize. We blew out the bathrooms and put up sheet rock and new walls.

"At that time, there were more tables than Hall of Famers, so we had panels on the other lamps saying, 'Reserved — 2000' and so on. We kept the downstairs with a little more of an old-time feel."

But even during that boom time, when new, stylish rooms were garnering national press, the Balukases held firm on their desire to be a casual, alcohol-free establishment that promoted the game and encouraged young players.

"We have always catered to young people," Jean said. "My father never wanted it to be about alcohol. He wanted it to be about a sport, and playing and practicing and having fun. We operated as a friendly poolroom. Everyone was welcome. Everyone felt comfortable."

Hall of Fame has always been affordable, as well, charging just $3 per person per hour in the early days and $8 per person per hour from 2000 until just last year.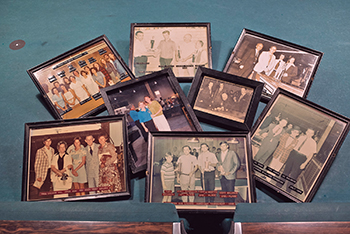 Framed photos chronicle the sport and prodigy Jean's rise to stardom.

"We just stuck to our business plan," Jean said. "It always paid the bills and made a living for my mom and dad."

Among the things Jean said she will miss most are employees, many of whom have worked at Hall of Fame for more than 20 years, and regulars like Tony Ciccotto (who Jean calls 'Tony Mosconi'), the straight pool house pro, now in his 60s, who started coming to the room when he was 19.

Now, however, the building is on the market and an eventual buyer will determine when Hall of Fame Billiards, the New York City Metropolitan Area's longest-running poolroom, will close its doors for good.

"It's been an amazing journey," Jean said. "My dad always told me, 'Jean, keep the tables clean, the sticks clean and the bathrooms clean and people will come back.' I believe that's why we're still in business 54 years later.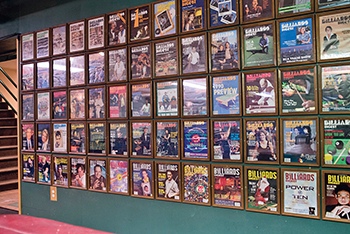 Al devoted an entire wall to Billiards Digest, from its first issue forward.

"And when I close that door and turn those lights out for the last time, there will be tears."