Current Issue




'Social Cues'

Considering the dynamic nature of communication technology, pool's top personalities and companies can leverage Facebook, YouTube and other social media to connect with others who are passionate about the game.

By BD Staff

Long gone are the days of developing your own GeoCities website, complete with too much animation and the ubiquitous "hit counter" that measured visits – or MySpace pages, complete with your Top 8. In today's digital environment, content and connections are the prime considerations. The prevalence of social media has revolutionized how people – in our case, players, companies, tours and the like – interact with the millions of pool enthusiasts scattered from Manila to Minneapolis.

Billiards Digest, with its Web Awards running strong for the past 17 years focusing primarily on websites, is turning its attention to the multichannel approach of connecting with fans, friends and consumers. We'd like to highlight a few industry leaders who are harnessing the power of social media – including Facebook, Twitter, Instagram and YouTube – to spread the word about the game.

This list isn't about the best or the most popular or even the most active. Rather, we're focusing on a few content producers that are worth noting and, for our readers, worth keeping tabs on.

The BD staff scoured as much of the pool-centric internet as possible. But with so many people producing so much, we can't promise every cue-based website or Facebook page caught our eye.
---
YouTube

The video-sharing giant is perhaps the perfect outlet for pool, collecting thousands of full matches and even more highlight reels, instructional entries and interviews with leading pool personalities. Two accounts highlight the website's ability to deliver engaging content to pool players and fans alike. The first, Florian "Venom" Kohler specializes in flashy, easily digestible trick shot videos, while the second – BD's own Dave Alciatore – delivers in-depth lessons on the game's intricacies. We also spotlight CueSports International, the Las Vegas-based tour and league promoter behind the BCA Pool League and various top-tier professional events.

Florian "Venom" Kohler

In a marketplace of content where currency is in views and impressions, the trick shot is the perfect avenue to success. For the past 25 years, back when ESPN and, later, ESPN2 were airing Trick Shot Magic on a regular basis, a dancing cue ball or a shot pocketing six balls made for an ideal six-second highlight. Now, with those videos chopped up and distributed across media, Las Vegas-by-way-of-France's Florian "Venom" Kohler is the undisputed king of the viral video.

The 30-year-old boasts an impressive 750,000 subscribers to his YouTube channel. His skills are apparent and his creativity is unparalleled, but the high-quality production involved in his highlight reels is what sets him apart from the competition. He knows what his audience wants to see, with his stylized set pieces often involving a beautiful assistant or pulsating music to match his electrifying stroke.

Kohler also walks the fine line of incorporating sponsorships – on the cloth, in the background, in his graphics – without diminishing the appeal of his product. He's active across social media platforms, often responding to YouTube comments and Facebook posts.

Dr. Dave Alciatore

Full disclaimer: We're a fan of Dave Alciatore, who has been a columnist with Billiards Digest for 15 years. That being said, the guy has built a mini empire in terms of online instructional content. On YouTube, he's collected 127,000 subscribers browsing hundreds of videos that cover esoteric, technically dense issues and common mistakes from amateurs.

Collecting eyeballs online doesn't verify quality or accuracy. But for a respected instructor, it's tough to argue with nearly 34 million views. A mechanical engineer by day, Alciatore carries an understanding of the game that belies his easy-going, approachable demeanor on camera.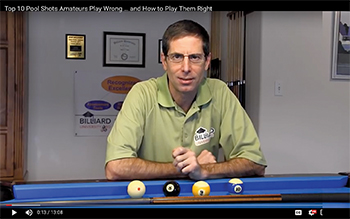 Dr. Dave's videos are very technical, but boast a loyal following.





CueSports International

Promoting the U.S. Open 8-Ball, 10-Ball and One-Pocket, along with the U.S. Bar Table Championships and now the World 10-Ball Championship, CueSports International has developed an impressive library of full-match videos on YouTube. If you want to see world-beaters like Shane Van Boening and Dennis Orcollo, CSI has you covered. If you are looking for regional stars matching up on barboxes, you'll be able to get your fill.

Amassing nearly 20 million views, CSI's YouTube channel caters to the die-hard pool fan with many entries extending beyond an hour in length. The production is clean and professional, while the commentary often comes from colorful characters and more-than-qualified individuals.
---
Facebook

It's funny how fast Facebook has become the dominant player in social media, considering the company was founded just 15 years ago. But as quickly as the digital space changes, Facebook has only grown in its position among social media outlets.

Matchroom Multisport

(OK, mostly Emily Frazer)

If Matchroom only handled the Mosconi Cup, it would be among the most prestigious brands in the game. But the British promotions team has established itself as the preeminent event promotions team with the World Pool Masters, World Cup of Pool and its newest event, the U.S. Open 9-Ball Championship.

With a level of production and professionalism unmatched in today's game, Matchroom Multisport divides its power on social media by breaking up its events as stand-alone pages. But behind it all, the firm's COO, Emily Frazer, is a constant presence on Facebook (along with Twitter and Instagram). She has become the de facto face of Matchroom. She's also a perfect social media personality – on camera, Frazer is polished, sophisticated and professional. And, OK, on her various social media platforms she is still so, but Frazer also offers a peek of what goes on behind the scenes.

Allison Fisher

The most decorated professional pool player of the last 30 years, Allison Fisher is hardly content to ease into her status as professor emeritus. But as the WPBA Classic Tour continues to struggle and big-money tournaments tilt more and more to East Asia, Fisher is refocusing her energies toward business interests, namely her line of custom cues, and relishing her role as a spokesperson for the game.

Online, Fisher presents a nice contrast to Kohler. With 14,000-plus fans on Facebook, she hypes her tournament appearances and industry events. But she also reveals a more personal side, with the occasional dog photo or post about her family.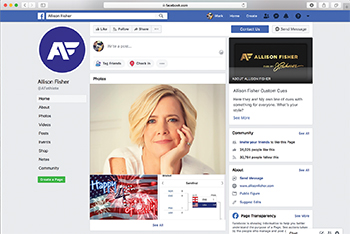 BCA Hall of Famer Allison Fisher reveals a more personal side with her FB presence.



You don't get the nickname Duchess of Doom for nothing. At the table, Fisher epitomizes the calm, cool, collected approach that has made her countless victories feel inevitable. But her fans get to see another side of her online. She's posted a few "Ask Me Anything" videos on YouTube, which deserve the attention of every pool fan. Fisher discusses the intricacies of the professional game in a way that remains accessible to those of us who haven't dominated the game for half a lifetime.

Jayson Shaw

For many professional athletes, social media outlets are used as ways to polish a brand or present themselves in a way they want to be seen. Then there's Jayson Shaw. The 30-year-old world champ will share sleek in-action photos – but he'll also share a six-minute unedited Facebook live video of his time at a hot spring with a shirt nowhere to be seen.

The Scotsman is one of the most exciting players at the table, combining electric shot-making with more personality than you could fit in a cue case. The demands on a professional pool player can get lost when looking at prize money and the thrill of competition. Shaw's Facebook presence is a lighthearted reminder that life on the road can be tough – but being one of the best pool players on earth has its perks.

Facebook and YouTube

OK, we wanted to include notice of a partnership that extends across both social media outlets. Tip- and chalk-maker Kamui Brand has an impressive following on Facebook with nearly 80,000 fans. (The company also sponsors Florian Kohler, so it understands partnering with media-savvy folks.) Kamui mostly sticks to reposting videos and other content from personalities in the game, while also hyping its own products and sponsored players. It also sponsors Rollie Williams' "Average Pool Player" video series on YouTube. Williams, a comedian and actor who gladly calls himself an average pool player, has more than 17,000 subscribers on the video site, so he's an established presence on camera.

The finest entries in the "Average Pool Player" series feature Williams trying to recreate difficult shots from legendary pros. (In reality, Williams is not average, though he's not a threat to knock off a regional event anytime soon.) In one, he examines a ridiculous position play by Efren Reyes, explaining just how he managed to play it. Trying it himself, Williams shows just how wide the gulf is between Average Joe and GOAT.

Partnering with Kamui, Williams boosts his already noticeable presence on YouTube to thousands of pool-hungry fans who follow a tip-maker on Facebook. Seems like a pretty mutually beneficial partnership.
---
Twitter

On one end of the spectrum, you have videos of full two-hour matches. On the other, you have Twitter. The content is meant to be consumed in a stream-of-conscious manner, with posts being dated the second they appear in someone's feed. For pool, Twitter is one of the quieter social media platforms, though a few folks are grabbing eyeballs with pithy jokes and clever observations.

McDermott Cues

The cuemaker only has 2,100 followers–never mind Billiards Digest isn't active on Twitter – but the Wisconsin-based outfit shows how it's done. McDermott mixes promotional material with offbeat retweets including Sean Connery playing pin pool and dogs drilling bank shots.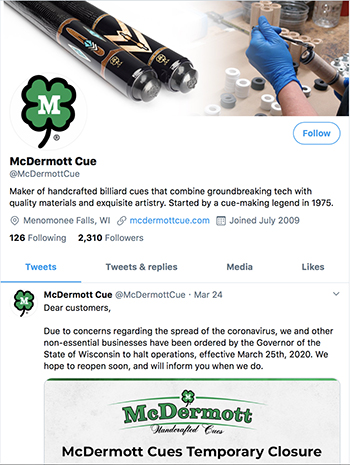 Twitter has become a solid platform for several pool companies.



The cuemaker brings a distinct personality to Twitter, something that has given mega-brands like Wendy's and Netflix fits. Tweets don't carry the weight of Facebook posts or YouTube videos, allowing frivolity and humor to have more room to play.

AZBilliards

Popular online news outlet AZBilliards makes the most of the rapid-fire social media outlet. With a decade on Twitter, AZB has amassed more than 5,000 followers. Most of the content simply comes from links to stories from AZBilliards.com. But considering the dearth of activity across the industry, it's better than silence.

It's easy to get lost in the noise with so much digital content coming from so many sources. But reposting stories to Twitter is a simple way of reminding interested parties, "Hey, folks. We're still here. If this catches your eye, click the link." It's not exhausting; it's not overloading the audience. It's more of a helpful nudge to followers who opt in to the account.
---
Instagram

Primarily a visual platform, Instagram is relatively quiet on the billiards front. It lends itself to less public sharing, though some companies can burnish their brands with some stylish posts.

Predator Cues

Speaking of style, Predator Cues has been an industry leader in polished, sophisticated branding for a few decades. The cuemaker's Instagram feed isn't going to overwhelm you with content, but Predator does a great job in delivering content in a manner that's true to the company's identity.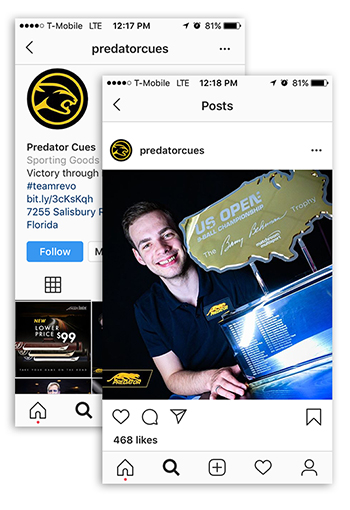 Predator Cues' Instagram profile.



With nearly 14,000 followers, Predator keeps fans engaged with event photos starring sponsored players and promotional information about its cues and accessories. Instagram acts as an avenue for Predator to show fans how the company is invested in the sport, with on-site updates from tournaments, while delivering some of its typically sleek advertising here and there.

Diamond Billiards

This poolroom in Midlothian, Virginia, knows exactly what Instagram is good for. Diamond Billiards uses its feed to try to capture the experience of being in a place with a bunch of friends. Photos and videos are packed with people having a good time, complete with a few goofy faces. Posts also hype tournament nights and beer and food specials, keeping followers engaged with practical, timely information.