Current Issue
The Drive For Five

A memorable U.S Open ends with Shane Van Boening's fifth title.
By Mike Panozzo
It was an unseasonably warm October day in Norfolk. Bright sunshine rained down from a cloudless sky. A slight breeze rolled in off of the Atlantic.

After an opening-round bye and a second-round 11-7 win over New York's Frankie Hernandez on Monday, Shane Van Boening had the day off from competition at the 41st U.S. Open 9-Ball Championship. The event's four-time champion used the free time to drive to nearby Forest Lawn Cemetery to visit the gravesite of the U.S. Open's passionate and colorful founder, Barry Behrman. Van Boening knew where to find Berhman's headstone, since he was also at Forest Lawn in April for Behrman's funeral. Van Boening, who first met Behrman in 2004, had developed a strong friendship with the promoter. Behrman had even tried to coax the South Dakota native into moving to the Norfolk area a few years earlier, promising to pay for Van Boening's apartment and to set him up as house pro at Behrman's 72-table Q-Master Billiards in Virginia Beach.

The purpose of Van Boening's visit was twofold. He wanted to pay his friend a visit to say hello and to tell him he missed him. He also made a vow: He promised to win his record-tying fifth U.S. Open title in honor of his fallen friend. "Barry was a great person," Van Boening said, moments after fulfilling his promise in a thrilling 13-9 win over Taiwan's Jung-Lin Chang in the championship match four days after his visit. "He was a wonderful guy and he did a lot for us. I wish he was here. I miss him a lot."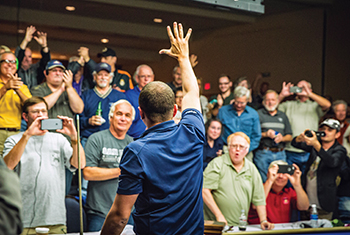 (Photo by Dandy Sese)

In truth, Van Boening probably wasn't the top-performing player at the 2016 U.S. Open. That would have been his title-match foe, Chang, whose almost flawless run to the final included a convincing 11-4 drubbing of Van Boening in the fourth round of the 149-player tournament.

Van Boening had made more mistakes than usual during the event, leaving the door open for opponents more often than is customary during his patented tournament runs. But it is unlikely any player in the field was as determined as Van Boening was to find a way to claim that fifth title and tie Earl Strickland for most U.S. Open 9-Ball crowns.

"I just think Shane wants it more than anyone here," two-time champion Darren Appleton said, after reviewing the final four competitors on the morning of the final day. "Chang is playing the best, and Jayson [Shaw] looks like this might be his tournament. But I think Shane wants it most because of Barry. I think it could be destiny."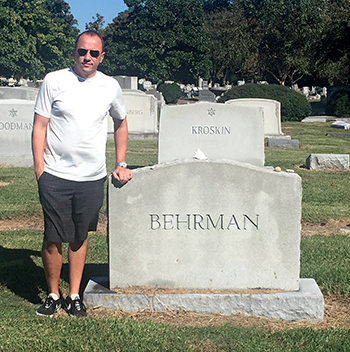 Van Boening's run to a fifth title started with a visit to an old friend's final resting place.

It is hard to imagine that any single player in the world championship-caliber field would be "destined" to win the 41st edition of the sport's longest-running major championship. Twenty-four countries were represented at the Open, with the absolute cream of the world's crop all present and accounted for. It could be argued that not even the World Pool-Billiard Association World 9-Ball Championship featured a field as strong as the one assembled at the Sheraton Norfolk Waterside. The mighty Taiwanese contingent rolled into Norfolk with eight powerhouse shooters, including the 32-year-old Chang and defending U.S. Open champion Yu-Hsuan "Kevin" Cheng. The top talent from the cutthroat EuroTour was on hand as well, led by reigning World 9-Ball Champion Albin Ouschan of Austria, Holland's Niels Feijen and England's Mark Gray. Transplanted Euros Jayson Shaw, Thorsten Hohmann, Mika Immonen and Darren Appleton (the last two both two-time Open champions) joined the fracas, with the added incentive of valuable Mosconi Cup points hanging in the balance. And, as always, the Philippine Islands were well represented, although, Dennis Orcollo aside, the group is not as deep or dangerous as in past years.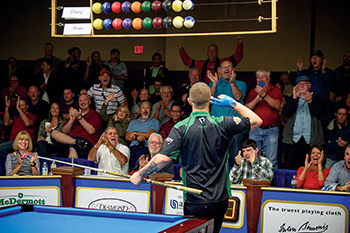 Shaw completed a miracle comeback. (Photo by JP Parmentier)

Of course, the largest contingent of players was the homegrown American group, anchored by Van Boening, but deep, talented and relatively young behind him — Justin Bergman, Skyler Woodward, Brandon Shuff, Billy Thorpe and Josh Roberts. Grizzled veterans like Hall of Famer Johnny Archer, Corey Deuel, Earl Strickland and Mike Davis added depth and experience to the U.S. hopes. And, like with the Europeans, valuable Mosconi Cup points played a role in chart-watching in Norfolk, with Mike Dechaine, Rodney Morris and Oscar Dominguez battling for the final automatic berth on Team USA in the December transatlantic clash. All storylines, however, took a back seat to the sentimental drape that enveloped the first-ever U.S. Open 9-Ball Championship to not be presided over by Barry Behrman. There were, of course, numerous reminders of the late promoter in the form of photo collages, posters and trademark gestures, like roses for women fans and the nightly playing of the national anthem. Behrman's mark on the U.S. pool scene is indelible, and the U.S. Open is his legacy. Serendipitously, Behrman had leaned heavily on Accu-Stats founder Pat Fleming in recent years for help in righting an event that had come close to wearing out its welcome with the game's top players. In 2015, Fleming took on the role of a chief financial officer of sorts, collecting entry fees and sponsor money to ensure that the announced prize fund would be paid out expeditiously and in full. Fleming continued his separate business relationship with Behrman to transmit matches in a pay-per-view format. Following the successful 2015 event, Behrman announced his plans to retire as the tournament's promoter, handing the production of the event to Fleming. Fleming and Behrman's children, Brady and Shannon, finalized details following Behrman's death, and Fleming took over production of the 41st edition of the event. "It is a big job to take on," Fleming said at the time. "But we'll run it for a year and see how it goes." To Fleming's credit, the 2016 U.S. Open ran seamlessly, with a slightly slimmed-down grandstand setup, giving the arena a cleaner look. He also added television monitors above the TV arena and offered ticket holders a viewing room with a live feed to the Accu-Stats streaming matches.

Aside from the annual debates over various racking rules and restrictions, the biggest issue with the tournament itself was the lack of seeding. According to Fleming, the tournament staff noted that Behrman implemented an "open draw" in 2015, despite the WPA-sanctioning requirement that seeding be used.

As could be expected, marquee match-ups found their way into the early rounds. Fiejen and Ouschan, the top two players in Europe, faced off in the second round, with Ouschan winning, 11-7. The second round also saw Chang top Dechaine, 11-7. By the third round, top names were beginning to drop to the loser's bracket, including Archer, Orcollo, Morris, Ouschan, Woodward, Immonen and Hohmann. As is usually the case in a stacked field like the U.S. Open, several under-the-radar players make surprising runs. While Women's Professional Billiard Association star Karen Corr made a splash in 2015 with an early win over then-World 9-Ball Champion Pin-Yi Ko of Taiwan, the head-turner in 2016 was 18-year-old Chezka Centeno of the Philippines. The young lefthander, who won the women's division at the 2016 China Open, displayed a lethal game and maturity beyond her years, going 3-2, with wins over Americans James Blackburn, Steve Fleming and Donny Mills, before being ousted by countryman Carlo Biado.

Perhaps no player, however, cruised virtually unnoticed further than Saudi Arabia's Abdullah Alshammari. After a first-round bye, the 29-year-old from Ryad, who just this year switched from snooker to American pool, rattled off four consecutive wins to reach the final eight in the winner's bracket. Alshammari topped England's Elliot Sanderson, 11-5, Kin-Lin Wu, 11-8, Biado, 11-5, and Kai-Lun Hsu, 11-8, before dropping two straight, losing to Spain's David Alcaide, 11-5, and Taiwan's Yu-Lung Chang, 11-6. "The atmosphere elevated my game," said Alshammari, who finished tied for ninth. "This is the best field in the world. I was ready to play."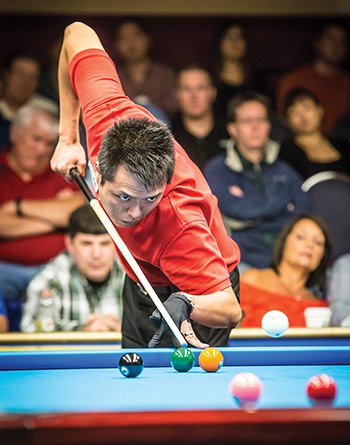 Chang got the jump on Van Boening in the final. (Photo by Dandy Sese)

While an argument could be made that Alshammari benefitted from a relatively soft draw, the same could not be said for former U.S. Open champ Jeremy Jones. Only a part-time player these days, the Texan is still one of the smartest players in the game and tends to make the most of his chances. In Norfolk, Jones swept to the winner's bracket final four with six straight wins over a list that included four former world champions and a U.S. Open champion. In order, Jones shot down Deuel, 11-10, Strickland, 11-8, Austria's Mario He, 11-8, Germany's Ralf Souquet, 11-8, England's Darryl Peach, 11-9, and Alex Pagulayan, 11-9. "I'm just trying to have fun and play a more aggressive game," said the normally methodical Jones, who eventually placed fifth after losing to Chang and Van Boening.

From the start, however, Chang and Shaw looked like the players to beat. No one has ever doubted the talent of the 28-year-old Shaw. The knock on the mercurial lefthander had been his lack of maturity and questionable temperament. Since moving to New York, marrying and having a child, however, Shaw seems to have turned the corner and is producing a monster 2016. He has posted wins at Turning Stone, the Derby City Big Foot 10-Ball Challenge and the Challenge of Champions, finished fifth at the World 9-Ball Championship and appears a lock to be on Team Europe for the 2016 Mosconi Cup. "I've been working hard on keeping my head," Shaw said in Norfolk. I'm learning from mistakes and fixing bad habits. I'm working out. I'm happy. I take my family with me as much as I can. It really helps. And this week I've just turned my phone off and I'm focusing on playing."

Shaw blazed through the winner's bracket, beating Drake Niepoetter, 11-6, Morris, 11-6, Warren Kiamco, 11-9, and Spain's Fancesco Sanchez Ruiz, 11-8. Then, in the final eight on the winner's side, Shaw found himself trailing 2015 World 9-Ball Champion Ko, 10-4. After an illegal break by Ko, Shaw began to chip away. With the winner-breaks format, Shaw began stringing racks. When he couldn't run out, he controlled the table with solid safety play. Ko was helpless to stem the tide and the pro-Shaw crowd roared with every game. Incredibly, Shaw completed the miracle comeback to advance, 11-10. "I never gave up," Shaw said. "And I fed off the crowd."

Shaw used that adrenaline to power past Alcaide, 11-6, to reach the winner's bracket final against Chang. Long one of Taiwan's top players, Chang was barely tested in his run to the final. With a simple, precise game, he appeared to never be out of line and he rarely missed a shot he intended to pocket. After opening with his win over Dechaine, Chang cruised to wins over Japan's Shosuke Hamada, 11-3, Van Boening, Japan's Naoyuke Oi, 11-4, Shuff, 11-6, and Jones, 11-9. The event's final day started with four of the world's top players battling for the $50,000 top prize — Chang, Shaw, Van Boening and Orcollo, the feisty Filipino who had rattled off 10 consecutive loser's bracket wins. Van Boening had fought his way into the final four with a seven-match run through the star-filled loser's bracket. Showing the form that earned him three U.S. Open titles in the past four years, he posted wins over Hohmann, Deuel, Peach, Dechaine, Shuff, Pagulayan and Jones, holding each to seven games or less. In the fourth-place match, he sprinted from a 7-5 lead with four straight racks to eliminate Orcollo, 11-5.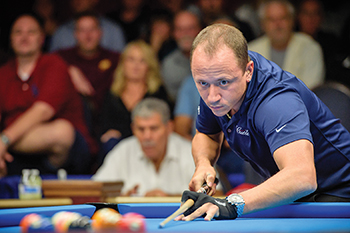 The determined American fought back to win the title. (Photo by JP Parmentier)

The winner's bracket final again saw Chang use pin-point cue ball control to cruise to leads of 6-1 and 7-2, posting a gaudy .956 Total Performance Average along the way. But at 10-4, the winner of the 2011 China Open and 2012 World 8-Ball Championship came up dry on his final break shot. Shaw sprinted through the rack to cut the lead to 10-5. The irony was not lost on Chang. "As soon as I had the dry break, I thought about Ko," Chang admitted later. "And when [Shaw] was running out, I told myself, 'If I lose like that, it is okay.'"

Shaw powered home a handful of critical shots, including a combination shot and three rails for position, to cut the margin to 10-8. With the crowd sensing another comeback, Shaw blazed through back-to-back racks to tie the match, 10-10. Shaw cupped his ear with one hand and urged on the now-standing crowd. Chang, like Ko before him, sat stoically, calmly awaiting his fate. Shaw's monster break deposited three balls into various pockets. Shaw measured a long, difficult shot on the 3, but this time missed badly. Chang stepped up from his chair, surveyed the open table and called for a time out, wiping his brow and flapping his arms. The crowd broke up with laughter. Then, after returning to the arena and pocketing the critical 3 ball, Chang broke the hushed silence with a loud, "Ha!" Again, the appreciative crowd laughed along with the unusually playful Taiwanese star. "We needed some humor to relieve the stress," said Chang, after clearing the rack for an 11-10 win. "They are here to see a good show, and we are here to make a good show."

As if the crowd needed more excitement, Van Boening and Shaw put on a show for the ages in the semifinal. Taking advantage of a few friendly rolls and firing in a pair of early-rack combinations on the 9, Shaw bolted to an astonishing 6-0 lead. Shaw's scratch on the ensuing break, however, gave Van Boening the opportunity he needed and the South Dakotan took control of the table, cutting the lead to 6-5. The two traded games to 8-6, when Shaw took advantage of Van Boening's missed 8 ball with a table-length bank to extend his lead to 9-6.

Shaw scratched on the next break, pocketing the 1 and 9 in the process. It would be his last trip to the table. In classic Van Boening style, America's best player polished off that rack, and ran out from the break three more times to take a 10-9 lead. And as if watching Van Boening run out wasn't painful enough for him, Shaw was forced to look on in disbelief as Van Boening's next break sent the 9 ball racing into the corner pocket. "It was an unfortunate ending," Shaw understated. "But that's pool. He made some great shots. I thought this might be my time, but you can't take anything for granted in this game."

The race-to-13 final match promised more of the same, with Chang looking to make it back-to-back Taiwanese champions and Van Boening seeking to tie Strickland's record of five U.S. Open titles and honor his fallen friend. Once again, Chang held the early advantage, building a 3-0 lead. Van Boening gained the table and produced three run-outs to take a 4-3 lead, a lead he would not relinquish. Unable to sustain momentum, the pair battled through a handful of racks, with Van Boening holding leads of 7-4, 8-5 and 9-6.

At 10-6, Van Boening scratched on the break and Chang cut the lead to 10-9. After an illegal break by Chang, Van Boening played a delicate billiard into a hanging 8 ball to free up the 3 ball and ran out for an 11-9 lead. Another tricky billiard in the next rack allowed Van Boening to reach the hill, 12-9.

An illegal break in the ensuing game brought Chang back to the table, but a 5-7 combination left the cue ball and almost 5 perpendicular to the top rail. Chang tried to cut the 5 into the corner, but it bobbled. Like Chang before him, Van Boening surveyed the table and called a time out. A few minutes later, he was back at the table polishing off one of his most cherished wins. "Oh my god!" the normally reserved Van Boening said. "I can't believe it.

"I worked really hard and I played strong," he added. "He's a great player, but his scratch on the break gave me an opportunity to come back and pull ahead. I like this format because you have to really hit the break." For Chang, the final was a frustrating lesson in the fickleness of the game. "I scratched twice in the side on the break," he said. "I didn't scratch in the side once the entire week. "And at 3-0, I missed the 1 ball in the side pocket," he added, citing a key moment in the match. "When I was down on the shot it didn't feel right, but I shot anyway. I should have gotten back up.

"But I am happy with the result. The competition here is so strong. It was a great tournament." "Barry told me a year ago he wanted me to tie Earl's record of five U.S. Open titles," the champion said solemnly. "Winning this for Barry is even more important than tying the record." And number six?

"Honestly," Van Boening said, sounding not all that convincing, "I'm fine with five."
MORE VIDEO...