Current Issue




Above Average

Pool's everyman Rollie Williams puts his subpar skills on display for millions of fans to see.

By Keith Paradise

Rollie Williams was hanging outside of his Brooklyn apartment on a July afternoon, chatting on the phone with a reporter when he spotted a stranger on the sidewalk attempting to grab his attention. For a brief moment, the video creator and improv comic had a rare loss of words.

"This is crazy," he finally said. "A guy just walked by and he pointed to me and did a pool motion, because I think maybe he had seen a video. That was surreal. That doesn't happen very often."

What does happen frequently is people viewing Williams' comical and creative pocket billiards-themed videos on his personal page or that of Kamui Brands. Most fans of the game usually look up content on the internet because they want to watch famous players in old matches, but the 32-year-old Colorado native is far from a professional. In fact, he will readily tell you how bad he is, mentioning that his lone accomplishment is winning his league night once.

"I routinely get my ass handed to me by amateurs," he says sincerely. "Certainly, my social media reach to skill ratio is very high."

Yet, part of the intrigue surrounding Williams comes from his average abilities, among other things.

"Might be the first average pool player you will have on the cover," said German professional and instructor Ralph Eckert, who collaborated on a video with Williams.

For any aspiring video creator or blogger, generating a high number of views — or going "viral" — is the ultimate goal. But developing a large following with a niche such as pool-related content on YouTube can be as difficult as attempting to recreate some of pool's most dazzling shots — like Efren Reyes' infamous "Z" kick shot against Earl Strickland in 1995. Using persistence, a sharp wit and attention to detail, Williams has managed to pull off the shots both with the cue and camera. Over the last four years, his "Your Average Pool Player" series has amassed over 27 million total views on both YouTube pages.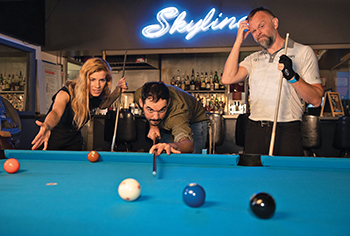 Pros Jennifer Barretta (left) and Thorsten Hohmann (right) can attest to comic Williams' need for coaching. Photo By Jonathan Smith

The online video series has allowed Williams to find his niche as a pool playing entertainer while tapping a large, hidden audience of both pool players and people just looking for entertaining content.

"If I had to guess why they're popular I would have to say people like seeing someone who is genuinely invested and interested in the sport," Williams said. "I love pool and I try to make that clear in the videos that I do, and I think that comes across."

His content offers not only instruction and analysis of his own game but also offers a glimpse at the lighter side of the game, allowing viewers to see competitors in a more informal setting. Anyone can schedule a lesson with Jennifer Barretta, but Williams sat down with her and analyzed the action scenes in well-known pool movies — including Barretta's performance in the movie 9-Ball.

The well-choreographed highlight reels of Florian Kohler usually involve the trick shot artist dressed in semi-formal attire and performing highly skilled drills while dramatic music plays underneath. Williams, on the other hand, drove the two of them to a Las Vegas Walmart to purchase the cheapest cue available and gave it a test drive on Kohler's home table. They later drove to the U.S. Open and let other professionals hit a few shots with their new purchase. Viewers get the raw experience of every miss, including one jump shot that hit Williams in the face.

"One of the things that got Rollie going is he is trying to make it as real as possible," said Kohler. "A lot of people won't show a lot of misses, whereas he tries and tries, and on top of that, with his comedian background, I think it really hit the spot for him."

"When I watch matches, I don't see a lot of stories about the professionals; I just see wonderful players," said European theater producer Michael Thalheimer, a recreational player himself who loaned his Berlin apartment to Williams and Eckert for their video shoot. "But Rollie is giving the whole billiard story, a personal story. His own story. It's serious but I can laugh about it."

The industry got its first glimpse of Williams a couple of years ago when he had the idea to try and tackle some of pool's most famous shots from the perspective of an amateur. He's set up Chris Melling's miraculous 8-ball runout from the 2017 World Pool Series, Jayson Shaw's three-rail reverse bank at the 2016 Deurne Classic and pretty much every remarkable shot from Reyes. He showed the trials and all of the errors of his attempts, explaining the adjustments he's making to his technique along the way.

After recreating about a dozen of these shots, he debuted "From Average to Good," featuring professional players and instructors who coach Williams on his own game. He opens the performance by playing a few racks with a professional such as Eckert, former World 9-Ball Champion Thorsten Hohmann and Women's Professional Billiards Association stars Barretta and Emily Duddy. After the short race, the professional analyzes his strengths and weaknesses, then provides instruction. The lesson concludes with another game to observe how well the pupil absorbed the lesson. With the trained comic serving as host as well as student, Williams keeps the session informative but also humorous — as if someone is giving billiards lessons to Conan O'Brien.

"I think it's a great way to teach because it makes it fun to watch and you learn something at the same time," said Barretta. "I don't think he's looking to entertain as a first priority. I think he's looking to share knowledge."

And to think it all came about because of a pair of pestering relatives, some chalk and one unsolicited email. Here's the story of how Rollie Williams became one of pool's most popular downloads.

From an early age, Williams loved to entertain.

When the family vacationed at Arizona's Tanque Verde Ranch when he was 2 years old, the toddler worked the room at dinner, going from table to table talking to guests. As a kid, Williams was engaging, analytical and driven. A little league baseball coach once told his mother that her son was sometimes anticipating three or four plays ahead in a game. Boy scouts have until age 18 to fulfill prerequisites in order to reach Eagle scout. Williams had it all completed as a 12-year-old and can still tell you about every knot he learned how to tie.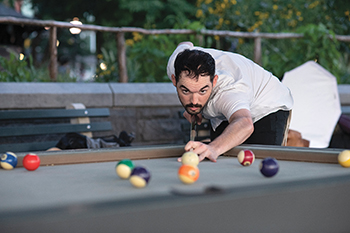 Joking aside, Williams has worked long and hard on his pool game, steadily improving to mid-level amateur status. Photo By Jonathan Smith

"He's always challenged himself to be as busy as he could possibly be," said Judith Williams, Rollie's mother. "He was always finding interesting things to pursue."

He had his first interaction with pool when he was about 9 years old, discovering the 8-foot table in his grandparent's basement. This room became an escape from the occasional harassment from his two cousins.

"I was bullied by my cousins a lot, and so I would often go down to the basement to get away from them," he said. "And they are girls. I had no real reason to need to retreat, but I would always go down to the basement and I was always fascinated by the pool table."

When his grandparents were looking to get rid of the table four years later, Williams recruited a handful of 13-year-old friends to disassemble, relocate and reassemble the table at his home. It went about as well as could be expected.

"It was uneven," Williams said. "We left a bunch of screws off of it like an Ikea couch. We did not do a good job assembling this table."

After graduating high school, Williams enrolled at the University of Puget Sound in Tacoma, Wash., choosing the unique dual major of biochemistry and theater. He got hired out of college as a government mircoscopist, researching zebra mussels. At night, Williams performed comedy at a couple of clubs in the Denver region. With comedy and careers taking top priority, his interest in pool was pushed from the back burner to off of the stove completely.

Ironically, it was a YouTube video that reinvigorated his interest when he stumbled onto a clip of snooker star Ronnie O'Sullivan's maximum break from 1997. The fond memories of hitting balls on the irregular table at home came rushing back, and so did his interest in the game.

"Seeing that opened up a new world for me," he said. "I didn't know that sort of skill was available. It turns out it's not really available to most people unless you're extra, super skilled."

Regardless, the seed had been replanted and was being fed frequently. He made regular stops at the local pool room to shoot a few racks and enrolled in a two-day class with Billiards Digest instructor Dr. Dave Alciatore.

He eventually grew bored with the researching gig and decided to give comedy a real try, moving to New York in 2013 to study at the Upright Citizens Brigade. He landed gigs as a biochemistry tutor and as an editor and content producer for digital media company Upworthy to pay the bills. Over time, he also began creating videos for his employers as well, teaching himself how to use the editing software.

Williams also brought his interest in pool to New York, frequenting Midtown pool halls and joining a league at Society Billiards. He continued devouring pool videos, learning who all of the major professional players were as well as the primary manufacturers. As he viewed, the observant Williams noticed one particular company seemed to be sponsoring almost every event: Kamui. The steady sponsorship stuck, and when his mother asked what he wanted for Christmas one year, he asked for the company's chalk.

A couple of months into 2016, Williams ventured onto the tip manufacturer's website and sent a cold pitch offering his skills to create content. There wasn't an email address for general inquiries, only a place to report defective tips. Williams filled out the form, stating that, no, he didn't have a defective tip, but he did have an idea for improving the company's social media outreach. The kid who thought four moves ahead in little league wrote a four-page business proposal, mapping out his qualifications for a position that didn't exist and how Kamui could grow from 20,000 YouTube subscribers to potentially 100,000 through his expertise.

When two months went by without a response, he more or less forgot about it.

Eventually, Williams' proposal matriculated from the company's North American distributor to company founder Masato Hiraoka across the Pacific. The Billiard Congress of America's annual trade show had just concluded weeks earlier and Hiraoka had already been discussing doing more social media with Kohler. However, Williams was a complete stranger. It would have been easy to right-click this unknown into the recycling bin. But Hiraoka was intrigued by what he was reading.

"I just felt that he was very similar to me. He wanted to make something," Hiraoka said. "A lot of offers are about a deal, but Rollie was all about how Kamui can grow. He was not mentioning himself."

Hiraoka replied, wanting additional information on the offer but also stating that the company rarely worked with people they didn't know. Williams understood, and invited the company owner to look him up the next time he was in New York. Hiraoka did better than that, offering a plane ticket to Hiroshima to interview for a position in a couple of weeks.

"I felt like there was a thin chance, but it was a free trip to Japan," Williams said. "I mean, I would take a free trip to get my teeth pulled out."

The two men quickly developed a rapport upon Williams' arrival, as they soon realized that both were passionate about seeing the game and the brand grow. He didn't lose any teeth, but he did gain the job, starting shortly thereafter by creating a series of highlight videos. About a year later, Williams pitched the "Average Pool Player" concept. At the time, the majority of the content available online was either short highlight reels, instructional videos or uploads of old professional matches.

The series allows Williams to showcase all of the skills he's been sharpening for years. Any player can stroll into a pool hall, set up the cameras and spend the afternoon attempting Corey Deuel's three-rail draw shot against Mika Immonen in the 2004 U.S. Open 9-Ball Championship. But not every player is willing to be egoless and show each and every missed shot — 33 in all — while mixing in critical analysis on the process. Additionally, not everyone has the technical know-how and ad-libbing abilities to mash up the footage into a presentation that is equal parts humorous, entertaining and informative.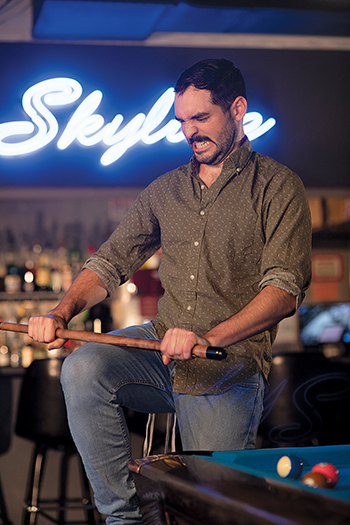 Williams' "From Average to Good" videos are entertaining, humorous and instructional, making them a hit with "Joe Pool Player." Photo By Jonathan Smith

"I've spent something like $5,000 at the Upright Citizens Brigade taking improv classes and I have to get my money's worth so I try to do as much comedy as I can," Williams said.

"He's not making fun of pool," said Hohmann. "He's presenting it as, 'This is serious, and it takes a lot to get better.' But he presents it with his funny personality. That's important."

Williams was so serious about his game that he was planning to compete in this year's U.S. Open Pool Championship, chronicling his coaching, progress and the event itself in a new series called, "Road to the U.S. Open," which debuted in February. Williams had planned not only to capture his experience, but also show what the tournament looks like behind the scenes.

"Not everyone has $1,000 to donate to the U.S. Open, but I'll bet they'd like to see the guts of the event — the draw, the practice room, the players meeting," he said. "I wanted to illustrate that."

With professional tournaments on COVID-19 lockdown, the series is currently on hold, but Williams even managed to inject humor into that. He used some red Solo cups and string to turn his dining room table into the second semi-functional pool table he's assembled in his life. The short video he posted of him pocketing a snooker ball using a broomstick on the makeshift equipment is available on Twitter and landed over 11,000 likes.

Whether it's the comedy or his personality, Williams has filled a void in billiards content. "Your Average Pool Player" regularly attracts views in the mid-six figures or greater. Two uploaded videos of the aforementioned Deuel shot on YouTube have generated 475,000 combined views, while Williams' recreation on the Kamui channel has netted 2.8 million since its uploading two years ago.

"He is part of the next generation of social media and he has found his niche," said Kohler, a guy who knows a thing or two about gaining popularity through online videos.

A decade ago, it was the French artistic pool competitor who burst onto the scene with highly produced, three-minute videos which showcased his vast assortment of highly complicated shots. It was the perfect formula for the growing online video world, with Kohler acquiring over a million subscribers for his YouTube channel, while his personal view count topped 200 million. But YouTube's algorithm has changed in recent years, with the online video platform preferring considerably longer presentations in order to add more advertisements. A viewer who sits through a 30-minute YouTube video now can expect to see four or five commercials along the way.

Kohler now finds himself taking note of Williams' formula and trying to find new production methods, recently uploading a handful of 10-to-15-minute instructional videos himself.

"That's part of the genius," Kohler said. "You have to give it to the guy. He understood how to work with the parameters and make it work."

It also doesn't hurt that he's probably one of the most likable people you'll meet, and not just in pool.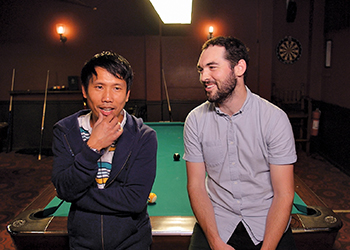 Williams' video guests have included stars like Thorsten Hohmann, Jennifer Barretta, Ralph Eckert and Alex Pagulayan (left, with Williams). Photo By Andy Zou

Ask anyone who has worked with him and they'll tell you the Williams you see on the screen is what you get in real life. He's intelligent, he's friendly and he upbeat. If Rollie isn't your friend, it's probably only because you haven't met him yet. And he always finding some weird way to have fun. One day in his apartment, he grabbed an orange and asked roommate Will Moritz to pitch an orange at him — creating the game "fruit ninja" pretty much on the spot.

"He's someone who always tries to throw his keys onto a hook," said Moritz. "He's never going to make that shot but will continue to try."

When Williams wanted to add professional players to his productions, it helped to be working for a company that currently sponsors approximately 160 players worldwide. As a result, Williams has the equivalent of a graduate school level of instruction. He flew to Germany and trained with Eckert and traveled home to Colorado and took another lesson with Alciatore. He's also learned under Hohmann, Barretta and Society Billiards house professional Jonathan Smith. Williams has also been granted free table time at Society, a perk usually reserved for top professionals in the area.

So, with all of this instruction and table time there's no way he's still just an average player, right?

"He's not an average pool player," said Alciatore. "When you think about all of the average league players, he's better than the average league player."

"Four years ago, we took him to the pool hall here in Hiroshima," said Hiraoka. "At the time, he was not able to beat us at all. But these days, I watch what he does, and I don't think we can beat him anymore."

One reason that Williams isn't even more proficient is that he's once again involved in numerous projects. He's currently enrolled in graduate school at Columbia University, studying climate science. Much like he took his love of comedy and pool and spun into the Kamui job, Williams has taken his passion for performing and the environment and morphed them into a monthly comedy performance called An Inconvenient Talk Show at the Caveat Theater on the Lower East Side. Dressed as a disgruntled Al Gore, Williams delivers a monologue then interviews special guests like scientists and reporters who have covered the subject.

As live theater remains on hiatus thanks to the pandemic, Williams has begun producing climate science-themed videos on the YouTube channel Climate Town. The performances are textbook Williams, mixing a heavy dose of humorous drop-ins between bites of scientific research.

"He's always doing 10 million things but they're always worthwhile and I don't know that anyone can say that," said Sofia Acosta Wan, manager at Society Billiards.

With 42,000 subscribers on his personal YouTube page and 100,000 viewers on the Kaumi page, Williams has become one of the most recognizable people in pool who isn't a professional. People regularly come up and introduce themselves when he's out playing in New York. Wan had a potential business partner from Israel in her facility when she and Williams were still on the same league team. When Williams came into the office to let her know it was her turn to shoot, the visitor practically turned into a child seeing his favorite athlete, saying he watches Williams' videos all of the time.

"It was the first time I'd ever seen someone star struck over seeing Rollie," she laughed.

The easy-going and upbeat Williams takes the attention in stride. When he was leaving the Mosconi Cup arena last November at Mandalay Bay in Las Vegas with Neight Mindham, host of the Cue It Up podcast, they were stopped three times in about 50 feet by admirers. Williams treated each group like they were long, lost friends.

"The videos don't do justice to how good his character is," Mindham said. "He's even better in real life than he is in his videos and that's rare to see in any sport with any famous person."




The mulit-faceted Williams combines his stand-up skills and his vast knowledge of climate science in "An Inconvenient Talk Show" in New York City. Photo By Carly Jane Hoogendyk

Before the pandemic lockdown, Moritz was at dinner with his roommate. As they dined, additional dishes continued to come to the table that were "compliments of the chef." Williams had no clue why the staff was paying them extra attention, but he wasn't going to complain about complementary lamb chops. At the end of the meal, the waiter told Williams the chef was a huge fan of his videos and asked if he would like to meet up to play at Society after his shift was done — which he happily obliged.

"He said, 'I kept playing because he kept giving me lamb chops," Moritz said. So, what are Williams' plans for the future? Will he remain a permanent fixture on pool fan's computer screens or will he drift towards climatology or comedy? Or will he continue trying to do it all? He's currently looking to divide his time between what he called a "climate science and billiards ambassador," hoping to generate the same kind of interest and momentum in his science videos as he's accomplished within the billiards industry.

In a future that's full of both uncertainty as well as possibility, one thing appears certain: He doesn't plan on turning the camera off any time soon.

"I feel so lucky that, even a part of my life is I get to go and talk to professional pool players, play pool and do videos about pool," he said. "It doesn't even seem like work. It seems foolish to give up on something that feels like such a blessing."