With a string of pro tournaments in place and travel restrictions making return trips problematic, more than a dozen European and Asian players spent nearly three months criss-crossing America, making plenty of memories along the way.
By Keith Paradise
Denis Grabe and Alex Kazakis found themselves in a bit of a conundrum for both good and bad reasons this summer.
The good news was that professional pool was making a swift comeback after nearly a year-and-a-half of dormancy, with seven tournaments practically stacked on top of each other within a nine-week span. The bad was that the continued Covid-19 pandemic was still making international travel treacherous, with many countries requiring citizens to quarantine for as much as two weeks in another country before entering or after exiting the United States.
Rather than join the jet setting crowd shuttling back and forth between Europe, the Greek and the Estonian opted to stay in the United States for over two months, traveling the country by car to mix in money matches, sightseeing and some additional hijinks along the way. When they bumped into fellow competitor and acquaintance Mario He of Austria and Hungary's Oliver Szolnoki at the U.S. Open Pool Championship in Atlantic City they invited them along for the extended stay. And so, the four Europeans hopped into a rented Toyota 4-Runner and took off on a journey that was the movie Road Trip cross-pollinated with The Color of Money.
And they weren't alone, joined by a carful of competitors from Singapore which included U.S. Open runner-up Aloysius Yapp and Sharik Sayed as well as another vehicle packed with Poles, including Mieszko Fortunski, Konrad Juszczyszyn and Wiktor Zielinski.
Sitting at the International Open in Norfolk, the players looked every bit like a group that had been barnstorming the country for three straight months. A little bit haggard, a little bit homesick and full of a lot of stories.
"We are really tired," said Juszczyszyn. "I've never done anything like this. It's hard to describe."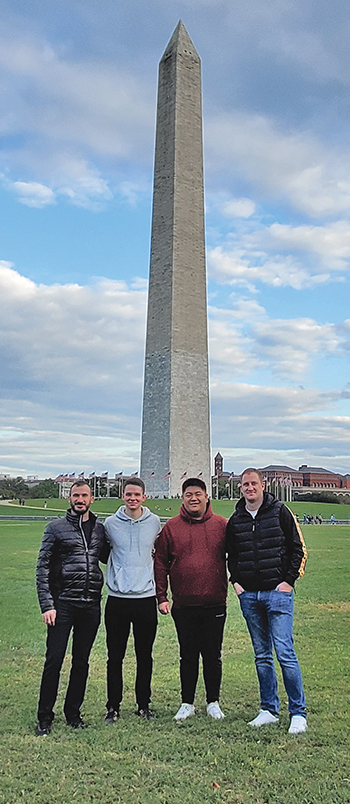 It was a monumental road trip for (l-r) Kazakis, Szolnoki, He and Grabe, who managed to squeeze in a stop in Washington, D.C., along the way.
With a 14-day quarantine required before Europeans could enter the U.S., many of the competitors opted to wait out the two weeks in Istanbul, Turkey before making the transatlantic flight to Las Vegas for the Diamond Las Vegas Open and World 10-Ball Championships. Days after the Nevada events concluded, the players were back on a plane for a cross-country flight to Atlantic City for a week of play at the U.S. Open. When the tournament concluded, the Polish contingent opted to stay with friends in New Jersey to catch up on some relaxation for a couple of days while the other two carloads of competitors headed west, as Grabe and his carload traveled to Cleveland for a couple of days before leaving for the CSI Michigan Open.
Yapp and company would also arrive for the tournament, with the young man from Singapore earning his first major victory during the weekend in Battle Creek.
Although the competitors weren't traveling together in a pack of cars, they were frequently running into each other.
"We played almost the same tournaments," said Yapp, who added that he and Sayed had planned to do a trip like this last year before the shutdown. "We saw each other almost the whole trip."
From there, everyone made their way to Aiken, South Carolina for the Diamond Open, the inaugural multi-discipline event hosted by equipment retailer Omega Billiards. While they were competing, Kazakis purchased three tickets for a raffle of $2,500 worth of equipment and everyone in the car bought into Szolnoki's Calcutta, who came at a price tag of $400. After the Greek fizzled out in the quarterfinals of the 9-ball competition, he learned that he was still a winner, with his raffle ticket being pulled for the equipment bundle.
"I was like, 'What raffle?'" said Kazakis. "That was like five days ago."
A couple of hours later, his carmate from Hungary earned first prize, bringing in $16,000 that was divided among the men in the car and two others who had purchased the player.
After South Carolina, the players from Poland headed north to New York City for a few days while Kazakis and company went in the opposite direction to Florida, where entrepreneur and billiards booster Dominick Dunn had lined up some exhibition matches and autograph signings to help assist the players financially. While they were in town, Dunn treated them to dinner at one of the finer steak restaurants in the Orlando area.
Not surprisingly, one of the biggest arguments amongst the players while on the road was usually around where to eat − or in the case of Szolnoki, how often to eat.
"He eats so much," said He. "It's unbelievable."
The 24-year-old regularly started the day with an omelet made with between five and six eggs and would eat four or five more times during the course of the day. Sometimes, he would wake up from a nap in the car and the first thing he would do is ask He if he was hungry. When they checked into a new hotel − which they did frequently, staying at 16 different places during their tour − one of his first questions was if the lodging offered breakfast.
"And I wasn't even at my best because I didn't work out the last month of the trip and my calorie need was lower," said Szolnoki when asked about his daily food intake, adding that he usually eats once every three hours on average. "Imagine what they'd say if they see me during everyday life when I go to the gym regularly."
There was a little bit more dissention over food choice in the Singapore vehicle which contained Yapp, coach Toh Lian Han and Sayed, who had experience living in the United States, having been educated at Lindenwood University and playing in Mark Wilson's program years earlier. Already versed in American food, and especially food on American road trips, Sayed was opting for Panera whenever one was available. Yapp, who has never lived anywhere but Singapore, was really craving Asian food, wanting to make a pit stop at Panda Express or something like it.
"Me and Sharik argued about that," Yapp said, laughing at the recollection. "He would want to eat at some American restaurant, and I was like, 'No, I miss Asian food. I want rice!" And he was like, 'No!'"
While they stayed at the Harrah's in Atlantic City, site of the U.S. Open, there wasn't any Asian food option and Yapp was forced to subsist on meatball subs for the week. One afternoon while having lunch with his travel partner, Sayed said he could live this way for another month easily.
"I was like '(Expletive) no,'" said Yapp. "I just can't do it."
The topic of where to eat seemed to never be a problem with the Polish car.
"Chipotle!" they all said in unison when asked for their favorite dining establishment, estimating they'd been to the Mexican chain 20 times during the odyssey.
The other occasional disagreement was on where to go once they arrived in town. While in Florida, Szolnoki wanted to play in a small event, while Kazakis and Grabe were hoping to take a couple of days off. And He? Well, he was down for whatever.
"Mario was the guy who didn't care about anything," said Kazakis. "We would ask what he wanted to do, and he would say, 'It's up to you. Everything is good.'"
"I just didn't care," admitted He.
Their crew headed back north through Atlanta for a couple of days as they headed to Dayton for the FargoRate Ohio Open, which was won by He, possibly the result of the "lucky dollar" Kazakis had given him before they departed Atlantic City.
Five years earlier, the Greek arrived in the U.S. with $3,000 and a list of events he felt sure to cash in on. Instead, he went bust and He offered him a good luck charm.
"He said, 'This is a lucky dollar,'" said Kazakis. "Take this lucky dollar and maybe you'll win a lot of money."
The Greek did just that, earning $20,000 in tournament winnings the rest of the year, including his first Kremlin Cup championship.
After He lost a respectable amount in Atlantic City, Kazakis handed him an American half-dollar coin, telling him it would be his good luck charm. The Austrian tucked it into his wallet, hit the road with his partners and earned over $23,000 in September and October — including his Ohio Open victory and top four finishes at the Michigan Open and Diamond Open 10-ball event. After He's championship, Kazakis pointed the Toyota towards Washington D.C. for a rare off-day that included visits to the White House and Smithsonian. They even took a try at a flight simulator at the Air and Space Museum, with Szolnoki steering the make-believe aircraft while Kazakis shot at targets. Let's just say there's not much threat of either player quitting pool to join their country's Air Force.
"I couldn't steer well, and we were rotating upside down and I was trying to steer like that and it just got worse," said Szolnoki. "We were spinning around, rolling, crashing. Everything you shouldn't be doing there, but we laughed a lot."
The players did a lot of laughing at some of the recollections. During a pit stop, He, who is nicknamed "The Panda," spotted a stuffed animal panda in the convenience store. Kazakis, noticing the resemblance, bought the toy.
"Here," said Kazakis. "A gift from me to you."
By the end of the journey, the Greek had earned the reputation as the prankster of the crew, turning on his camera and joyously slamming on the brakes when his passengers would fall asleep to try and wake them up. He created another video at the Ohio Open mimicking Szolnoki's stroke, capturing every small intricacy.
"He has the perfect style for gambling," said Grabe. "Everyone thinks he can't make a ball and he's making everything."
The Estonian would earn his own payback for his travel partner's pranks, waking up Kazakis one morning and telling him he had overslept and was late for his match, turning on his camera to record the ensuing chaos.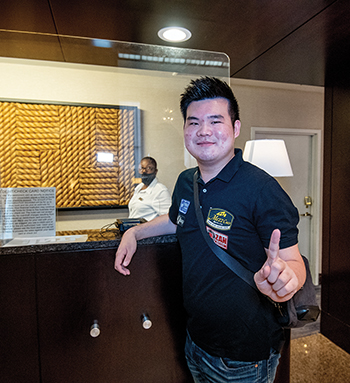 The ever-changing hotels was not as big an issue for Yapp as was the dearth of Asian food along his journey.
And then there was the time Team Singapore made it to West Virginia. Yapp, who had been choreographing accompanying music for each state, cranked up John Denver's "Country Roads' on Spotify. However, the trio was definitely not in the place they belonged, as multiple events in the region had sold out all hotel rooms nearby. Their original plan was to get a room, spend the night and head to Norfolk for the International the next day. Instead, they drove straight through to the Sheraton, making a five-hour drive into a 12-hour drive.
In total, Kazakis' crew drove roughly 5,000 miles in two months and the Singapore and Polish teams drove equal amounts. Those sponsored by their country's federation had entry fees covered for WPA-sanctioned tournament by these organizations, which at least helped defer some of the costs.
Yapp's trip did not end in Norfolk, as he was scheduled to head to New York to get in some much-desired sightseeing and shopping in while he was in town. The young man from Singapore already had the Alicia Keys song ready for his soundtrack.
"I'm looking forward to getting some fresh air and seeing some buildings instead of pool tables," he said, adding he would gladly stay and compete longer if it wasn't for that pesky home cooking thing. "If I could teleport home to eat and then come back I definitely would."
Poland's Fortunski was traveling home for two days then heading to Turkey for the European championships, as was the Austrian He, who wasn't getting the luxury of seeing familiar surroundings before traveling to Antalya. By the time the European Championships conclude, He will have been away from Austria for over three months.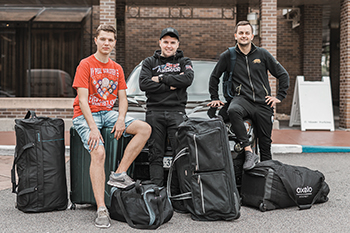 Zelinski, Fortunski and Juszczyszyn's high run was Chipotle, with more than 20 trips.
"Oh, I want to go home so much," He said. "We had some good times for sure. More good times than bad times."
"I'm never going to do it again," Kazakis said, stretched out on a lobby couch and already looking forward to a week-long break at home in Greece after the International.
Results varied in terms of earnings. He and Yapp each obviously won CSI events and Szolnoki took down the Diamond Open. Juszczyszyn broke even and Fortunski earned ninth place at the U.S. Open and a third-place finish at the American 14.1 tournament. Everyone seemed to bring in a few dollars in some money matches in between tournaments.
"In the end, I think we did quite good, and it wasn't a bad trip," Grabe said, who even looked American at this point as he relaxed on a couch in a gray Ohio State University hoodie. "And almost everyone made some money."
Sitting diagonal to him, Kazakis quickly reminded him the long journey has led to some fatigue that may have impacted their performance in the International's events. Had they not chased the dollars on the road, maybe they woud have played better in Virginia.
"You just need to go home and charge your batteries and come back stronger," said Grabe. "We all do."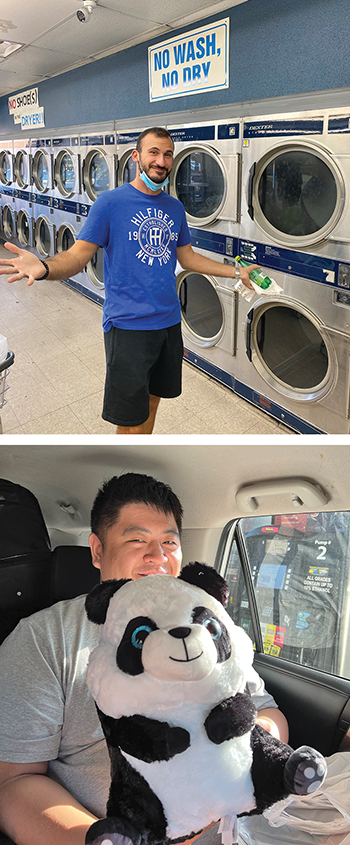 Jokester Kazakis (above) kept his pranks clean and even bought road partner He a gift.
---