Current Issue
Next Page >
The Wise Guy
Action hound Ronnie Wiseman is maybe the smartest game-maker in pool, still a tournament threat at 53, and - after a brutal attack by a gang of muggers - lucky to be alive.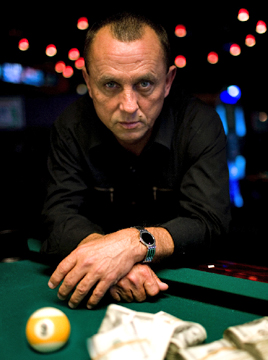 Wiseman's natural habitat is the action table. (Photo: Briant Tietz)
Ronnie Wiseman was in his early 20s and had turned out pretty much like every other guy he knew in Windsor, Ontario, a working stiff carrying a lunch bucket and trekking down to the local car factory, as if pulled against his will along some dead-end assembly line, spending nearly a decade groggily punching the time clock and selling slivers of his soul, one slow day at a time, to the company store.

The Motor City of Canada is what Windsor was and still is, a quaint border town just a mile from Detroit - with Chrysler, Ford and General Motors, as well as a slew of tool-and-die shops and automotive parts manufacturers, in every direction. Wiseman was as drearily entrenched into the scene as an unpolished strip of chrome fender.

"It didn't matter what education you had, even if you were a college grad there," said Wiseman, who never made it past the 11th grade. "You were probably still ending up down at the plant."

At first, with one of his uncles being a general foreman at Chrysler and having some influence there, he was handed a soft gig. It mostly involved just a lot of sitting around - boring but tolerable. But it wasn't long until Wiseman was dragging himself out of bed before even the first hints of dawn and heading off, grudgingly, for seemingly endless days encased within a fire-resistant helmet, gripping a blow torch and welding pieces of car metal together.

"It wasn't fun, I can tell you that," Wiseman cracked.

Neither were the constant shift changes that turned his sleeping habits upside-down or the layoffs that twisted his life inside-out. He'd spend almost all his down time playing snooker for small-time money up at a place called Gilly's Cue, trying to scrape together enough dough to make ends meet.

Then, one Friday night in the late 1970s, around 10 o'clock, he did something that would alter his life forever. Along with the owner of Gilly's and two of the room's best snooker players, Bob Perry and Pat White, Wiseman jumped into a car and took 25-minute trip over a bridge and through a tunnel, across the Detroit River, to an anonymous-looking storefront in an unlit part of town.

The spot was the infamous Rack, in Oak Park, Mich., and at the time it was the greatest action pool joint in the country, albeit a private club of sorts where you needed to be eyed through a peephole and either say the right thing or be a familiar face before the gatekeeper would dare buzz you in.

Inside, it was a long, narrow, dusty throwback of a hall, divided in half by a counter and with around a dozen tables, including a 5-by-10-foot snooker table that all but inspired tons of money to drop from the heavens. On any given night there, you could've seen a $10,000 game of one-pocket. Once, according to billiard lore, some backers piled atop one of the tables the grand total of $2 million, spreading hundred-dollar bills across virtually the entire bed of cloth, just to stake a bet.

When Wiseman walked through the front door, squinting eyes from every nook and corner were suddenly pressed upon him, studying him hard and up and down. He could feel his adrenaline rushing, his nerves tingling from head to toe. It was, all at once, both thrilling and downright scary.

"It was insane," he said. "You could feel the electricity right away, smell all the money, and sense immediately suspicion toward anyone who came in unknown - like me."

Allen Hopkins was there that night, Wiseman remembered, and so were Jimmy Mataya, Buddy Hall, and Billy Joe Burge, who was better - and far more notoriously - known as Cornbread Red.

Before Wiseman had a chance to steady his beating-out-of-control heart, he was already in the box against some guy - not one of the big names - for $300 games of snooker. "Up to that point, I had never bet over $20 a game in my life," he said, "so you can imagine how nervous I was." It didn't matter that he was getting a huge handicap - 12 points for three reds. It didn't matter that he was, in theory, all but a lock. He was so jittery that he dogged everything in sight, and was a three-game loser right from the get-go. "But once I calmed down, I started to play a little bit and made a comeback, got myself back to even," he said. "His backers saw the game was out of line and they immediately pulled up. They weren't going to let me win anything, unless I won out of the gate."

Wiseman got back home around 5:30 that morning, but, for the life of him, he couldn't fall asleep, and remained awake - and in an absolute frenzy - until late in the afternoon. "I was too excited, and my wheels were turning like crazy," he said. "I started thinking about how I could learn to become a better pool player and make the kind of money that I saw exchanging hands at The Rack.

"I really thought that if life were like this all over the States, I could become a millionaire."

From that point on, for nearly two years straight, Wiseman never missed a single weekend going to The Rack. Within his first year at the club, he snapped off a $60,000 score one night.

"Action," he said, "became my addiction."