Current Issue

Previous Page Page 3 Next Page >



In the Black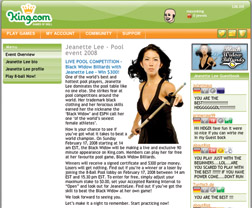 Lee's contract with King.com is just one of her Web-based licensing deals.
The staple of Jeanette Lee's promotions program is still the personal appearance - or "gig," as George calls it. Over the course of three hours, she'll introduce herself, perform some trick shots, touch on the fundamentals of pool, and then spend the balance of the time challenging audience members to step up. The last part entails a good amount of good-natured ribbing and sharking.

The show plays just as well for soldiers on a remote military base as a room full of corporate executives - mostly due to Lee's charm and the degree to which she can bond with the participants.

The going rate for one of these gigs is $12,500. In many of Lee's more recent promotions deals, appearances are part of the overall package.

Johnny Morris, founder of Bass Pro Shops, first saw one of Lee's performances at a real-estate convention and accepted one of her challenges. Although he was briskly put in his place, Morris left with a glowing impression of Lee.

"We were very impressed with how dynamic and personable she was," Morris says. "We thought she could do a great job for us at Bass Pro Shops when we have special events in our stores."

Morris also is a pool fan, so his interest is natural. And it turns out that his customer base shares that same interest.

"We're realizing that a very high percentage of our customers are plugged into billiards," he says. "It's been amazing to us how many people have come to follow billiards and Jeanette Lee from TV. The lines of fans that she has drawn to get her autograph at our stores have been pretty enlightening to us."

Lee's appeal hardly ends in middle America with a trick-shots show. Her image has many facets that attract clients.

Rocawear was intrigued by Lee's struggle with the effects of scoliosis, which has led to several major surgeries on her back. Combined with her notoriety and ethnic looks, Lee made a perfect subject for the brand's "I Will Note Lose" multimedia campaign, which highlights athletes and entertainment industry figures who overcome adversity to succeed.

"Jeanette Lee embodies the spirit of the campaign and the company," says Jameel Spencer, chief marketing officer for Rocawear. "By bringing attention to people like Jeanette Lee, we show that it is possible to overcome life's hardships and do great things."

The skill-gaming site King.com was drawn to Lee's established name brand, as well as her gender and reputation as a fierce opponent. The site adopted Black Widow iconography for its 8-ball and 9-ball games, and arranged for Lee to play in monthly online tournaments.

"Our users are primarily female, and we approached Jeanette Lee because we thought she was a role model for a lot of women," says Robert Morton, vice president of business development for King.com. "She was a recognizable name. She would stand out well with her Black Widow branding. And she is a very strong competitor, and that's what we're about at King.com. People are playing to win, rather than to relax. We thought she spoke well to these messages."


Previous Page Page 3 Next Page >

Top