Current Issue

Previous Page Page 3 Next Page >



Budget: $3,000-$4,000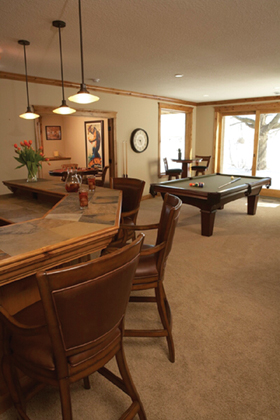 Be sure to consider how the cost of the table fits into your overall budget.
With a slightly larger budget, you're likely also to have a slightly larger space in which to build your gameroom (maybe a 20-by-20-foot space or similar). Now, you can start to look at upgrading some of your essentials as well as adding an additional game or two.

TABLE: As mentioned in the earlier budget, you can go for a no-frills - but still high-quality - table in the $1,500-$1,700 range, but with a bigger budget, you might start thinking about a table around $2,000. For any gameroom larger than a small space that fits just a pool table, you'll want to earmark 50 percent of your overall budget to the table. "Both Brunswick and Oldhausen have done a great job in the past few years with tables in the $2,000-$2,500 range," says Peterson. "Brunswick's Contender line has done a nice job of filling a needed gap."

A $2,000 table will typically have more of a furniture look to it, but don't expect anything too ornate. You should also consider upgrading your equipment package (balls, cues, dust cover, etc.), which could be a $200 upgrade.

ESSENTIALS: Depending on where you want to spend your extra money with this budget, you can still stick with a three-shade brass fixture or start to consider upgrading to a bigger glass fixture, which is typically $400 and up.

For seating, you can upgrade to better spectator chairs (moving into the $300 per chair range) or you can stick with the less-expensive versions and consider adding a third chair. Your guests will probably thank you for that!

Finally, if you're going to have a better looking table, you ought to spring for a better-looking rack, too. Just like the table, the price goes up the more ornate the rack is. Consider dropping $300 on your rack with this budget.

ADD-ONS: If you've shopped well to this point, you ought to have several hundred dollars left over to add another game (thereby truly making it a gameroom instead of just a billiards room).

"The most popular add-on we sell is air hockey," Says Graven, "especially for family households because the kids love the game. But if space is an issue, Foosball is still very popular. It takes up half the space, but honestly it gets played half as much as air hockey."

Each of those games can be had at a mid-range price of about $450. "I don't recommend going for a $199 Sam's Club model," says Peterson. "The lifespan isn't very long. Same thing with the discount pool tables. They don't play right and sooner or later that gets figured out and then you play on it less."

Other potential and affordable add-ons include a ping-pong top to go over the pool table ($300, and ideal for kids or teenagers), and dartboards. "A great electronic dartboard goes for $250-$300," says Peterson. "But you can get less expensive models, too. You just have to make sure you have the room for it. They don't take up much space when no one's playing, but when there's a game on, you don't want people playing pool to be in the line of fire!"


Previous Page Page 3 Next Page >

Top