Current Issue

Previous Page Page 2



Small Tables, Big Winners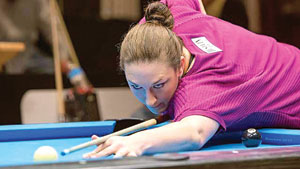 Wagner defended her title with an undefeated run in 9-ball. (Photo by Bob Beaulieu)
Wagner, who won both the 9-ball and 10-ball events last year, also captured the 9-ball title this year, defeating Vivian Villarreal in both the hot-seat, 7-1, and final, 7-4.

"I'd never met her before, never played against her," said Wagner of the former world No. 1, who'd won all three events in 2011, "so playing her didn't intimidate me."

Having given up only the single rack in the battle for the hot-seat, Wagner found herself in a tighter battle in the finals.

"For the most part the finals were pretty close to flawless," she said. "It was mostly break-and-run, with only two racks of safety play."

Wagner and Villarreal split the women's 2013 overall points and cash bonus, each receiving $375, in addition to their event winnings. On the men's side, Orcollo ($3,000), Van Boening ($1,000) and Rodney Morris ($500) picked up the overall points and cash bonuses.

The 10-ball event came first, with Orcollo coming from the one-loss side to win it. Sent west by Stevie Moore, Orcollo then won five straight, including a 7-0 win over Van Boening, a 7-6 nail-biter against Ronnie Alcano and a 7-4 victory over Rodney Morris in the left-side final. Orcollo then double-dipped Corey Deuel, 7-2 both times, to claim the title. In the women's 10-ball event, Canada's Brittany Bryant took the top spot. She advanced to the hot-seat and sent Melissa Little to the semifinal, 5-2. On the loss side, Little ran into Villarreal, who, came back to win five straight after an early loss to Mary Rakin, including a rematch against Rakin and a 5-1 victory over Little in the third-place match. Villarreal took the opening set of the finals 5-2, but Bryant rallied to win the second set, 5-1, for the title.

Van Boening's nine-match march to the 9-ball winner's circle went through Jose Parica and Thorsten Hohmann before a hot-seat match against Orcollo. He shut out Orcollo, sending him to a matchup with Morris. Orcollo ended the American's 9-ball bid, 9-7, and then took the opening set of the finals by the same score. But Van Boening came back to win the second set by that same 9-7 score.

Klatt's eight-match, undefeated route to the 8-ball final featured three shutouts, including a stunning performance in the hot-seat match against Thorsten Hohmann, something that left him surprised.

"A little bit," he said. "I played well and he made a couple of unforced errors."

Klatt had a full day of rest before facing Hohmann again in the final. He returned to the table on the tournament's final day and defeated the German world champ a second time, 5-2, to take the 8-ball title and, ultimately, the all-around award. Wagner, in the meantime, looking for the second year in a row to claim two event titles, ran into Jessica Frideres. Wagner got into the hot-seat match against Frideres after defeating Bryant 4-1. Frideres joined her following a double-hill win over Leandrea Gaff. Frideres got into the hot seat with a 4-2 win, and Wagner went west to do battle against Mary Rakin, who'd shut out Vivian Villarreal in the quarterfinals. Wagner ended Rakin's 8-ball bid for a second crack against Frideres and took full advantage, winning the opening set 4-1. Frideres, though, came back to take the second set 4-2.

According to Wagner, the bar table is a great equalizer. Games played on them give unlikely competitors a chance against even seasoned pros, not generally available to them on larger tables. There is, too, she'll tell you, a general rule for success on a bar table.

"Simple is better," she said. "You've got six pockets; use 'em all and don't move the cue ball unless you have to."

Previous Page Page 2


Top
MORE VIDEO...