Current Issue

Previous Page Page 3



A Solitary Man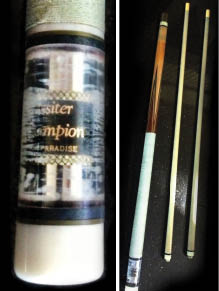 Sawyer still has the cue with Lassiter's name engraved in the butt.
Lassiter has been quoted on more than one occasion that there was a special woman once in his life, a woman who broke his heart. He said she had him coming home early, and that for a while he thought of nothing but her. He wanted to marry her. But it was not to be. Quietly, Charlotte began seeing another man. Wimpy kept calling. Charlotte kept putting him off. And then, finally, she ended it for good. "I remember he called, he said he wanted to buy me a ring. But I told him no, that we had to break off the relationship. It almost makes me want to cry now, just to think of it. It was the hardest talk. He just got very quiet. I almost thought he cried."

Charlotte sat on the pillows on the foot of her bed, by herself, for a long time afterwards - just thinking. She never heard from Wimpy Lassiter again.

A few final notes. The other man was J.J. Sawyer, the man whom Charlotte would eventually marry. She has nothing but wonderful things to say about her husband. Charlotte and J.J. have raised seven children, and can boast 13 grandchildren and five great-grandchildren. As Lassiter himself might have said: Charlotte backed the right horse.

Also, if Charlotte's memory about the timing of her relationship with Wimpy is correct, then it directly preceded a mid-decade hiccup in his meteoric career. In 1965 Lassiter lost to Babe Cranfield in a world championship challenge match, placed second in Burbank, and came in third in the Billiard Room Proprietors Association of America championship. Lassiter also lost in Johnston City. This was at odds with the rest of the 1960s when Lassiter seemed nearly incapable of placing second.

What does this tell us? Maybe nothing. But then again, maybe Luther Clement Lassiter, one of pool's most famous bachelors, was not made for domestic bliss. He was a lonely man, always, and perhaps that was how God intended it. Wimpy loved Charlotte, he truly did, and she tried to convince herself that she loved him back. But it was an impossible relationship.

Wimpy Lassiter died at his childhood home in Elizabeth City on Oct. 25, 1988. Family members found him there, alone.

Previous Page Page 3


Top
MORE VIDEO...