Current Issue
Next Page >
A Solitary Man
Nearly a half-century after a relationship with lifelong bachelor Luther Lassiter, Charlotte Sawyer tells of her time with Wimpy.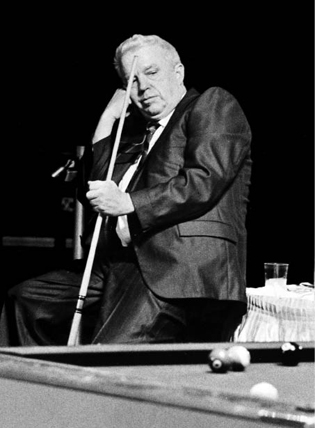 Lassiter sat on top of the pool world when he met Charlotte Sawyer in 1965.
WIMPY LOVED his mama, the Good Book and pocket billiards.

But he also loved a woman once. And she broke his heart.

Welcome back to Untold Stories. In this month's column I introduce Charlotte "Maxine" Sawyer, a woman who has the rare distinction of being one of Wimpy Lassiter's few steady girlfriends. Here, for the first time ever, she tells her own story.

For those familiar with Wimpy's life, the fact that he even had a steady girlfriend may come as a surprise. Lassiter was America's finest-ever 9-ball player. During the 1960s he seemed almost incapable of losing. But he also was a committed bachelor, a man who always preferred his own company to that of others. And yet sometime during the early 1960s, he fell headfirst for a young nurse named Charlotte. There was even talk of marriage.

For this column, I've turned to my notes from my first book, Hustler Days, reviewed the autobiography of Minnesota Fats, and tracked down various newspaper and magazine articles. But most importantly, I spent several hours chatting with Charlotte Sawyer, now a resident of Chesapeake, Va. Consider this month's column a belated Valentine Day's story, albeit one with a sad ending.

"I almost married once, I almost did," Lassiter told Tom Fox, in a piece for Sports Illustrated. 'It was mighty serious. I bought furniture, a refrigerator, a stove. She had me going home early to get my rest. She knew I wasn't stepping out on her, but I didn't know she was stepping out on me. When it was all over I couldn't do a thing for days. I didn't even go to a movie. I just couldn't talk about it, and my lips swelled up something awful."

I was contacted first by Mrs. Sawyer's daughter, Beth Johnson of Virginia Beach, who told me her mother still possesses a few keepsakes from the old 9-ball player - including one of his pool cues. "She dated Wimpy in the '60s in Norfolk, Virginia," Beth told me. "This is the one he almost married. They loved each other but he was just so much older at the time. And she really broke his heart, and he broke her heart as well."


MORE VIDEO...