Previous Page Page 3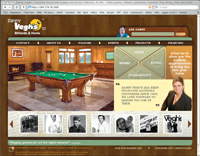 Best Storefront Retail Site
Danny Vegh's
www.dannyveghs.com

We love Danny Vegh's black-and-white photos on the home page telling his story through the decades. The photos and the wooden-style background give the site lots of personality and beckon customers to Vegh's three Ohio-based stores.

Wherever there's content, we take pleasure in reading it. Yet, some pages have little or no content. The customer appreciation page has two photos and no text. The Flash effect on the home page annoys. Also, its gift certificate ordering page shows no sign of being a secure page. Despite its flaws, the site radiates character and offers a smooth experience that few other sites in this category do.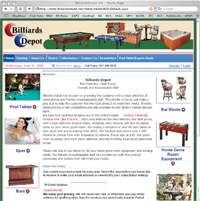 Runner-up Storefront Retail Site
Billiards Depot
www.billiardsdepot.net

California-based Billiards Depot presents its site in a clear-cut and dignified way. Although it has drop-down menus - something we chastised earlier - it works well as the sub-menu sticks better while making a selection. Its light gray text, hard-to-read formatting, and brochure-style catalog prevent it from winning top honors. The site uses frames to bring in information from the different vendors' sites, which confuses more than helps.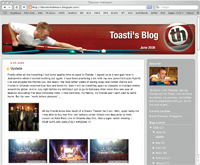 Best Billiard Blog Site
Thorsten Hohmann - "Toasti's Blog"
www.thorstenhohmann.blogspot.com

This year we present a new category: Blogs (shorthand for "web log"). Blogging builds community and lets us talk pool with each other. Fresh and informational content receive top priority in a blog. Design also matters, so we can find our way around, easily leave comments and browse the archives.

Former world 9-ball champion Thorsten Hohmann is behind the wonderfully candid and polished "Toasti's Blog." He has typically posted five or more entries per month since the blog's conception (which, BD's editors will tell you, is harder than it sounds). We'd love to see him post more often, but we'll accept his posting consistency. The blog's home page displays his brief bio - also an important feature in a blog, because people want to have a good sense of their host. Hohmann's tone is very personal and personable, and he shares lots of pictures and stories of exciting matches. We even learn about a scary moment when he recently ended up in the hospital during a tournament.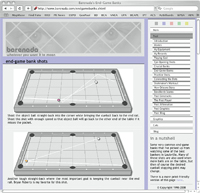 Runner-up Billiard Blog Site
Barenada
www.barenada.com/pool.shtml

David Siltz, the guy behind the Barenada blog, captivates us right away with the story of his connection to pool on the home page. We want more, so we look around and satisfy our hunger for more pool content in the "Pool" section of the right navigation bar. Unfortunately, Siltz hasn't updated his "Pool" blog recently (although his personal blog appears to be very well maintained), and that's why the site earns the runner-up spot.

If the site looks too monochromatic for your taste, choose from another four options to add a smattering of color. Check out the "Pool" section of the site for some great diagrams and movies showing different shots.

Previous Page Page 3
Top