Current Issue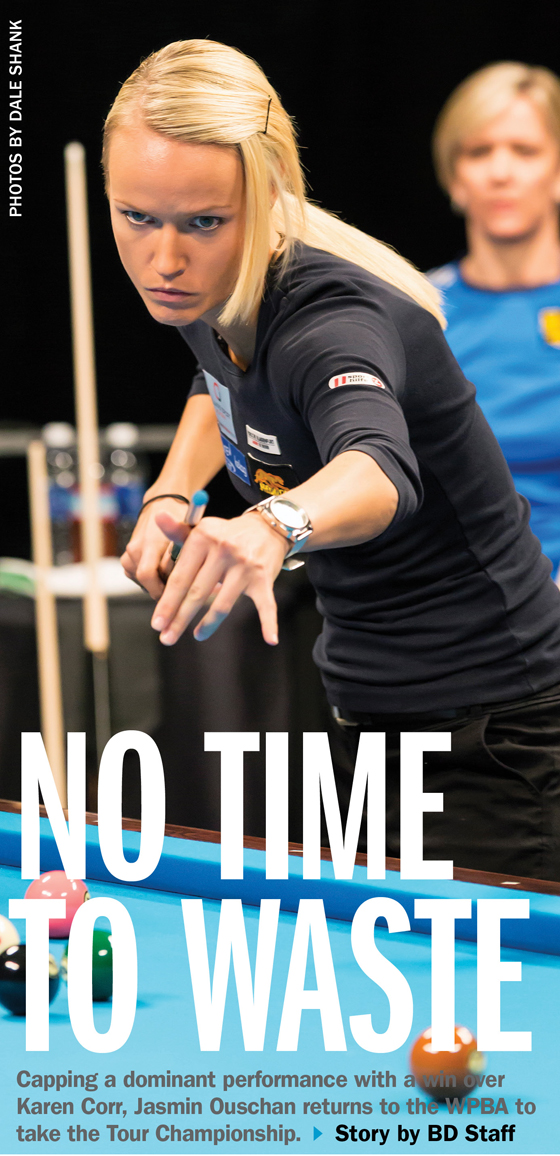 FOR MANY of the world's greatest players, the concept of time off - taking a few days, weeks or months to concentrate on endeavors outside top-flight international competition - is antithetic to their nature. Professional pool takes time, it takes dedication, it takes an investment of your life to become the best.

When Jasmin Ouschan stepped away from the world stage for a few months this summer to focus on opening a billiard instructional academy in her hometown of Klagenfurt, Austria, her absence was especially notable. For much of her short career, the 26-year-old has racked up frequent flier miles like no one without the name Ralf Souquet. She's won a world title, WPBA titles, European titles; she's competed in men's, women's, open events. If someone held a 9-ball tournament on the moon, Ouschan would be a good bet to be there.

A welcome sight upon her return to the big stage at September's China Open, Ouschan struggled early and exited in 17th place. Her return to the Women's Professional Billiard Association, meanwhile, would go closer to planned.

At the WPBA Tour Championship - held Nov. 8-11 at the Chinook Winds Casino & Resort in Lincoln City, Ore. - Ouschan looked in prime form. The former BD Player of the Year thumped a field of familiar rivals for her eighth Classic Tour title.

After missing June's WPBA U.S. Open, Ouschan dropped to eighth on the tour points list, an unfamiliar place for a former No. 1. The 48-player event started with a double-elimination format, with a final single-elimination bracket taking two players from the winners and losers sides.

By virtue of her seed, Ouschan earned a third-round match up with Allison Fisher, after dispatching Vicki Paski, 9-1, and Jana Montour, 9-3. Fisher, after going without a WPBA title for the better part of three seasons, retook the No. 1 spot on the women's circuit, with back-to-back WPBA U.S. Open titles.

Ouschan, however, would control this set from the start. Eventually advancing by a 9-6 count, she then bested Jennifer Barretta to clinch her spot in the final four. Bounced to the left side, Fisher was hardly discouraged by her first loss. Squeaking past Mary Rakin, 9-8, Fisher then edged Jeanette Lee, 9-6, and obliterated Kelly Fisher, 9-0, to end her route to the final four.

On the bottom of the winners bracket, recent Hall of Fame inductee Karen Corr had her hands full with an incredibly tough draw. Earning a 9-2 victory over Jessica Barnes, Corr posted strong 9-7 victories over Xiaoting Pan and Ga Young Kim. Her reward? Kelly Fisher, who has been the hottest player in the women's game for most of the year. Corr took a spot in the final four with a 9-8 victory. Kim, meanwhile, won three matches on the one-loss side to round out the semifinalists.

As the draw worked out, the semifinals offered rematches, with Fisher facing Ouschan and Kim getting Corr. With the sets shortened to races to 7, Ouschan stuck to the script that worked in their first match. She grabbed an early lead and controlled the table on her way to a 7-3 victory.

In the other semifinal, Corr outlasted Kim, 7-5, for a spot opposite Ouschan in the final. Coincidentally, Corr was also making a return to competition after an extended absence. Following her mother's passing in June, Corr has rededicated herself to the game - and a spot in the Tour Championship proved she's still among the world's best.

But the final, a winner-breaks race to 7, was all Ouschan's. Two runouts from the break and two safety battles put the Austrian up, 4-0. While Corr collected a few racks, she never offered a serious challenge. Ouschan reached the hill, 6-3, and ended the 2012 WPBA season on the snap, burying the 9 ball in the top corner for an emphatic clincher to her latest major title.
MORE VIDEO...