Current Issue

Previous Page Page 3 Next Page >



Second to None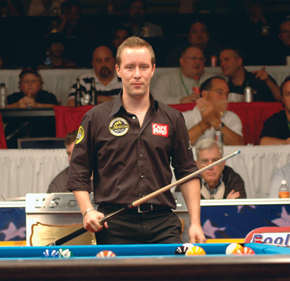 Immonen's confidence was clearly visible on his way through the field at the 2008 Open.
This time around, things were very different. "From like the third round on, I felt like I was on cruise control," Immonen said. "I was working out in the gym every day there, which not only put me in a cozy mood but made me very alert. I was taking power naps before matches and feeling very rested. Mentally, I was in the right frame of mind.

"And I was playing some flawless sets and dominating people, beating one guy 11-0 and hitting Shawn Putnam with a couple of big packages to beat him. In fact, I remember this one off-angle combination I had against Shawn that I just fired in. I mean, I was so pumped up with confidence that it didn't matter what the shot was. If I could see it, I was making it.

"And my confidence kept building with every win. It got to be so exciting that I had to shut it down a bit."

That meant not getting caught up with what his friends were saying to him between matches, telling him over and over how great he was playing.

"If you play like that, Mika," they were saying, "nobody's got a shot."

But Immonen didn't really want to hear it.

"I wanted to stay focused and do my thing," he said.

Just before the finals, while shooting on the practice table, he'd occasionally glance over at his upcoming opponent, Ronnie Alcano, and think to himself, as if it were a mantra: "I want it more than you ... I want it more than you ... I want it more than you ..."

Immonen felt the need to do this. "I think in recent years I let my guard down in the finals," he explained. "I don't think I was setting my goal high enough."

When Alcano won the lag, however, Immonen couldn't keep his mind from spinning horribly back to his Deuel fiasco.

"I just wanted to get one rack," he said. "If I could just get one rack out of the way, I felt that I'd be home free."

Alcano pocketed the 7 ball on the opening break, but flubbed a safety on the 1 ball, leaked it out, and Immonen speared it in and ran out.

Outwardly, he was still The Iceman, but inside, he was giddily jumping up and down: "I was like, 'Yes! There is no curse! It's not going to happen again,'" he said.

Immonen built up a cushy 6-0 lead, then 10-2, before winning 13-7.

"It was my career goal No. 1 to win that tournament," he said. "It left me speechless. Overwhelmed. I was on Cloud Nine for weeks afterwards. I'm still a little bit on that cloud."

Writing on his blog site immediately after the victory, breaking from his usual stoicism, he titled his post:

"GOOOOOAAAAAAAAAAAAAAAAAAAALLLLL GO GO GO GO GOG GO GO GGOGOGOGOGOG GOOOAAAL"

That said it all.


Previous Page Page 3 Next Page >

Top