Current Issue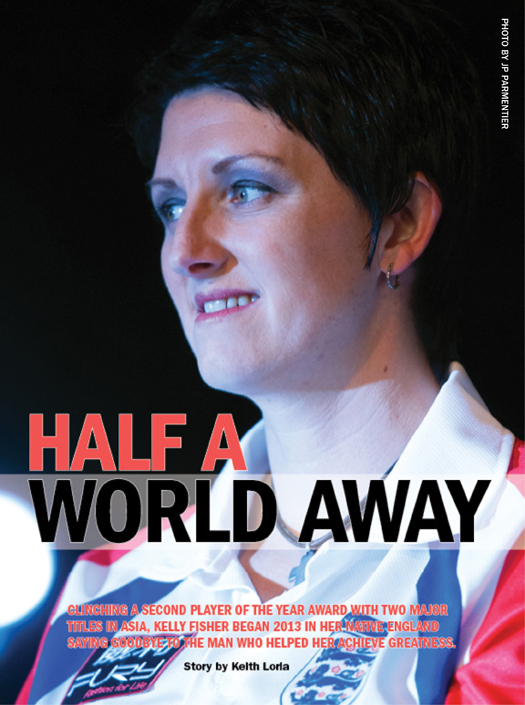 AT THE start of 2012, Kelly Fisher sat down with her father, the way she has done every year since she was a child, and discussed her resolutions and goals for the year.

"Ever since I started playing pool, and when I moved to America in 2004, I set my goals to become No. 1 and to win a world title," the British-born billiards star says. "I was very happy to do that with the World 10 in 2011, but I wanted to win the World 9, because that is what I came to play."

Well, Fisher finally had her dreams realized in 2012 when she took down Chinese star Fu Xiaofang in the final of the World 9-Ball Championship and became the only woman to ever hold the world 9-ball and 10-ball titles at the same time. Additionally, she claimed the World Pool-Billiard Association's No. 1.

When Fisher would sit down at the beginning of 2013 to set a new list of goals, she knew it would be the last time that she and her father would do this together. The pool star had moved back to England in December to care for her ailing dad, a former boxer who had taught his daughter about competition and discipline. He would pass away on Jan. 6.

"I was so grateful he got to see me achieve all my goals we set together, and I know he was a very proud father and died a proud man," Fisher says. "My father and I discussed goals for this year, and my [goals are] to retain as many titles as I can and keep that No. 1 spot and add a few more to the list."

It was in June of last year when Fisher travelled to Shenyang, China, to compete in the 9-ball tournament, and she knew it would be a tough battle to come out on top. "In the semifinals, I had to play Ga Young Kim, one of the highest-rated players in my opinion, and I knew she would be one of the toughest competitors I would face, and if I could get through her, I could win," Fisher says. "It was a fantastic match that I won, 9-8, and neither one of us hardly missed a ball the entire match. I was fortunate to come out on top."

Fisher would go on to defeat the U.S.'s Monica Webb and Taiwan's Tan Ho-Yun before squeaking past 2009 World 9-Ball Champion Liu Shasha to make it into the final.

"That was a pinnacle match, and I was so relieved to win, 9-8, that I just went into the final match wanting to have fun and enjoy it. I wanted to take the title, but after such a tough match, I was somewhat more carefree," Fisher says. "I was 5-2 down and Fu touched the 5 ball with her hand and after that, she never recovered."

Fisher capitalized on the foul, tied it up and then sank four in a row to give her a 9-6 win. The thing was, she didn't know she won.

"I thought it was a race to 11 because in the meeting, that's what we were told, so when I made the 9 ball, the pressure wasn't the same nor was the feeling of winning," she says. "I took the balls out of the pockets and Fu was there to shake my hand, so it was a delayed reaction and celebration. The 10-ball was a great achievement, but to win the 9-ball in China, it was a fantastic feeling."

With an onslaught of Asian players over the last few years - they currently hold 14 of the top 16 rankings - Fisher believes that she's finally comfortable playing in China and that helped her to the victory.

"At first, I didn't feel the same as I did being in America - there's different food, a different culture, jet lag - but because I spent so much time, I have become used to it," she says. "A lot of these players we hadn't seen and didn't know about until we started playing more internationally. And with so many great players, it's harder and harder to dominate. I go into every event knowing I am capable of winning, but need to take each match one at a time with the endeavor to come out on top."

Another big victory for Fisher in 2012 came at the China Open in September, capturing the title with a dominating 9-2 win over China's Zhou Doudou.

"You often find when you win a big event, the next one you fall flat on your face, and I have done that often enough," Fisher says. "I went in with the attitude that I was just going to enjoy it. I did lose one of the round-robin matches and then I drew Ga Young Kim. It was another great match but not as close as the last time."

At one point in a match, Fisher was faced with an obvious safety, but she chose to bank the 6 ball and it went in.

"I had the opportunity for this awkward bank and nine out of 10 times, maybe even 10 out of 10, I would have played safe," she says. "I have no idea what came over me to play the bank, and it went straight to the middle of the pocket and I ran out to win. That was the defining moment for me."

Fisher also placed second in four Chinese Billiard and Snooker Association events, finished third in the Amway Cup - and has a desire for even more wins in 2013. All of this has earned Fisher Billiard Digest's Player of the Year honors, her second time winning award, after first taking it in 2008.

"I'm always thrilled to win Player of the Year and to know I am recognized and stood out, because all of us try to be the best we can and achieve the highest level we can," Fisher says.

She credits a better routine with helping her to that 2012 success, and leaving no doubt that she is the premier performer in the women's game.

"I was much more disciplined - going to the gym, training hard and feeling better within myself," Fisher says. "My plan is to get back in that routine ... and keep my dad proud. I will be working really hard to do that."
MORE VIDEO...