Player of the Year, Men: Jayson Shaw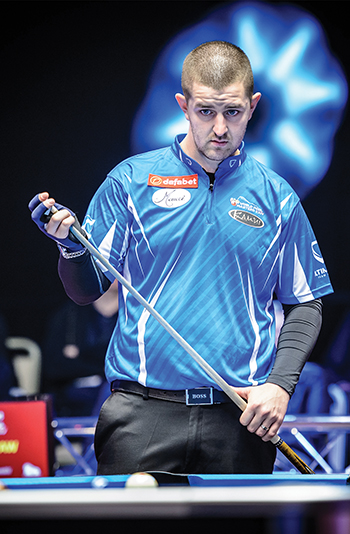 This time last year, "back-to-back" was a phrase best avoided around Jayson Shaw. The 29-year-old was a few months removed from two straight losses at the U.S. Open 9-Ball Championship, finishing in third place. But now, the New Yorker-by-way-of-Scotland can revel in being a back-to-back Billiards Digest Player of the Year. His second POY campaign was headlined with vindication at the U.S. Open with an unbeaten run through a relatively small but stacked field. A few strong international performances —second at the World Pool Masters, third at the China Billiard World Championship — along with a handful of U.S. titles, and Shaw is a repeat winner.
Player of the Year, Women: Siming Chen
Check the Billiards Digest Almanac and you'll see it's been six years since Siming Chen won her first Player of the Year award — then as a 17-year-old hotshot in her second full professional season. As 2017's best in the women's game, Chen collected three major titles in a women's campaign that was short on can't-miss tournaments. Now 24 years old, she finally won the elusive WPA Women's World 9-Ball Championship, knocked off the Amway Cup and topped the China Open. She also captured the All Japan crown and the gold medal at the World Games in Poland.
Outstanding Performance, Women: Karen Corr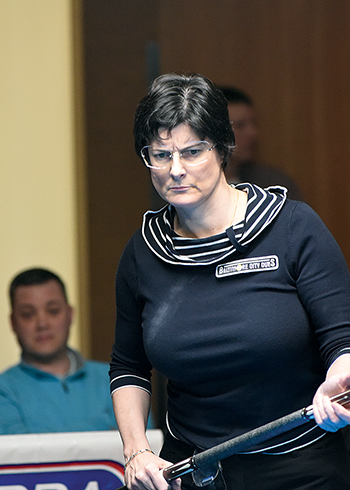 It's not every day that U.S.-based women's professionals get to play in a Women's Professional Billiard Association event. (Unfortunately, lately, it's more like once a year.) So it's a good thing Karen Corr made the most of her opportunity at the WPBA Rivers U.S. Open in April. Though many tour stalwarts were in the field, Corr and Player of the Year Chen were the clear favorites. The Chinese star breezed into the final with a 4-1, 4-2 win against Brittany Bryant. (The Pittsburgh event featured two-set semis and final, with a sudden-death rack if players split them.) Corr prevailed in do-or-die fashion against Line Kjorsvik. In the final, Chen took the first set, 4-0, only for Corr to return serve, 4-3. In the case game, Corr broke and ran to polish off yet another WPBA title.
Outstanding Performance, Men: Francisco Sanchez-Ruiz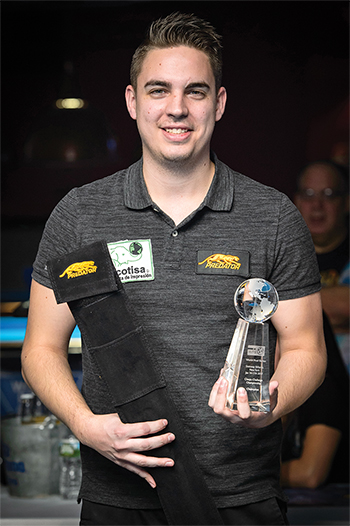 All things considered, a pro pool player would never talk about his most outstanding performance coming in a second-chance event. But for Francisco Sanchez-Ruiz, running an eight-pack in 8-ball — especially when you have to shoot what you make on the break — is a feat worth a bullet point on anyone's resume. The Spaniard was bounced early from the World Pool Series inaugural event in January, but he brought the fireworks shortly afterward. The 2010 WPA World Junior 9-Ball Champion blasted past Mike Dechaine en route to the second chance title by stringing together eight racks. The "Outstanding" in this category typically refers to event-long excellence, but it's worth savoring flashes of brilliance like this.
Breakout Player of the Year, Men: Klenti Kaci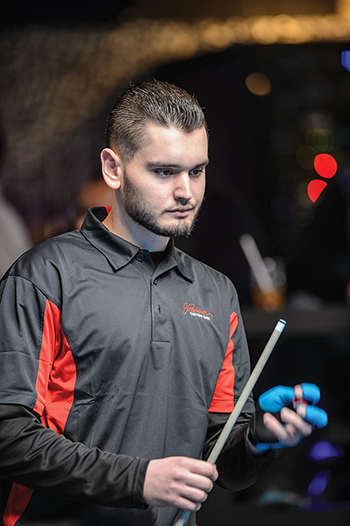 Most high school students are sleep-walking through a senior slump by the time they hit 18 years old. Klenti Kaci, who turned 19 a few days into 2018, had a different experience. The young Albanian strung together a half-dozen impressive finishes in world-class events. His most impressive performance of the year was at April's Aramith Masters, the second event of Darren Appleton's new 8-ball tour, the World Pool Series. In his third trip to the United States, Kaci took the $12,000 top prize with a two-set victory over World 9-Ball king Carlo Biado. Kaci went on to win a second WPS title in the four-tournament series, and finished third in another. Showing his chops in 9-ball as well, Kaci blasted his way to the final of the U.S. Open 9-Ball Championship, where he fell to Jayson Shaw, 13-4. Finishing the year with a bronze medal performance at the World 9-Ball Championship, Kaci polished off an impressive campaign that saw him graduate to the higher ranks of the game.
Breakout Player of the Year, Women: April Larson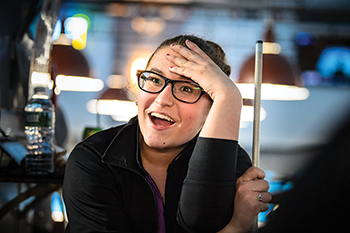 As faithful subscribers to Billiards Digest know, we did publish monthly magazines from 2012 to 2016, so it's not like April Larson's five consecutive BEF Junior National Championships went unnoticed. But in 2017, the 17-year-old made the final four at February's WPBA Soaring Eagle Masters event, earning a spot in the televised semifinals. As much as her talent is obvious at the table, Larson has garnered a devoted (and diverse) following online. The Minnesota native combines down-home charm and an effusive passion for the game into a package that's refreshing for an industry conditioned to kick rocks and curse "these kids."
Person of the Year: Allen Hopkins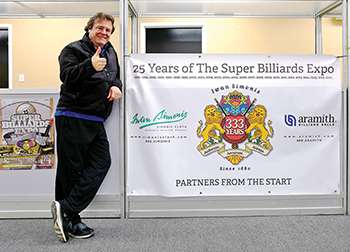 Allen Hopkins had done plenty by 1992, when he hosted his first Super Billiards Expo. He was already one of the best players of his generation, well on his way to what would prove to be a Billiard Congress of America Hall of Fame career. He'd become a regular on ESPN's pool programming. He'd promoted a number of events and been a tireless proponent of the game. But in the last 25 years, Hopkins has built the Super Billiards Expo into one of the premier events in the U.S. Part trade show, part pro event, part amateur pool extravaganza, the SBX brought in thousands from the New York, Philadelphia, New Jersey tri-state areas, as well as fans and vendors from across the country. The no-nonsense Jersey boy has a knack for promotion. But unlike some high-profile examples in pool's rich history, he can put his money where his mouth is — which he's been doing for a quarter-century with no signs of slowing down.
The "Early Early Retirement" Award: John Morra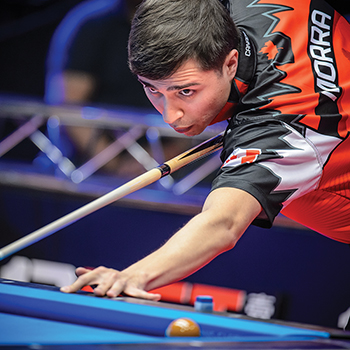 It's remarkable to think the young Canadian has been one of his country's best players for more than a decade. In January 2017, the 27-year-old announced an indefinite hiatus from pool when he returned home from the Turning Stone Classic with a fifth-place finish. Morra noted his runner-up finish at the same event 10 years prior — his unofficial arrival as a title threat in North America. But his cue didn't gather too much dust, and Morra was back at it by mid-summer. Whatever the motivating factors behind the decision, pool's better off if he's playing with his head in a good spot.
The Shot of the Year: Chris Melling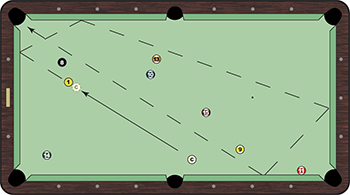 At the World Pool Series RYO Classic in July, Chris Melling only needed to pocket one solid and the 8 to win the rack. But take a look at the diagram. The cue ball is in line with the 1, which is blocked by the 8. Melling's known for his electric shot-making, but how the heck can you shoot your way out of this? With a circus shot reminiscent of Efren Reyes's Z shot, also known as the greatest shot in pool history, the Brit banked the 1 around the table and through a maze of stripes. The cue ball dropped dead after hitting the 1, so the 8 ball was a cinch. (He made it, in case you were curious.)
The Runout of the Year: Chris Melling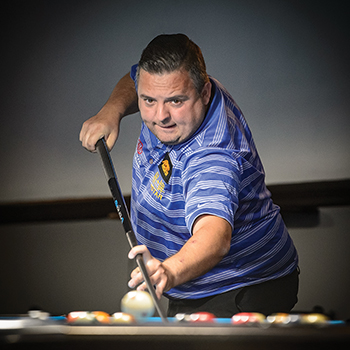 OK, OK, let's back up. Before Melling found himself in a spot where a four-rail bank seemed like a good idea, he'd already turned in a few head-turning shots. First, without a clean look at a solid—with the event being "take what you make"—he kicked a solid off a stripe. The next shot had him jack up and bend the cue ball along a full table-length path around a blocker to sink the 2 ball along the rail. Then, as you read above, it go really good.
The Spirit Award: Joshua Filler
If your grandmother saw him walk past you on the street, she might say how he looks like a nice young man. But the diminutive 20-year-old isn't such a quiet gentleman at the table — especially when he's surrounded by hundreds of pool-crazed Americans screaming at him. You couldn't miss the German at this year's Mosconi Cup — as the fresh-faced kid played, and celebrated, at an MVP level. His first heel turn: On a can't-miss match-winning 9, he called a timeout and sat for a drink of water. Filler then drilled the shot, screamed and celebrated as his opponent left the arena. Such theatrics continued as the kid statistically outplayed the other nine competitors. The kind of player you love, as long as he's winning matches for you, Filler reached new heights with a piggy-back ride around the arena on the back of Dutchman Nick van den Berg. When you're on a team that's won eight straight contests, you have to do something to keep things fresh.
The "WTF?" Award: Naoyuki Oi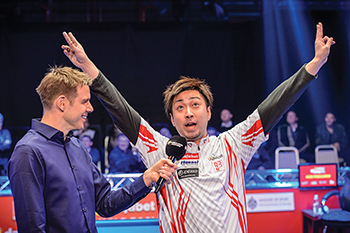 Matchroom Pool is known for the slick production and first-class presentation of its various pool events, primarily the Mosconi Cup. But the U.K. firm didn't know what to make of a moment at February's World Cup of Pool in Gibraltar, Spain. Naoyuki Oi, a journeyman from Japan, turned in one of the most bizarre interviews in pool's history. The 34-year-old just upset Taiwan's Kevin Cheng. Asked for his reaction, Oi shouted, "My name is Naoyuki Oi! Today very lucky! Congratulations me! Yay!" The colorful Oi then launched into the lyrics of a satirical song by a Japanese comedian, drawing a stunned reaction from the Sky Sports interviewer. After his next match, he mockingly wept and 'I go home! I go home!' Network news sites, sports blogs and — it being the internet — plenty of other random outlets picked up the curious conversations. A few million views in his pocket, Oi was pool's most viral video of 2017.
The "Breaking Up Is Hard to Do" Award: BCA and W.T. Glasgow
W.T. Glasgow, a trade show management firm founded in 1984, has handled the last 21 expos for the Billiard Congress of America. But the industry trade association signed a new deal with Atlanta's Meeting Expectations. But the BCA, roughly a decade since the Great Recession shrunk its trade show to a quarter of its largest size, has shown an independent spirit in recent years. It's managed to gather a little momentum in recent years, with ideas like bringing the junior national tournament to the expo and last year's "Innovative Products" program. Glasgow and the BCA had a good run, but maybe a new beau (or bae as the kids are saying?) will do the group good.
The "We'll Believe It When We See It" Award: The World-Pool Billiard Association
Like the BCA, the game's world governing body has had its ups and downs — OK, maybe mostly downs. But the World-Pool Billiard Association (WPA) hoped to raise hopes with an October 2017 announcement about a robust calendar of events for 2018. After the World 8-Ball Championship fiasco of 2016 and last year's mysteriously disappearing Jinan, China, 8-ball event, the WPA needs to string a few tournaments together. The group has promised World 10-Ball Championships for men and women, the Jinan event for both divisions and even a Kuwait Open. Whether players, sponsors and backers buy in? We'll wait and see, with notepad at the ready.