Current Issue
Next Page >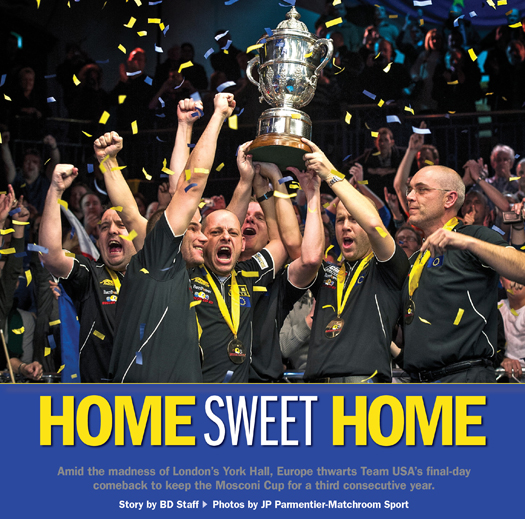 WITH THE Mosconi Cup returning to the cozy comforts of York Hall - the 83-year-old arena in East London's gritty Bethnal Green neighborhood that's mainly known as a boxing venue - it was only fitting to see Matchroom Sport's annual transatlantic team competition turn into an all-out slugfest.

In one corner, the unquestioned champion, Team Europe. For the first dozen years of competition, the Continental cueists were underdogs, notching just two wins against 10 losses. But 2006's infamous tie - the Mosconi Cup was played according to Ryder Cup-like rules, where an even number of points were available, with the challenging side needing to outpoint the reigning champs - proved a sea change, one that can easily be viewed with a bit of hindsight gained over the ensuing six years.

The Europeans reaped the rewards of a number of established stars, like Mika Immonen, Ralf Souquet and Niels Feijen, continuing to play at a world-class level, while rising stars, led by Darren Appleton, added depth to an impressive talent pool.

The result? Europe entered the 2012 Mosconi Cup, held Dec. 10-13, as winners of two straight and four of the last five. Led by Appleton and Feijen, the squad, which included Chris Melling, Nick van den Berg and Greek newcomer Nikos Ekonomopoulos, were the clear betting favorites.

In the other corner, stood an underdog American squad faced with the difficult task of stemming the tide of European domination in the inhospitable confines of York Hall. Not only that, Team USA entered December's competition in a bit of flux. The Americans had Johnny Archer making his 16th appearance and reigning U.S. Open champ Shane Van Boening making his sixth. The rest of the team was relatively untested, with Dennis Hatch (two), Mike Dechaine (one) and rookie Brandon Shuff bringing a total of three past appearances.

But the Americans, while underdogs on paper, stood more than a puncher's chance in the four-day competition that mixed team, doubles and singles sets in an overall race to 11 for the Cup. The notoriously fickle game of 9-ball, with each match a quick sprint to 5 racks, meant both teams were plenty capable of winning.

In a thrilling back-and-forth fight, the European side withstood a fierce challenge from Team USA to keep the Mosconi Cup for a third straight year. The Europeans withstood a spirited final-day comeback from the Americans, who won three straight sets to tie the overall score at 9-9.

But a free-wheeling Melling put the Europeans on the hill with a brilliant 5-2 victory over tough-luck Shuff. Dutchman van den Berg then rattled home the clinching 9 in a nervy battle with Dechaine, where both players were visibly uncomfortable in the high-decibel, heavy-pressure setting.

"I think my heartbeat was about 220 the whole match," Van den Berg said, after the 5-2 victory. "That must be the most exciting match of my life. ... I made a lot of mistakes but in the end I won."

Feijen, with his fifth victory in eight appearances, savored the victory, while noting the extraordinary performance of Chris Melling, who won three straight single sets to take MVP honors in just his second appearance.

"The heat was really on," he said. "We were up 9-6 and they came back left us really nervous. Chris came out, started firing and then the pressure on Nick was unbelievable."

For the Americans, there are no moral victories, especially when they had to watch Team Europe celebrate in front of a wild York Hall crowd. But Archer was quick to point out the positives in defeat.

"I am very proud of my team," said Archer, who won all six of his singles and doubles sets. "The guys showed a lot of heart today. We were all so nervous and under a lot of pressure, but they are great champions."
MORE VIDEO...