Current Issue
Juggernaut

In an electric atmostphere, Team Europe put on its strongest performance yet in trouncing Team USA, 11-3, at the 2017 Mosconi Cup.
By Mike Panozzo
Photos by JP Parmentier
The table was set.

The magnificent Alexandra Palace, a 150-year-old entertainment venue perched high on a hill overlooking central London, was dressed to kill. In the main arena, massive bleachers formed a horseshoe around a single Rasson table, with all 2,000 seats fully committed for each session of the four-day team 9-ball event.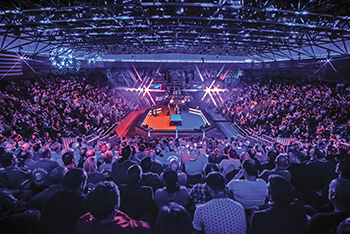 Mosconi Cup XXIII

British sports cable network Sky Sports positioned eight cameras around the arena, prepped to deliver every second of the 23rd Mosconi Cup transatlantic team 9-ball battle live to viewers throughout the United Kingdom and beyond. Additional broadcast deals ensured that Sky's live feed would be picked up in more than 30 countries around the world, including the United States, and throughout Latin America and most of Europe.

Team Europe, winners of the last six renditions of the annual Matchroom Sport-produced event, was absolutely stacked with world-beating talent — reigning World 9-Ball Champion Albin Ouschan of Austria, unflappable Dutchman Niels Feijen, national heroes Darren Appleton and Mark Gray, and the world's hottest player, 28-year-old Scotland native Jayson Shaw. Captained by deceptively effective Swedish cutup and former Mosconi Cup player Marcus Chamat, the Europeans oozed confidence.

Meanwhile, the Team USA squad that crossed the Atlantic offered hope that the 2016 Mosconi Cup would be competitive to the end, with some going so far as to dream that the underdog Americans were prepared to steal the coveted trophy in London. In his third year at the helm of the Team USA program, captain Mark Wilson (who enjoys the distinction of having pocketed the case 9 ball in the very first Mosconi Cup) boasted his most talented group. After stripping down Team USA in 2014 and rebuilding it with youth and character, Wilson's efforts appeared to be bearing fruit. Following a predictable beat-down in '14, Wilson's squad battled hard into the final day in Las Vegas in 2015, coming within a few balls of stretching Team Europe to the limit in an 11-7 decision. All five players on Wilson's 2016 roster entered the event with Mosconi Cup experience, a valuable asset in the face of an always boisterous and partisan crowd. Five-time U.S. Open champ Shane Van Boening headlined the group, which also included 46-year-old Mosconi Cup vet and recent Billiard Congress of America Hall of Fame inductee Rodney Morris, fiery Mike Dechaine, and young running mates Justin Bergman and Skyler Woodward. In the week prior to leaving for London, Wilson prepped his charges with practice sessions in the four-table arena at Lindenwood University near St. Louis, where Wilson coaches the country's only university-funded college billiard program.

The week concluded with a raucous celebration and send-off staged at Ballpark Village in St. Louis. The Americans were prepared, confident and excited.

And then the tournament commenced.

In an event that in some ways proved even more disappointing than the 12-2 debacle of 2014, Team USA barely posed a threat to the vaunted European squad, collecting one win on each of the event's first three days and meekly exiting London with the sour taste of a 12-3 defeat. Even the members of the victorious European team expressed disbelief in the listlessness displayed by their counterparts and contemporaries.

"When I came here I was really ready for a battle from the U.S.," said Gray, the sharpshooting former snooker player and, at 42, Team Europe's elder statesman. "I have the utmost respect for them, but it's amazing how poorly they played as a team." For starters, numbers don't lie and Team USA's shortcomings in London were painfully exposed. Each match during the 2017 Mosconi Cup was charted by Accu-Stats founder Pat Fleming, whose intricate system for statistically measuring a match was created more than 30 years ago. According to Fleming, Team USA pocketed 164 fewer balls than Team Europe in just 14 matches. The Americans also missed 29 shots, which equates to two misses per match, a dangerous ratio in an alternate-break, race-to-five format like the one used in the Mosconi Cup. (Team Europe missed 14 shots.)

Most telling, the European squad won 22 more games than the Americans, which resulted in an inordinate number of lopsided matches. Only three matches went the distance. (In 2015, eight matches were decided by a single game.) And while the losing squad could contend that many matches were closer than they appeared, with a missed opportunity or bad roll changing the course of the match, the bottom line is that to the fans in the stands, Team USA simply didn't look competitive. The difference was not lost on Team USA captain Wilson.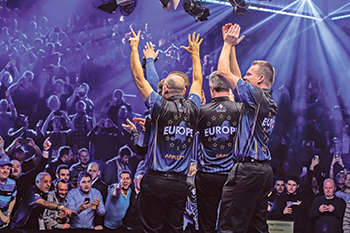 Team Europe had 2,000-plus fans eating out of their hands in London.

"Realistically, Europe plays better than we do," Wilson said at the event's conclusion. "I think the disparity right now is bigger than ever. The stats show they are superior. You have to be accountable." Beyond the billiard sabermetrics, Team USA's performance caused more than a modicum of speculation about the sustainability of the event itself. Forget social media, which was ablaze with vitriol about Team USA players and captain Mark Wilson. Despite record-setting paid attendance (which brought in an estimated $225,000) and worldwide television coverage, promoter Matchroom Sport president Barry Hearn himself expressed concern over the state of the Mosconi Cup. "You have to say European pool is in a good place," Hearn told the television audience in a post-event interview. "They've gotten better and better every year and now they're in danger of running over America unless they get something right." To that end, Hearn boldly announced plans to establish a continental battle between Europe and Asia to "see if we can test these guys because they weren't really tested against these Americans, who weren't good enough." It was a sobering statement from a man who expressed the same concern during the first decade of the Mosconi Cup, when it was the Europeans who simply couldn't compete. Now, however, the stakes are higher and the gap appears greater.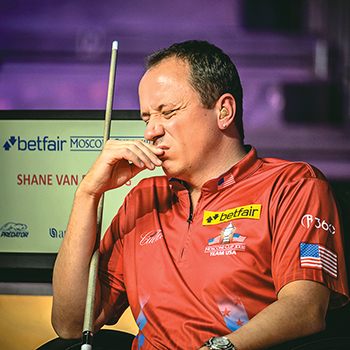 It was another forgettable Mosconi Cup for Van Boening, who was winless in five tries.

DAY ONE

Not surprisingly, the size and decibel level of the flag-waving, song-singing pro-Europe crowd wreaked havoc on the players' nerves in the opening team match, a 10-player scrum of what is essentially single-rack singles play. Normally rock-solid Feijen and American Woodward took turns missing shots in the opening rack, which Feijen won when Woodward failed to get out with ball in hand. The Americans stumbled throughout the match, which resulted in a 5-2 win for the Europeans. "It is incredible in the arena," noted Ouschan. "I was shaking."

Hoping to gain the all-important first-day edge, American skipper Wilson loaded his lineup with veterans, pairing Van Boening and Morris in the first doubles match and slating Dechaine and Van Boening for the two singles matches. (In addition to the team match, the Mosconi Cup features seven doubles matches, in which each pairing must be different, and a maximum of 13 singles matches spread over the four days.) But Van Boening and Morris failed to ignite against the duo of Ouschan and Gray. Both American's missed several shots and made positional errors. At one point, Van Boening appeared to roll his eyes and shake his head after Morris missed ideal position on a shot. With their opponents reeling and their own confidence growing, Ouschan and Gray cruised to a 5-2 win and a 2-0 overall lead.

"As great as Shane is," noted Feijen, "when he gets down I think it affects the team. Team USA needs him. It's not a knock, but it's something we see."

The European lead quickly grew to 3-0, as Feijen, already the owner of four Mosconi Cup MVP trophies, stormed past Dechaine, 5-2. Dechaine looked confident at the start, running through a pair of racks, but with the score 2-2, Feijen took advantage of every opening to win the final three games.

Team USA's youngest members, longtime friends Woodward and Bergman picked up where they left off in 2015. Charged with stopping the bleeding, the team's most dependable players a year ago looked comfortable and confident while rolling past local fan favorites Appleton and Shaw, 5-1.

With a chance to salvage the day, Wilson sent Van Boening out for the final single's match of the evening, just as he had in the previous two Mosconi Cups. And each time, Team Europe countered the predictable selection with Appleton. In each of the previous years, Appleton throttled America's top player. But this was not the same Darren Appleton. The 40-year-old suffered through a winless 2016 and was a somewhat controversial captain's pick for the Mosconi Cup. Surely, this was Van Boening's opportunity to turn the tables.

The match started as expected, with Van Boening looking sharp and Appleton looking shaky. But the match turned when the South Dakota native, leading 2-1, scratched on the ensuing break. Suddenly, Appleton's game came alive and Van Boening's game fell apart. The Englishman ground his way to a 5-3 win, vaulting the Euros to a commanding 4-1 lead and sending the crowd into delirium. "There was a lot of heat on Darren on social media," noted Feijen following the event. "But there was no questioning him on the team. Still, I think he had something to prove, and that win over Shane on the first day was huge." It was the worst possible start for the Americans.

"From the outset we seemed to be a half step out of synch," Wilson said. "All of a sudden we're down, 4-1. It's hard for that not to distract you from your own performance expectations on the second day." Not surprisingly, Wilson's decision to once again put Van Boening into the final singles match of the day was roundly criticized on social media and at the tournament venue. The numbers seemed to support the criticism. In three matches on the opening day (team, doubles and singles), Van Boening posted a dismal .653 Total Performance Average, committing 17 errors while pocketing just 33 balls. The team's TPA for the first day was .805, well below the .854 it posted on day one in 2015.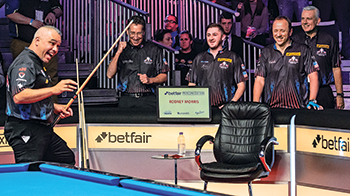 The ageless Morris smiled and danced his way to two points and was the fan favorite at Alexandra Palace.

DAY TWO

Van Boening's miserable Mosconi continued when he and Dechaine teamed up to face Feijen and Gray in the first match of the second day. In truth, the Americans played a relatively error-free match, but a few dry breaks and safety errors opened the door for the firecracker-hot Europeans, who rolled to a 5-2 lead.

The day looked to get worse when Europe trotted out Shaw to face Morris. Shaw, playing with as much skill and confidence as any player in the world, seemed to revel in the bedlam that surrounded the playing arena. He strode down the bleacher aisles during his introductions with the brashness of his mixed martial arts hero, Conor McGregor.

But the battle-tested Morris, who devoted the year to making his 10th appearance in the Mosconi Cup, had other ideas. Morris ran out for an early lead and, aided by several dry breaks from Shaw, controlled the pace of the match. Despite a few shaky moments, the Hawaiian legend pushed through for a 5-1 win to narrow the overall margin to 5-2.

"I was shaking out there," admitted Morris, who managed to earn crowd-favorite status from the European audience. "The pressure is unbelievable, but I still tried to have fun." The fun for Team USA didn't last. In what was far and away the most competitive, exciting and nerve-wracking match of the tournament, Appleton and Ouschan slipped past Bergman and Dechaine, 5-4. The match seesawed, with the Americans gaining an early lead, only to see the European duo reach the hill first at 4-2. But Dechaine and Bergman, America's best player through the week, battled back to force the first hill-hill match of the event. After Dechaine's break failed to result in a shot at the 1 ball, the players spared through the early portions of the case rack. A solid Dechaine safety on the 3 was answered by Appleton, who kicked the ball into the side pocket. Faced with a long, tricky backwards cut on the 4, with numerous obstacles blocking his path to the 5, Ouschan executed what Appleton later called "one of the greatest shots I've ever seen." "I thought it was impossible to match the 4 and get shape on the 5," said Appleton. "He potted it clean and landed perfect."

The dramatic win stunted whatever momentum the Americans thought they could gain, and led to Gray's almost perfect performance in the next match, a 5-1 coaster over Bergman. With Team Europe ahead, 7-2, Matchroom officials understandably cancelled the fifth match of the night. An 8-2 lead going into the third day would almost certainly result in a Euro victory a day ahead of schedule, costing the company a night of live television and gate receipts.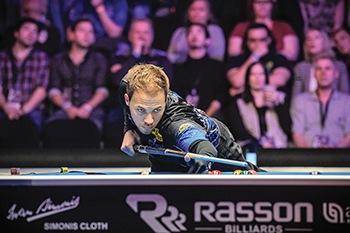 Ouschan completed his big year with a second Mosconi Cup title and the MVP.

DAY THREE

Desperately hoping to reach a fourth day, Matchroom announced just four matches for the third day.

"The Mosconi Cup is televised live in over 40 countries around the world," a Matchroom release stated. "As such, there is strong demand from the international rights holders to see the event through to the closing stages, given the amount of time and resources invested in the event."

Only a European sweep of the day's matches would end the tournament.

And, oh, did the European squad come close to doing just that.

With the champagne on ice, Team Europe stormed through the first two matches on the evening. Appleton and Feijen rolled to a 5-2 win over Dechaine and Van Boening in the opener, saddling Van Boening with his fifth loss in five matches at the 2016 edition. Ouschan and Shaw clawed back from a 3-2 deficit against Morris and Woodward, but a scratch by the 23-year-old Woodward turned the tide in favor of the Euros, who won 5-3. Europe reached the brink with its third straight win, a 5-4 victory by eventual MVP Ouschan over an error-prone Woodward. For the second consecutive match, the young Kentuckian scratched twice. Both miscues allowed Ouschan to run out, including the case game, and Team Europe sat comfortably in front, 10-2.

All that stood between the European five and a massive celebration was the duo of Morris and Bergman, each of whom had a hand in Team USA's two wins to date. Team Europe sent out its pair of national stars, Appleton and Gray, and the crowd was cheering and chanting from the opening break. The fans called Appleton's name throughout the opening rack, which may have affected the normally solid player, who inexplicably jarred the easiest of 8 balls. The Euros took leads of 2-1 and 3-2. An Appleton miss allowed Bergman and Morris to tie the match, then reach the hill after a break and run. Appleton and Gray responded with a run-out of their own to force a deciding game. The Europeans were at the table and looking to close things out when Gray missed a long, relatively straight shot on the 2 ball. The Americans eventually finished the rack to assure the event would, indeed, reach the fourth day.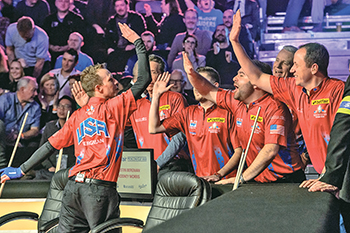 For the second straight year, Bergman (left) was Team USA's top performer.

DAY FOUR

As was the case in 2015, Chamat sent the team's rookie player out with his team on the hill. Jayson Shaw, however, is anything but your run-of-the-mill debutante. And with laser focus and a sense of purpose, Shaw was determined to leave his stamp on the final 9 ball in London.

Team USA sent out Dechaine, who, like Van Boening, had failed to register a point in the event. In the final singles match, America's No. 2 had no chance. After taking a 1-0 lead, Shaw watched as Dechaine fluked in the 9 after a failed 2-9 combination. From there, the Scotsman put on a clinic of locksmith safeties, incredible pocketing skills and mind-bending cue ball movement to roll to a 4-1 lead. In the final rack Shaw took the table after Dechaine missed a long, thin cut on the 2. In a flash, Shaw raced through the remaining balls, pausing to soak in the moment and allow the crowd to reach full throat before dropping the title-clinching 9. "Words can't describe what I'm feeling," said Shaw, who dropped his cue and launched himself into the arms of his teammates after pocketing the final ball. "I've watched the last couple of years because I knew at some point I might have a chance to be on the team. I went to Las Vegas last year just to soak it in and get that feeling. But here it was insane.

"At the end of the third day," he continued, "I said, 'Let me go out there first tomorrow. Let me do my thing. Let me practice by myself and get ready.' The key is to enjoy it, and that's what I did," he continued. "When you can do that, it takes a lot of pressure off you. I just tried to keep myself loose and happy and thinking good things all the time."

With confetti raining down on the arena, the European five and their energetic captain reveled in their dominating performance. "The anxiety and anticipation never lessens," said Feijen, "because the crowds and venues keep getting bigger and bigger. We've never played in front of 2,000 people before, so it's new to us. But over the years we have gotten so much stronger. If you compare Team Europe to 10 years ago…and those teams had some great players…the level is really different. I entered on a losing streak. There was no team spirit. No leadership. Look at it now. The level of play is absurdly high and so is the level of trust." "Winning this never gets old," added Gray, a three-time winner. "I usually don't set targets. I just go play. But I made it my priority to be here this year. It was important." "This is the best team I've played on," insisted Appleton, who has been on board for the entire seven-year streak. "Such balance. Marcus did a great job. We stuck to our plans and our goals every day, and achieved what we wanted to achieve. "Personally, I'm happy with how I played. My form was not good this year, but Marcus picked me for a reason. He knows what I bring to the team on and off the table. I played well in patches here. Really had to grind. But I was determined and, in the end, I won four of six without looking good at the table."

Statistically, Team Europe may have set the standard for excellence throughout a Mosconi Cup. As a team, the squad posted a gaudy .899 Total Performance Average, an incredible standard of play. The team posted a single-session high of .907 on the tournament's second day.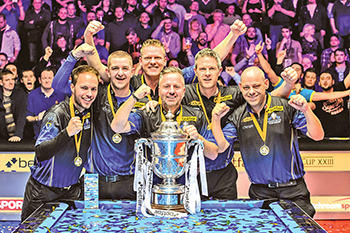 With Captain Chamat (center) at the helm, (l-r) Ouschan, Shaw, Feijen, Gray and Appleton put on a lethal display of team pool to win the Cup.

"Man for man, I don't think I've ever seen a team perform better than Team Europe here," Wilson concurred. While Europe celebrated, Team USA sat quietly in its curtained-off practice area in another section of Alexandra Hall. The players stared at their phones and packed up their gear. The disappointment was palpable. "It's frustrating," said Bergman, who was the only U.S. player to have a TPA above .900 (.904). "We couldn't get anything going. They outplayed us, but we also couldn't seem to get any rolls when it counted. We got a little sloppy at times, too." "American players are break-and-run players," offered Dechaine. "This format doesn't suit us very well. Here you put the 9 on the spot and break from the box. We like run-out pool. "Still, it was the best team I've been on. We all got along fine."

"All year long guys are playing on bar boxes, 1 ball on spot, rack your own," opined Morris. "It's the easy way out. Over here, there is no easy way out. You have to fight tooth and nail and you don't give anything away. "Playing with Johnny Archer and Nick Varner and those guys, everybody fought for ever ball. We're not trying to catch a gear. There is no gear in an alternate break race to five. You gotta fight for every ball. I was nervous as heck here and jabbing at some shots, but you stay in there and fight."

Van Boening, whose TPA for the event was .750, declined comment following the event. The step backwards left many wondering how to "fix" Team USA, if, indeed, it is fixable. "I don't know if I feel like we're a team," confided Bergman. "Me and Skyler are the only real friends on the team. I've never really talked to Rodney before this. And me and Mike [Dechaine] are always matching up. Now you meet up a week ahead of time and have to be friends. Don't get me wrong, we're cordial. I like the guys, but it's different. In Europe, these guys play tournaments. In the States, we're trying to take each other's money. It's more personal." "The team concept is a real thing," said Feijen. "Once a year you have to put aside your competitiveness against your teammates and come together as a team. Otherwise you're going down. That's what we do time and time again." "Team USA didn't seem together," said Chamat. "They lacked energy, and you need that when you are the underdog. You have to come with a lot of energy. You need to battle. This is the biggest tournament of the year. You have to approach it differently." Not lost in the deflating defeat was Wilson's future at the helm of Team USA. His initial proposal to Matchroom in 2014 was a three-year plan. But after clear improvement from year one to year two, the team's slide in year three may have sealed the likeable captain's fate.

"I put all my heart into Team USA," Wilson said. "If [Matchroom] dismiss me, I'll know I couldn't have done any more. I won't look back and say, 'Gee, I wish I'd tried harder.' If the job I did isn't good enough, then they need to try someone else. I'll still be Team USA's biggest supporter."

MORE VIDEO...