Current Issue

Previous Page Page 3 Next Page >



TNT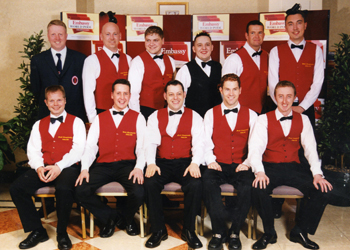 Appleton (seated, center) was the volatile king of English 8-ball for years before his conversion to big-table 8-ball.
And over the next decade, despite an out-of-control temper that often spilled over into brawling after-hour episodes at nightclubs ("because of too many Budweisers," he says with a laugh), he was the highest ranked English 8-baller for seven of those seasons and never fell below No. 2 (to Mick Hill). "With exception of Mick, I expected to win everything," he says. "So when I lost, it hurt so much more. It would sometimes take me weeks to get over a loss." Adds Andy: "(Darren) doesn't like missing a shot. He's in absolute pain when he misses, even in practice."

Oddly, though, for all his accomplishments, both as a fearsome tournament force and high-stakes money player, Darren never won the world English 8-ball title. "Which is the biggest disappointment in my life," he says, adding after a short pause, "I think I just tried too hard."

At the presentation banquet after the 2006 English 8-ball finals, he made a speech that not only stunned the crowd but resulted in a two-year ban (which was originally three years, but later lowered to two): He said, in essence and without equivocation, that the tour was horribly run and that the players deserved better. "There was no money in the game anyway and I'd already lost the love for English 8-ball," he says. "So I didn't care if I ever played the game again. I needed a change, a new challenge."

With that in mind, he quickly joined the International Pool Tour, which carried the lure of big dollar signs and an emphasis on his comfort zone of 8-ball; he ended up being ranked a respectable 12th, as well as opening eyes that year with a fifth-place finish in the U.S. Open. "Still," he says, "I went from being the best in one game to essentially starting all over again. It was a big adjustment. I had to get used to the bigger, thicker cues. I had to develop a feel for the heavier balls and for the cue ball, which in English 8-ball is smaller than the object balls. In the beginning, I was losing my cue ball in pressure situations. It took me nearly a year until I felt comfortable with all of it."


Previous Page Page 3 Next Page >


Top