Current Issue
Next Page >
A Continental Celebration
The Dutch play leading roles in men's division, while Jasmin Ouschan goes for double gold.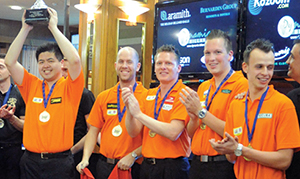 The Dutch team took gold and two of its members won in singles.
WHILE EUROPEAN players have become more and more common among the international upper echelon over the past quarter-century, the hot spots of talent within the continent seem to shift from year to year. The Germans have long been a dominant force, thanks to all-time greats like Oliver Ortmann and Ralf Souquet; the British contingent have made some noise recently, led by two-time world champ Darren Appleton.

But this year's European Pool Championship - held April 10-21 at the Grand Hotel Metropol in the Slovenian city of Portoroz - saw the Dutch men stand out in the five events, earning the team gold, two more singles titles and a pair of bronze medals.

The women's events, meanwhile, proved slightly more competitive than years past. Jasmin Ouschan has been an utterly dominant force, sweeping all four golds in 2010 and taking three the next year before winning just one last year. While she returned to her usual form in 2013, winning a pair of golds and two bronzes, Line Kjorsvik and Oliwia Czuprynska also entered the winner's circle.

While prize money isn't doled out to the hundreds of hopefuls, many countries rely on the European Pool Championships to choose players to receive government support. And that's in addition to the motivation of playing for national pride.

Straight Pool

In the opening event, 2012 European Pocket Billiard Federation Player of the Year Nick van den Berg separated himself from the field with two brilliant performances in the 64-player single-elimination format. (Play began in groups, with players advancing through double-elimination brackets.) The Dutch veteran moved into the quarterfinals with a two-inning, 125-0 victory over Sweden's Andreas Gerwen, punctuated by a 120-point run to begin the match. After ousting Albin Ouschan and Nikos Ekonomopoulos, Van den Berg unleashed another monster performance in the final against Poland's Tomasz Kaplan. Van den Berg kept Kaplan on the negative side of the score sheet for much of the defensive match. While Kaplan ran four to push the score to 64-3, Van den Berg then ran 50-and-out to clinch his third European gold.

"It's good to defend your title and win the discipline two years in a row," Van den Berg said. "For us 'Dutchies,' a medal means a lot. We get government support once we achieve it."

On the women's side, Ouschan made up for an uncharacteristic loss in last year's semifinal. She dominated her opponents throughout single-elimination play. She thumped the Netherlands' Tamara Peeters, 75-13, in the semifinal, and then equally controlled the final against Katarzyna Wesolowska, closing out the title, 125-15, thanks in large part to an early run of 42.

"Straight pool means a lot to me," said Ouschan, who became the first woman to advance to an open world championship at the straight-pool event in 2008. "I could not get that title last year. That bothered me a lot so I'm happy to be back."
MORE VIDEO...