Current Issue




Thrill Ride




Germany's young Joshua Filler shot through the toughest 9-ball field ever assembled to claim the 43rd U.S. Open 9-Ball Championship in Las Vegas.

Story By Mike Panozzo
Photos By JP Parmentier

The trophy presentation had been completed, as had the photo and interview demands. It was time for Joshua Filler, the young German sharpshooter that had just completed a memorable run through the largest and toughest international 9-ball field ever assembled to win the 43rd U.S. Open 9-Ball Championship at the Mandalay Bay Convention Center in Las Vegas, to relax and unwind.





43rd U.S. Open



Naturally, the precocious 21-year-old celebrated first by walking to nearby New York/New York Hotel and Casino with Max Lesser of cue sponsor Predator to ride the Big Apple Coaster, a three-quarter-mile roller coaster that climbs out of the hotel, drops more than 140 feet and performs a 180-degree spiral.

Upon exiting the ride, Filler, in worn blue jeans and a blue zip-up hoodie, stood slightly dazed and admitted that he really did not enjoy the experience.

"It was tougher than the U.S. Open final match," he offered.

It's hard to imagine that even the speeding roller coaster generated more twists and turns, ups and downs, and heart-stopping action than Filler's pulsating 13-10 title match win over China's Jiaqing Wu in the packed 680-seat television arena at Mandalay Bay. In fact, Filler's journey to the most significant accomplishment of his still-young career featured several almost bizarre twists. Twice, including the final, Filler was handed the opportunity to close out a tight match after his opponent fouled in a most unlikely manner. Also in the final, Filler, nursing a slim lead, fired wildly at a ball, simply hoping something good might happen. The object ball raced the length of the table and back twice before trickling into a corner pocket on its final rotation.

But that's how things have gone for Filler over the past six months, a period during which he also captured the World Pool-Billiard Association (WPA) World 9-Ball Championship and ascended to the top spot in the WPA World Rankings. And at the table the young lefthander's fast-pace play, lethal shot-making and raw emotion make him appointment viewing.

In truth, the entire U.S. Open was appointment viewing.

As the longest-running major open 9-ball championship in the world, the U.S. Open, launched in 1976 by late room owner and promoter Barry Behrman, has long drawn the game's top players and a sizeable following of fans. But British promoter Barry Hearn's acquisition of the tournament in March 2018 had the pool world buzzing with next-level excitement, and Matchroom Multi Sport's 2019 edition of the U.S. Open proved to be the most anticipated event in pool since the inaugural International Pool Tour (IPT) tournament in 2006.

In typical Matchroom fashion, sights were set high. With a guaranteed $300,000 prize fund, a shift to Las Vegas and a worldwide television audience, the U.S. Open was positioned to be an event that the promoter could grow globally.

"We are going to take a historic event and make it mainstream," Hearn promised.

"I'm looking forward to it," five-time champion Shane Van Boening was quoted as saying prior to the event. "This is the level the U.S. Open should be. I'm looking forward to seeing more fans, more people supporting the event and more people watching it around the world."

But while the U.S. Open brand offered opportunity, it also challenged Matchroom to step out of its comfort zone. Not since the World Pool Championship days of the early 2000s had Matchroom produced a multi-table pool event, and none of its current staff was around at that time. The task was daunting. The Open featured a 256-player, double-elimination field that needed to be reduced to 16 in just three days. Staging would be required in two sections of the convention center; one section set up with 33 tables, including a center court table for a live streaming match each round, and the other set up as a nearly 700-seat television arena similar to the Mosconi Cup configuration at Mandalay in 2017. Adding to the stress was a one-day setup window.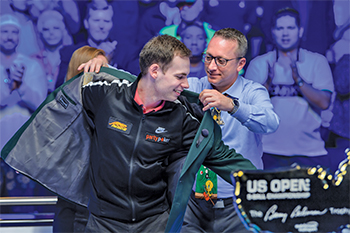 Germany's young Joshua Filler shot through the toughest 9-ball field ever assembled to claim the 43rd U.S. Open 9-Ball Championship in Las Vegas.



Almost miraculously, the Matchroom team produced at every level. In a frenetic 22-hour period, all of the Diamond tables were positioned, with matching lights hanging above each from trussing that looked like it could have handled staging for Circ de Soleil. In a nod to major snooker and Chinese 8-ball arena layouts, each table was set in its own mini-arena. Hard foamboard partitions and a minimum of six feet between table and partition provided intrusion-proof areas for the players.

Additionally, the hall featured a center-court table on which a featured match in each round was streamed live on Facebook. A two-level command station was erected so that streamers and Matchroom's event team could lord over the 40,000-square-foot hall, updating scores, posting upcoming matches, conducting interviews and taking feeds from a strolling hand-held camera for viewing on several large plasma monitors set high above the arena.

It presented a look that American pool had never witnessed, not even during the IPT's brief reign.

"Logistically, this is what we do," said Hearn, noting that his company produces 700 event days each year. "It's hugely complicated, but we love a challenge."

Pieces in place, attention turned to action on the tables. The logistical dilemma of running through 488 matches in three days was eased through several simple precautions. First, every table had a scorekeeper that also served as time clock operator, with each turn at the table maxing out at 45 seconds. Also, one referee for every four tables racked the balls. (A template was used in the qualification stage, while hand-racking was done in the final 16.) Players were not allowed to inspect the rack. The move served dual purposes: It kept the action moving and the uncertainty from not being able to survey the rack largely eliminated the concern over soft breaking.

The field itself represented undeniably the strongest collection of talent ever assembled in a 9-ball championship. Despite the $1,000 entry and expense of travel, 50 players made the trek to Las Vegas from Asia, with 38 coming from Taiwan, the Philippines and Japan alone. More than 80 Europeans ponied up and, for the first time in several years, U.S. players formed the largest contingent at the Open with 92 players. Not a single significant player was missing from the festivities.

With the field reshuffling its deck into single-elimination matches for the final four rounds, five victories in the winner's bracket of the qualification rounds would assure a player a seeded spot in the last 16. And while players like Filler, Wu, five-time champion Shane Van Boening of the U.S., defending champion Jayson Shaw of Scotland, former world champions Jung-Lin Chang and Pin-Yi Ko of Taiwan, and 2017 WPA World 9-Ball Champion and 2018 runner-up Carlo Biado of the Philippines hovered near the top of most prognosticators' lists of favorites, the overall strength of the field all but assured that a handful of under-the-radar snipers would battle their way into the mix.

Unlike U.S. Opens of the past, which eschewed seeding for random draws, the 2019 edition seeded half of the field, using a combination of WPA rankings, Billiard Congress of America rankings, automatic spots for tournament qualifier winners and Fargo Ratings. Not surprisingly, the first round was uneventful save for Britain's Chris Melling, who found himself trapped in the Airbnb home that he and Shaw rented while Las Vegas police, guns drawn, hunted an armed suspect in the neighborhood. After contacting tournament officials, Melling's match was moved several hours to accommodate his eventual late arrival.

The second round, however, was not as forgiving. Casualties included 2015 U.S. Open winner Kevin Cheng, fresh off of his win in the WPA Players Championship, a $50,000-added warm-up tournament in Las Vegas just days before the U.S. Open. Cheng dropped an 11-9 decision to Holland's Ivo Aarts. Fancied Biado also stumbled, losing to Japan's Kenichi Uchigaki, 11-3, and recent World Pool Masters winner David Alcaide of Spain fell to American Mitch Ellerman, 11-6. Finally, 2017 WPA World 9-Ball Champion Albin Ouschan of Austria and American hopeful Skyler Woodward made early trips to the loser's bracket, with Ouschan losing, 11-10, to Northern Ireland's Chris Alexander and Woodward falling, 11-8, to England's Imran Majid. It was quickly apparent that virtually every player was dangerous.

One of the darlings of the tournament's early stages was women's world champion Siming Chen of China, who won her first three matches in convincing fashion. After earning a first-round walkover when Saudi Arabia's Mohamed Baabad failed to show, the 25-year-old Chen clubbed Vietnam's Hoang Duong Quco, 11-4, and Ellerman, 11-3. She had the misfortune, however, of drawing countrymen with whom she regularly spars in her next two matches, losing to Haitao Liu, 11-6, and being ousted by Wang Can, 11-7.

Not surprisingly, the mighty Taiwanese contingent sent a pair of players to the final 16. The surprise, however, was in which players advanced. Jung-Lin Chang, winner of the 2018 International Open 9-Ball Championship in Norfolk, Va., and widely considered one of the top three players in the world, won his first three matches before running afoul of 22-year-old American fireball Billy Thorpe, 11-9. Chang was unceremoniously bounced in his next match by Dutchman Marco Teutscher, 11-9. The win was part of a seven-match streak authored by Teutscher (who also eliminated Woodward), following his first-round loss to Filipino Raymond Faraon. Likewise, Pin-Yi Ko stumbled just shy of reaching the final 16, losing back-to-back matches to Spain's Francisco Sanchez Ruiz, 11-4, and Singapore's surprising Aloysius Yapp, 11-7. (In the last 16, Sanchez Ruiz defeated younger brother Ping-Chung Ko, 11-4, presumably making him the event's Ko-conspirator.)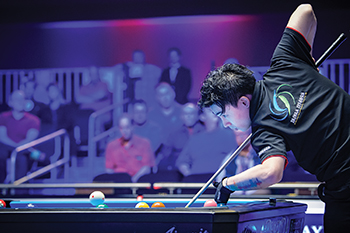 Unheralded Kai-Lun Hsu cleared an impressive list of hurdles on his way to the final 16, but he couldn't hold onto several large leads during his loss to China's Liu.



The qualification rounds witnessed several solid runs, few as impressive as Taiwan's Kai-Lun Hsu. The slight 31-year-old, who finished fifth in the 2015 U.S. Open and ninth in last year's International 9-Ball Open, rolled to the last 16 unbeaten with a string of wins over more heralded stars. After trouncing American Adam King, 11-2, Hsu ran through two-time U.S. Open champ Mika Immonen, 11-4, Filipino Jeffrey Ignacio, 11-8, Filler, 11-8, and eventual finalist Wu, 11-3.

Loser's bracket drama was aplenty, with Wu narrowly escaping Fortunski, 11-10, to earn his spot in the final 16. Filler had to endure three elimination matches, each against Euro Tour foes. First, the German topped Greece's Alex Kazakis, 11-3.

Against stoic but lethal Albin Ouschan of Austria, Filler trailed 5-1 and 9-5 before winning four straight to reach the hill. Trailing, 10-9, Ouschan had a chance to knot the match and break in the decider, but inexplicably miscued reaching for a long shot, handing the match to Filler. Filler then thumped Makkonen, 11-6.

With Filler, Wu and Jung-Lin Chang in the loser's bracket, pre-tournament favorites Shaw and Van Boening cruised into the last 16. Displaying the focus and determination that carried him to a dominant performance in 2017, Shaw blasted through Marcus Weston, 11-0, Tom Staveley, 11-5, Hunter Lombardo, 11-7, Corey Deuel, 11-1, and Petri Makkonen. At the bottom of the bracket, Van Boening, seeking his record sixth U.S. Open 9-Ball crown shot through Saudi Arabia's Abdullah Saeed O Alshammari, 11-4, Manny Perez, 11-1, Poland's Mieszko Fortunski, 11-8, Filipino Johann Chua, 11-2, and fellow Yank Dennis Hatch, 11-3.

Hatch was one of four Americans, including Van Boening, that found himself a single win away from a final 16 birth. Team USA Mosconi Cup teammates Thorpe and Tyler Styer were also a win from seating as many as four Americans in the single-elimination stage. But Thorpe, after winning his first four matches, lost consecutive contests to Taiwan's Jui-An Hsu, 11-6, and China's Can, 11-7, respectively. Styer, the 23-year-old Wisconsin native, withstood six elimination matches before losing an 11-7 decision to Ping-Chung Ko. Following his loss to Van Boening in the winner's bracket, Hatch was eliminated by Ignacio, 11-5.

If there was any question about which continent boasted the deepest wealth of talent, it was answered in Las Vegas. Asian players gobbled up a piggish 10 stops in the last 16: Four Taiwanese, three Chinese, two Filipinos and Singapore's Yapp. (Former world champion Alex Pagulayan plays under the Canadian flag, but he could easily be classified as a Filipino player as well.)

With eight players undefeated and eight players remaining in the loser's bracket, a redraw established the single elimination phase of the tournament. The undefeated players were seeded, with the one-loss players being randomly drawn into those spots. Were an oddsmaker to inspect the last 16, it is likely that the four favorites would have been Shaw, Van Boening, Filler and Wu. As luck would have it, the foursome immediately found one another in the round of 16. Shaw drew Filler and Van Boening drew Wu.

"On the last day of qualification," Filler said, "I called my coach, Michael Wahl, and told him I would have to play Alex, and then probably Albin and Petri. I told him that after I win those three matches, I was sure I would draw either Jayson or Shane in the last 16. That's what happened, and I was really looking forward to it. I couldn't wait. It is a dream to play in this arena. It gave me goosebumps."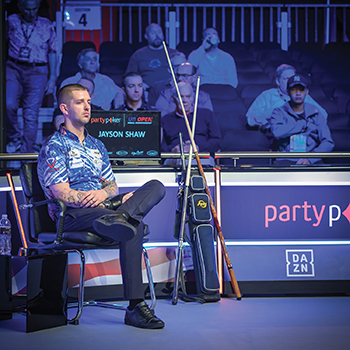 Defending champ Shaw exited quickly after the shift to single-elimination.



In the sparkling television arena, with each of the remaining 15 matches being carried live in the United Kingdom on Sky Sports and in the U.S. on subscription-based DAZN (as well as numerous other countries worldwide), Shaw opened the proceedings by bolting to a 3-0 lead. But once he got to the table, Filler, dressed in a black zip-up tracksuit jacket with his t-shirt extending below the jacket's waistline, raced around the table as if he were, indeed, in a track meet. While Shaw sat, Filler blazed through 10 consecutive rack wins on his way to an 11-4 rout.

A sudden turn of fortune characterized Van Boening's matchup with Wu, as well. Although clearly not at his sharpest, America's lone hope managed to forge a 7-4 lead before errant position gave Wu a chance. The crafty lefthander took control of the table and eventually gained an 8-7 lead, his first of the match. A game later, Van Boening missed a tricky little three-ball combination attempt. Wu quickly reached the hill, 10-7, and closed out the match after Van Boening missed a long attempt at the 9 ball in the following game.

"I was just never comfortable out there," said a disappointed Van Boening, who had a day off prior to his last 16 match. "I practiced a lot yesterday, so I was ready. I just never got in stroke."

While Filler and Wu appeared on a collision course, the final 16 offered a number of high wire matches that kept the surprisingly steady paid audience on the edge of its collective seat.

Impish fan favorite Pagulayan entertained with his flashy style and carefree attitude, rebounding from a 10-8 deficit to squeak past the imposing Yapp, 11-10. And Liu roared back from 6-1 and 9-6 deficits to end Kai-Lun Hsu's run, 11-9.

In the remaining matches, Yu-Lung Chang topped Ignacio, 11-3, Can defeated Jui-An Hsu, 11-6, Sanchez Ruiz beat Ping-Chung Ko, 11-4, and De Luna edged Majid, 11-9.

Filler continued his stellar play in the quarterfinals, coasting past Sanchez Ruiz, 11-4, while De Luna overpowered Pagulayan, 11-5.

The other two quarterfinal matches were as different as two matches could be. Liu rolled to a 9-3 lead but scratched to give Chang life. The Taiwanese player pulled to within three at 10-7. On three consecutive trips to the table, Chang missed the same 6 ball, only to leave Liu with no shot. Chang eventually captured the rack and pulled to 10-9, before Liu made one final mistake, fouling after losing position on the cue ball. Chang closed out the match with a run-out from the break for an improbable 11-10 win.

No match, however, could top Wu's 11-0 whitewash of Can. While shutouts are not uncommon in pool, Can suffered the embarrassment of having lost without pocketing a single ball.

Wu didn't enjoy as cushy a ride in his semifinal match against Chang, but he was solid in rebounding from an early 3-1 deficit to an 8-3 advantage. Any hope of a comeback ended for Chang when his cue ball found a pocket after an unlikely carom off the 6 ball at 8-5.

"I wasn't nervous, because I felt like I stole the last match [against Liu]," Chang said later. "But the break was not working for me. The table was slick and the rails were bouncy, so it was difficult to play precision routes."

As for the dominance of the Asian players in Las Vegas, Chang was quick to credit open lines of communication.

"There are so many great players in Taiwan and China," he said. "We match up a lot and we are not reluctant to share our knowledge with each other. There is great connection and communication between us."

Meanwhile, the intense De Luna, known in pool circles as "The Bull," had a plan for slowing Filler in the other semifinal match.

"I need to make him work," he said. "I will try to beat him with safeties and a smart game."

For the first half of the match, De Luna's plan worked to perfection. Push outs and safeties dominated the contest, which had no flow. To their credit, both players showed little fear in taking on difficult shots. But leading 7-4, De Luna scratched on the break. Filler fought back to tie the match, and after DeLuna regained an 8-7 lead, he once again scratched on the break. Filler again tied and appeared to once again come up dry on his next break shot, but a ball dropped at the last instance. The German grabbed the lead and eventually closed out the final two games for an 11-8 victory and a spot in the final.

"I felt like I controlled the game," said the 35-year-old De Luna, who spends the bulk of his time working at the family's printing business in Quezon City. "I got unlucky on a few scratches, but he played well. I'm sad, but I won some big matches here."

With 90 minutes to prepare for the final, Filler and his young bride Pia found a spot in the player's lounge. Filler hit some balls on one of the two practice tables set up in the room, then relaxed by putting in his earbuds and cranking up some good German rap. His rapper of choice? Kollegah, a German artist that sings about the importance of enjoying yourself and staying calm.

"He says that you can do anything if you want it, and you can do it all by yourself," Filler explained. "It's in your hands. It gets me pumped up."

Despite the lack of an American star, the 680-seat arena was sold out for the final. A handful of European fans, including Mosconi Cup European captain Marcus Chamat gathered near Filler's corner of the arena. "Come on, Joshi!" they encouraged.

While Filler is just 21, Wu set the standard for youngest world champion, winning both the WPA World 9-Ball and World 8-Ball crowns as a pudgy 16-year-old playing under the Taiwanese flag and under the name Chia-Ching Wu. And in the final, the now slim Chinese player, dressed, as usual, in black on black, appeared calm and sharp in tallying the first three games.

Once Filler got to the table, however, things quickly changed. Filler won the next five racks and held leads of 6-4 and 8-5. Some loose safety play from Filler gave Wu several chances and he closed the gap to 10-8.

From there the title match essentially was decided on two shots.

At 10-8, Wu appeared poised to further close the gap when Filler approached the table with no shot on the 2 ball, which was almost the length of the table away. With the shot clock ticking away, Filler leaned over and simply fired wildly at that 2. The ball caromed back up table, back down table and back up table again, trickling into the corner pocket. Filler grinned sheepishly, while the normally emotionless Wu let out a long exhale and slumped back in his chair.

"I didn't see a good shot and eventually told myself, 'Come on! Just fire! Let's see what happens.' I looked over at Wu and he was shaking his head. I can understand that."

"That show was devastating, mentally," admitted Wu later. "I felt that if I got back to the table then I would have been the favorite. After that shot, though, I felt that maybe it was not meant to be."

Filler made the most of the gift by clearing the rack and running out from the break in the ensuing rack to reach the hill at 12-8.

A dry break, however, offered hope for Wu, who promptly cleared the table and dropped a neat little 3-9 carom shot to trim the lead to 12-10.

Possessing the week's most consistently effective break shot, Wu was certainly capable of running through three racks to steal victory. His next break, however, found his cue ball frozen to the 5 on the rim of the side pocket. The 1 was in the clear but having to bridge off the rail and over the 5 dramatically increased the difficulty of the angled shot to the upper corner pocket.

Wu gave the shot a close look. He positioned his bridge hand on the edge of the pocket and attempted to gauge his aim point. His fingers slipped slightly over the pocket's edge and his cue tip dropped, barely nipping the top of the cue ball. It happened in an instant. Veteran referee Nigel Rees didn't hesitate, calling a cue ball foul and awarding Filler ball in hand.

Wu stood up, paused, and immediately walked over to his seat.

"I felt it right away," Wu said. "My first reaction was to call Nigel and call the foul on myself. But he was in the right spot and called it right away. He was very professional.

"I was just lining up the shot to see where the cue ball was going," Wu added. "I don't have a clue how that happened. That would never happen in another million years."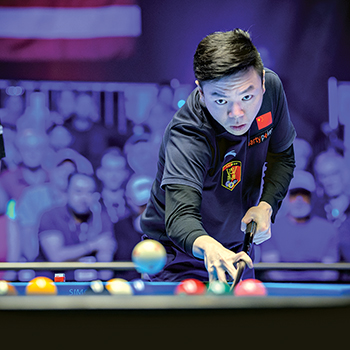 No player in Las Vegas broke better than Wu, but a fluke foul late in the final scuttled his hopes for an Open title.



Filler popped out of his chair. With ball in hand, the path to ultimate victory was relatively unobstructed. With four balls remaining, a tiny smile crept through Filler's lips. He took several deep breaths, attempting to savor the moment without allowing himself to get careless.

"At that point, I knew I was going to win," he said. "It was difficult to stay calm, so I stopped before each shot and told myself to just keep cool and run out." As the case 9 disappeared into the corner pocket, Filler bent forward, balling his right hand into a fist, and unleashed a lung-clearing scream.

It was a relatively restrained celebration for Filler, who several years ago was prone to such outbursts in even the early portions of a rack, rubbing both opponents and fans the wrong way. No one, however, would begrudge the emotional youngster a little steam-releasing celebration upon winning an event like the U.S. Open.

"I have to be myself," he said. "When I see four balls left, it just comes out. I can't control it sometimes."

While the Fillers embraced in the arena, Wu quietly packed his cue case and pondered his fate.

"Mentally, I felt good," Wu said, who picked up $25,000 as runner-up. "I had two chances early, at 3-1 and trailing 6-4, and I missed those opportunities. I knew the match would be tough. I'm upset with my performance."

"This is actually bigger than the World Championship," Filler said, assessing the title's significance. "There are more players, a better field, an unbelievable arena, television cameras… it's amazing!

Following his roller coaster ride at New York/New York, Filler dined at the Cheesecake Factory in Caesars Palace. With a $50,000 prize added in his bank account, Filler could have feasted. Instead, he ordered a cheeseburger. The payoff, it turns out, is not in the prize check.

"I just love to play," he said, admitting to being exhausted from the grind of the tournament and the pressure of the final day. "As long as it's pool and making balls, I'm happy. Even if I lose. Pool balls and the table gives me a smile and I know everything is all right."

Because Pia Filler has yet to turn 21, the Fillers couldn't attend a scheduled after party at a Mandalay Bay nightclub, which was fine with them. They are perfectly content in each other's company.

"She is the reason I am successful," Josh praised. "When I see her, it gives me comfort and I can relax. I am more confident."

"We are a team," Pia said, laughing and shamelessly adding a plug for fans to follow the couple on Facebook at KillerFillers. "We talk about how to prepare and how to keep calm. We don't think about winning. We think about enjoying the tournament and arena."

Enjoyment is coming fast and furious to the Fillers, and it shows no signs of slowing down. For all of his natural talent, Joshua practices and trains as arduously as any of his contemporaries. He also insists that there are still plenty of goals to keep him hungry.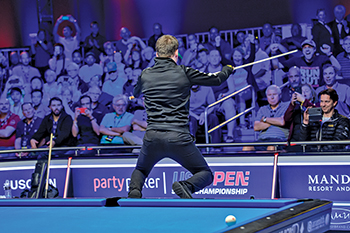 Filler could barely control his emotions as the final 9 came into view, finally letting loose after the title had been secured.



"Winning motivates me to work harder," Joshua said. "We're greedy and hungry. There is the World 10-Ball Championship, the World Pool Masters, Mosconi Cup. There is always more.

"And I know it doesn't get easier," he added. "Now everyone is shooting for you."

If that is, indeed, the case, Filler has served notice that "everyone" had better bring their best game.
---
Hearn Weighs In On U.S. Open, Pool's Future

The U.S. Open 9-Ball Championship is Matchroom Sport Chairman Barry Hearn's most ambitious undertaking in pool yet. But, as a massive tournament open to every player in the world, the Open also offers endless opportunity for both the promoter and the sport. Prior to the championship final at Mandalay Bay, the smooth-talking, ever optimistic, silver haired 70-year-old promoter weighed in on the event's success and future.

On the success of the 43rd U.S. Open: You can always do better, but we've had an electric start. DAZN coming into the U.S. is fantastic because we get to show every hour live. I'm inspired. Pool is such an electric sport and it has been underdeveloped and under commercialized over the years. The U.S. Open has history and we can build on that. It has the potential to attract partners around the world that can help make this an institutional event.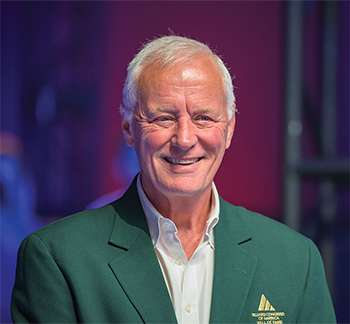 Matchroom Chairman Barry Hearn.



On expectations that Matchroom can save professional pool: We need more events in the U.S. You want prize money to get to a level at which you can say, "Now I can make this a living." We're part of that by saying, "This is the Promised Land." But you can't leave it to one company to do all of it. Our job is to say, "Here is your target, the U.S. Open. And here are two spots for you to promote. Put on a quality tournament for those two spots." That's a beginning. You need a system that allows everyone involved to make money and build the sport at the same time. The sport doesn't need benefactors. They are not sustainable. You need pockets of people doing their little part for the bigger whole. You want to create a vibrant economy around the sport. The player should benefit and the promoter should too. You don't need a lot of start-up capital to get this going. You just need a big mouth.

On U.S. Open prize money: Going forward, we've got to increase the prize money. That's part of the perception when attracting sponsors and broadcast partners. Next year we want a first prize that makes people take notice and say, "Wow!" A big top prize brings the crowd and the sponsors. But you've also got to go deep with the money and also tweak it so that it's marginally worthwhile. You don't pay first-round losers. If you haven't got the ability to win the first prize, you don't have my sympathy. If you can win a few matches, you deserve a little looking after.

On the challenges of drawing sponsors: The perception of pool vis-a-vis sponsorship is still an issue. That's another reason we need a big top prize. It's part of the perception when attracting sponsors. When I tell a sponsor that the darts first prize is 2.5 million pounds I can tell them, "You don't think you're going to steal that, do you?" Look at golf. It does horrible numbers yet sponsors line up with huge money. It's perception. You have executives that say, "I like golf and golf is good for my image." We need to create that feeling in pool. It may be a beer brand. It may be a bank or insurance company that deals with blue collar. And there is nothing wrong with being a blue-collar sport. We're the engine of the world.
---
Meeting The Challenge Head On

From the moment Matchroom Sport announced its acquisition of the U.S. Open 9-Ball Championship in March 2018, excitement swirled through the pool community. America's most important pool championship in the hands of the game's top promoter? Matchroom, always ambitious and optimistic, boasted of raising the 42-year-old tournament to never-before seen levels in terms of staging and visibility. Almost daily posts on social media served to whip players and fans into a frenzy of anticipation. Expectations grew.

The onus for meeting those lofty expectations rested squarely on the shoulders of Matchroom Multi Sport COO Emily Frazer. In fact, it was Frazer creating most of the pre-tournament excitement on social media, seemingly bringing pressure on herself.

In the months leading up to the Open, concerns were raised about a number of aspects surrounding the event. There was the one-day setup window, a seemingly impossible timeframe within which 34 tables needed to be set up, complete with lighting, and a raised area for streaming and scoring equipment, along with multiple television monitors. Those with knowledge of running large-scale open tournaments wondered about the feasibility of reducing a double-elimination field from 256 to 16 in just three days. Was the Matchroom name enough to draw a sizeable paying audience to an open tournament in Las Vegas?

To her credit, Frazer, whose aggressive and creative staging of the 2018 Mosconi Cup in London vaulted the event to unprecedented levels of excitement and success, never flinched. (At least not publicly.) Despite several potentially panic-inducing setbacks, Frazer and her crew delivered the best-produced tournament experience for both players and fans since the short-lived International Pool Tour in 2006.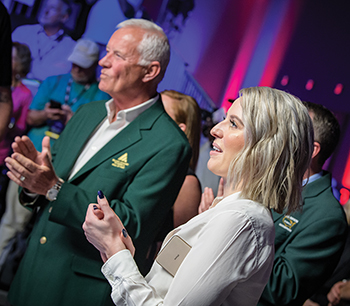 Matchroom's Frazer was faced with numerous challenges, but never flinched in producing a successful U.S. Open.



"I never faulted people for being worried about this event," Frazer said on the Open's final day. "It shows their passion. The more I heard it, the more I was driven to show we could pull it off. It was challenging, but we achieved something that many thought we couldn't. It's much better to surprise people positively than to not meet their expectations.

"This event takes an amazing team and incredible commitment. But that's the Matchroom way."

Not even a shipping container (which carried the live streaming set, 40 sets of Aramith balls, trussing and camera equipment) that didn't arrive until the second day of the tournament disrupted the event. (Table sponsor Diamond Billiards lent the tournament Cyclop ball sets for the first day of action.)

"We really looked at every element that might surprise us and tried to think of what we might need to do," Frazer noted. "We anticipated the setup costs. This may be our first multi-table pool event in a while, but events like this are what we do.

"We had to build two arenas side by side," she continued. "So, you have to double up on labor. Also, we couldn't have work being done on the television arena while play was going on in the qualification arena, which means overnight rigging. We looked at all of this ahead of time. Staging is a big thing at Matchroom.

Perhaps the biggest surprise was the ease with which scheduling during the double-elimination stage of the tournament proceeded. While matches started at a slightly earlier time than most events (9 a.m.), matches never started after 9 p.m. and the first two days were concluded before 11 p.m. In fact, the field was reduced to the final 16 early in the evening of the third day.

"I like to think we nailed that part of it," Frazer said, succinctly.

According to Frazer, the live gate was the greatest unknown leading into the tournament. While the U.S. Open had developed a loyal following during its tenure in Virginia, coaxing fans to pay by two-match sessions at a destination like Las Vegas during the final three days of the tournament posed a significant challenge.

"The live audience was a concern," Frazer admitted. "We looked at various methods of getting people here. We go through this with other events we do. Spectators are always the biggest challenge."

And what notes did Frazer make for 2020?

"I'm my own toughest critic," she insisted. "There are things we want to improve on. We need to do more groundwork on spectators. We want the players and scheduling to go well again. We want to add more money. We want to improve the customer experience. Some little things as well.

"There is not a lot of money in pool," she concluded. "But an event like this has so much more potential, so we want to build the brand and attract more revenue. Building the brand costs money and I hope everyone realizes that. In the end, our priority is always the players. We want to do so much more and this event is the vehicle to doing bigger things in pool."


---
All In The Family

Jayson Shaw and Brady Behrman shared a limousine in Norfolk during October of 2017. Shaw had just finished an undefeated run through the U.S. Open 9-Ball Championship — the tournament Brady's late father, Barry, created 41 years earlier — and the two were heading to the after-party at the poolroom also founded by the elder Behrman: Q-Masters.

During the ride, the topic turned to the future of the event. Barry's passing in 2016 left contolling interest of the event in the hands of Brady and his sister Shannon Paschall. Both Shaw and Behrman wanted to see the event grow and prosper, and Shaw had an idea to accomplish the goal.

"Jayson said, 'Why don't you reach out to Barry Hearn,'" Behrman remembered, adding that Shaw provided a phone number for the Matchroom Sport CEO a week later.

By now, everyone in the billiards industry knows the story. Behrman's children contacted Hearn and Matchroom announced acquisition of the event in early 2018. The British production company which created the Mosconi Cup and also produces the World Pool Masters and World Cup of Pool announced the tournament would take a year hiatus, resuming in April of this year at Las Vegas's Mandalay Bay.

"We wanted to put it in the hands of an organization that could not only put forward the good justice that our father had done, but also elevate the game," Behrman said. "It wasn't a monetary gain for Shannon and me. It was an opportunity for the pool world to gain."

With the event resuming in April under the new ownership, both son and daughter hopped on a plane to take a look at what Matchroom had done with the event as well as to participate in some of the festivities. The two were visible throughout the final three days of competition in the front row behind the players, taking in the changes Matchroom made but also observing the similarities.

"They studied dad's work," Paschall said. " They asked for our opinion here and there, but they took the reins and they just went with it." The Behrman children remained in the loop during the planning stages, exchanging phone calls from time to time and even traveling to London to meet with Matchroom's team. The 347-item checklist that the elder Behrman maintained during each event also was handed over to the new owners, offering a blueprint of how the competition had been operated for the previous four decades.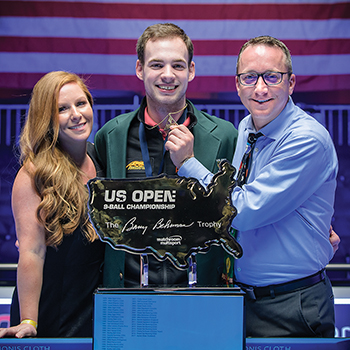 Paschall (left) and Behrman (right) felt the love in Matchroom's honoring of their father's legacy.



"We are ecstatic with everything they've done," Brady gushed. "We've had an amazing relationship since Day One. This is the fighting chance that pool needs to grow."

Matchroom Multi-Sport Chief Operating Officer Emily Frazer said she did not want to come in and make drastic and sweeping changes to the event, instead deciding to place the production company's stamp on the existing tournament. Throughout the planning stages Frazer remained in occasional contact with the Behrmans.

"I think the most important thing was keeping Brady and Shannon, sort of, in our team," said Frazer. "It's not us and them. They are part of Matchroom."

Although the Open is now Matchroom's property, the Behrman's contribution to the event has not been minimized. Most notably, the championship trophy was renamed the Barry Behrman Trophy. More importantly, Brady and Shannon were on hand to assist with the presentation of the trophy to champion Joshua Filler, with the tradition of the winner donning the late Behrman's gold U.S. Open necklace and green champion's jacket continuing in Las Vegas.

"We appreciate Matchroom so much," Paschall said. "We appreciate the love that they've shown our dad. That's what this really is about for us — seeing our dad's legacy continue."
---
Grading the 43rd U.S. OPEN 9-Ball Championship

The 43rd U.S. Open 9-Ball Championship, with Matchroom at the helm, was widely heralded as an event that might help propel pool to a next level. So, how did it grade out?

Qualification Arena

Pros: Making a 33-table arena look and feel like anything other than a maze is no easy task. To its credit, Matchroom successfully created an atmosphere that was respectful of the players and appealing to fans. More than ample room was provided around the tables, which were surrounded by poster board to create arenas within an arena. Rows of seating allowed spectators to move from table to table to watch action. Colored uplighting along the walls provided ambiance, with the table lights providing the only other light in the room. A DJ played music throughout the arena. A live-stream center-court table offered featured matches each round and a studio in the raised command center was used for player interviews.

Cons: The boards around the tables were a tad flimsy, with several falling over during matches. Allowing people to visibly mill around the live-stream table did not present the best look to outside viewers tuning in.

Grade: B+

TV Arena

Pros: This is where Matchroom excels: A single-table arena with theater seating. Understandably, Matchroom was conservative in its staging, with just over 680 seats. That the matches were generally well-attended was a pleasant surprise. The final, in fact, was sold out. That bodes well for building crowds in the coming years.

Cons: No complaints here.

Grade: A

Prize Fund

Pros: A $300,000 prize fund is big, regardless of how much was added. And $44,000 added is nothing to sneeze at. Clearly, the high level of production and fantastic atmosphere seemed to make any concerns over money disappear in the minds of the players.

Cons: We've been over this before. Besides, Matchroom's Barry Hearn has already promised a boost going forward. As for the WPA sanction fee (roughly $2,200, according to WPA President Ian Anderson): We realize previous Matchroom events took the sanction fee from player's checks because all of Matchroom's events up to this point had been 100 percent added money. But deducting the sanction fee from players' checks after they'd already put in a $1,000 entry fee (and $256,000 of the $300,000 total prize fund) seems a tad petty.

Grade: B



Staging, Matchroom's forte, raised the bar for open events.





Trophy

Pros: Matchroom did a great job of honoring late U.S. Open founder Barry Behrman by maintaining his U.S.A.-shaped trophy and enhancing it by adding a heavy base that lists every champion, a fitting way to accentuate the history of the tournament. Etching Behrman's signature and naming it the Barry Behrman Trophy were also nice touches.

Cons: Nothing earth-shaking, but the mammoth trophy stays with Matchroom. Would be nice if champions received a smaller version to place on their own mantels.

Grade: A-

Television

Pros: Live-streaming matches aired for free on Facebook during the qualification stages was a nice bonus. The quality was superb, and the announcing was above average, with former world champion Karl Boyes proving to be a top-rate color commentator. The decision to use a roving camera to catch action on other tables and brief studio player interviews during breaks on the TV table was brilliant. It kept the event moving. The single-elimination stage was carried in the U.K. on Sky Sports, while viewers in the U.S. found the matches on fledgling subscription streaming platform DAZN. Again, the quality was what pool fans have come to expect from Matchroom productions.

Cons: While paying for the luxury of watching complete matches live and uninterrupted should be expected, DAZN didn't do U.S. fans any favors by doubling its monthly subscription rate ($19.95) just weeks before the Open. Also, concerning match graphics: We understand that the promoter is based in the U.K., but this is the UNITED STATES OPEN. Can you please consider changing "Balls Potted" to "Pocketed Balls"? Thank you.

Grade: A-



Referees/Scorekeepers

Pros: This was an ambitious undertaking, and Matchroom should be commended. Providing scorekeeper/timekeepers for each table and racking referees for groupings of four tables did much to keep the event moving and level the playing field. Head referee Nigel Rees, perhaps the best in the business, should get his own award for refereeing every live-streamed match over the event's first three days. Herculean effort. Tournament Director John Leyman also did a fine job overseeing the proceedings and sharing TV arena refereeing duties with Rees.

Cons: A number of qualification stage referees and timekeepers need tutelage going forward. Several timekeepers interrupted players in mid-stroke to announce that "10 seconds" were left on the shot clock. Common sense should prevail. And some referees were either star-struck or combative in their racking duties.

Grade: B+

OVERALL GRADE: B+ (Have to allow room for improvement, right?)