Current Issue
Expect the Unexpected

The APA's annual Poolplayer Championships usually produce plenty of surprises, and 2017 was no different.
Story by Skip Maloney
At their core, the American Poolplayers Association annual Poolplayer Championships are not about the money. Sure, the Poolplayer Championships dole out nearly $700,000 in cash and prizes. But for most of the 2,200 players that broke out their cues at the Westgate Hotel Resort and Casino in Las Vegas for the amateur league system's national singles and doubles tournament, simply participating is considered a massive achievement. The thought of actually winning one of the 11 divisions doesn't even enter most players' minds.

So when first-time attendees, like Sonja Bennett and Michelle Templeton found themselves clutching National Champion trophies at the 2017 event, their responses were predictable.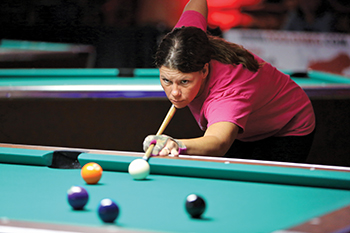 Templeton overcame anxiety issues to calmly claim one of the 11 titles at stake at the APA Poolplayers Championships.

"It was the best moment of my life," said Templeton of Carbondale, Ill., who won the 9-Ball Shootout Green Tier title. "I never felt that good about anything in my life before. Ever!" said Bennett of Kankakee, Ill., who became the first woman player to win the APA's Wheelchair Championship.

Of course, the $10,000 that Templeton earned and the $2,000 that Bennett picked up certainly added to the good cheer. The 49-year-old Bennett's achievement was particularly unlikely, and not solely because no woman had won the wheelchair division since the APA started including it in 2005. A fully ambulatory player for more than 30 years, Bennett was confined to a wheelchair in 2015 after circulatory problems forced the amputation of her right leg. After more than a year away from the game, Bennett was convinced to return to the table by a friend. And it was local league operator Bob Smith who sent Bennett to Las Vegas to compete in the Wheelchair Championship. "He believed in me enough to send me out there," Bennett said.

Bennett faced yet another challenge shortly after arriving in Las Vegas, when news arrived that her grandmother had passed away. "I was going to get on a plane that night," she said. "My grandmother was a bowler and was a very competitive lady. And she loved to win. My family and the funeral director, who had known my grandmother well, told me that my grandmother would not have wanted me to miss this opportunity."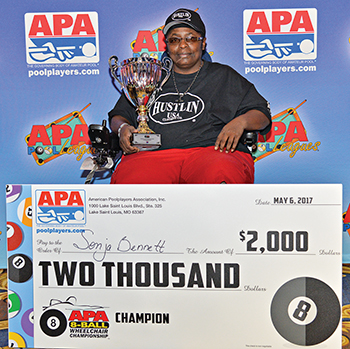 After losing her leg several years ago, Bennett became the first woman winner of the APA Wheelchair Championships.

Bennett indeed made the most of the opportunity, winning her first three matches to reach the money. That, in itself, would have made the trip a success, but Bennett churned ahead, winning three more matches the next day to reach the title match unbeaten.

Bennett's opponent in the title match, Marland Redfield of Marshall, Mich., entered the match with a skill level of 5. Bennett had been reclassified as a 3, meaning Redfield would need to win four games before Bennett won two in the finale. Redfield raced through the first two racks, before Bennett claimed a rack to reach the hill first. Redfield responded with a win to bring the match to a deciding rack. After clearing his object balls, Redfield took aim at the case 8 ball but missed. Bennett cleared several of her own balls before missing and leaving Redfield a long but makeable shot. Incredibly, Redfield not only bobbled the 8, but the cue ball scratched, handing the title to the stunned Bennett. "I still don't believe it," said Bennett, a week later. "I never shot that well in my life. I wanted to do it for my grandma, and I did it!" Templeton's road to the Green Tier title (for skill levels 1-3) was also captured in unbeaten fashion, surprising given anxiety issues that once forced her to walk out of a regional competition before her first match several years ago.

"It's so hard for me," Templeton admitted. "But I've learned over time that [during competition] I can't look at anyone. I have an exact routine that I use and any interruptions are problematic.

"For me to make it to Vegas at all was already a victory."

Not, as it turned out, however, her last.

Templeton kept her emotions in check through her matches in the 60-player field, reaching the final against Robin Hicks of Terry, Miss., who had rebounded from a loss in the preliminary bracket to reach single elimination phase.

In the APA's 9-Ball Shootout format, players earn points for balls pocketed — a single point for all balls except the 9, which earns the shooter two points. Handicaps dictate the number of points a player needs to accumulate to win a match. Templeton's rating of 4 meant that she needed to reach 31 total points before Hicks reached 25, which she managed to do with Hicks on 21.

Templeton's unexpected win was made even more memorable by having her family with her in Las Vegas. Her husband and two children joined in the fun, with her husband finishing ninth in the 8-Ball Classic. Templeton and her daughter, Hope, 18, a high school senior who competes with her on a Monday night APA team, were able to practice together prior to the finals."

"It was amazing," Templeton said. "I don't think either of us will ever forget it."

Templeton and Bennett were just two of the trophy winners to emerge from the 2,200-plus entrants in the various divisions, which showed modest increases across the board in participation.

One of the most competitive division was the 167-player 9-Ball Shootout Black Tier (skill level 6-9) division, which was won by John Pasquarella of San Diego, who failed to win a single match in the 2016 nationals. The 17-year APA veteran credited several days of pre-tournament practice for his success.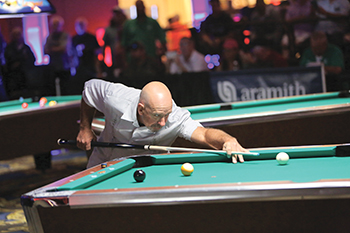 Pasquarella's early arrival in Las Vegas paid dividends in the 9-Ball Shootout.

"I got [to Las Vegas] on Tuesday," Pasquarella said, "and spent two days practicing my break from different areas on the table. By the time I got to the matches, my break was finally working for me."

The final 9-Ball Shootout division, the White Tier (skill level 4-5), was captured by Canadian Rene Maurice of Sudbury, Ontario. In 8-Ball Classic competition, Kevin Grimes of Yorba Linda, Calif., won the Orange Tier (skill level 5), while Baltimore's Jimmy James took home top honors in the Red Tier (skill level 4). Both divisions featured more than 150 entrants.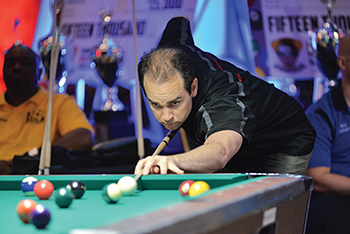 Grimes earned a national 8-ball crown.

Chicago's Benjamin Almazan won the Yellow Tier (skill level 4), with Taplia Renfrow of Atlanta winning the Blue Tier (skill level 2-3). The Purple Tier, the highest level in the 8-Ball Classic, was won by Daniel McKenney of Petal, Miss.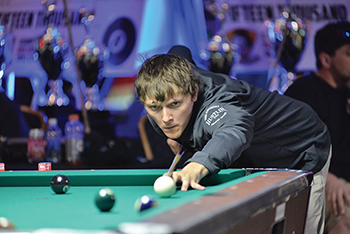 McKenney won the 8-Ball Classic's highest-level division.

The doubles championships were claimed by Bobby Harvison and Tyshawn Foster (8-Ball), and Adam Wray and Chris Whitlow of Woburn, Mass. (9-Ball). As it has in recent years, the APA offered live stream coverage of the semifinal and final events. Having switched to the Facebook Live platform (as well as YouTube and Twitch), APA PR manager Jason Bowman claimed Facebook viewership of 60,000 for the semifinals and final of the 9-Ball Shootout. According to Bowman, viewership on the other platforms was significantly less, but still valuable. "Facebook Live draws far more viewers on the front end," Bowman said. "But over time, we see the YouTube videos getting great viewership as well. Last year's 9-Ball Shootout has been viewed more than 26,000 times."