Current Issue




Surprise Party




A revamped World Pool Masters produced drama, surprises and a heart-stopping finish that earned Spain's David Alcaide his second title.

Story By Mike Panozzo
Photos By JP Parmentier

If plans for the 2019 World Pool Masters were to introduce more twists and turns than a theme park roller coaster, the 26th edition of Matchroom's big-money invitational 9-ball event exceeded expectations.

An expanded field, seeding, women competitors and an increased prize fund added drama and a fair number of surprises to the proceedings at Victoria Stadium in Gibraltar. And while Spanish neighbor David Alcaide's ultimate victory, a nervy 9-8 win over Greek Alexander Kazakis, wasn't a total shock (Alcaide won the event in Gibraltar in 2017), his route to the title was anything but routine.

The revamped World Pool Masters format was another example of promoter/producer Matchroom Multi Sports' efforts to enhance its stable of pool events. The retooled 2018 Mosconi Cup was a smash hit in London, with increased fan engagement and on-site atmosphere enhancements spawning record live attendance and television/streaming viewership, and Matchroom sought to jump start its long-running single's competition.

To that end, the Masters field, traditionally a straight 16-player invitational, was expanded to 24, with eight of the players earning automatic spots on merit, while 16 unseeded players battled in a preliminary round knock-out. Seeded spots were held for the defending champion (in this case, Niels Feijen of the Netherlands), reigning U.S. Open 9-Ball Champion (Jayson Shaw of Scotland), Mosconi Cup MVP (Skyler Woodward of the U.S.), World 9-Ball Champion (Joshua Filler of Germany), European Champion (Konrad Juszczyszyn of Poland), Asian Champion (Pin-Yi Ko of Taiwan), World Pool-Billiard Association Men's No. 1 (Alexander Kazakis of Greece) and WPA Women's No. 1 (Yu Han of China).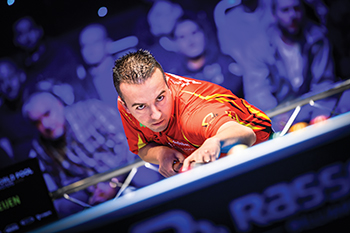 Alcaide drew a bead on his second World Pool Masters title.



Several themes played out in the opening stages of the three-day event. The first was that invitees from Asia were generally free to catch early flights home. Two-time world champion Jiaqing Wu, fancied by some to emerge the champion, went meekly to Canada's Alex Pagulayan, 7-4, in the first round. The same fate befell Japan's entertaining Naoyuki Oi, who lost to young Russian Fedor Gorst, 7-2. And the Philippines' Jeffery "The Bull" DeLuna, who inexplicably earned the Masters nod over countryman Carlo Biado (2017 World 9-Ball Champion and 2018 runner-up) was quickly gored by Austria's Albin Ouschan, 7-2.

In other first-round matches, two-time Masters champ Shane Van Boening of the U.S. looked sharp in topping Britain's Kelly Fisher, the event's other woman combatant, 7-2, and Alcaide won the battle of Spaniards, beating Francisco Sanchez-Ruiz, 7-3. Meanwhile, while Aussies and Kiwis have never enjoyed much success in the Masters, Australia's Justin Sajich and New Zealand's Matt Edwards advanced with surprising wins over Finland's Petri Makkonen (7-4) and Britain's Chris Melling (7-3), respectively.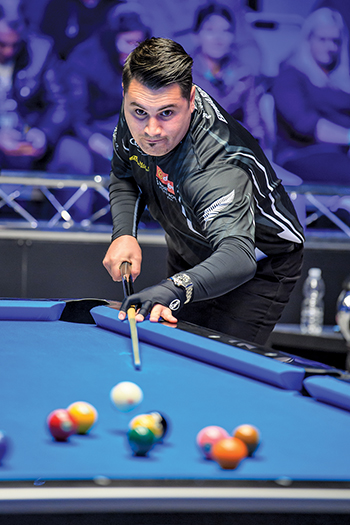 Kiwi Edwards was the first player from Down Under to stay on top for several rounds, losing in the quarters.



Another theme that repeated itself was that seeds don't always sprout. Only two of the eight seeded players escaped the round of 16. Alcaide ushered out defending champ Feijen, 7-3, in a match that was reminiscent of the Spaniard's performance in 2017. While he didn't play a perfect match, he was close and enjoyed the added value of a partisan crowd.

"It is very important when you play close to home to have the support from your home fans," he said. "Every player here is a top player in the world."

China's Han almost rode that same crowd support to victory over Van Boening, storming to a 6-3 lead while the decibel level increased with every rack. Van Beoning fought back to 6-5, but missed an easy 2 ball, giving Han a chance to close out the match. Position errors prevented a run out, however, and she relinquished the table. Han would have one more chance, a safety in the final game, but Van Boening controlled the rack and escaped, 7-6.

"I thought I was done after I missed the 2," said Van Boening, who clutched his heart and staggered to his post-match handshake with Han. "I'm just glad I'm not going home yet."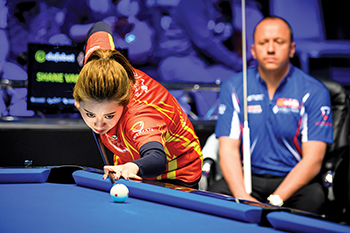 Han (shooting) made two-time winner Van Boening sweat before losing, 7-6.



Pagulayan sent the final Asian player packing with a tense 7-6 win over Ko, Kaci ousted Shaw, 7-2, and Ouschan squeaked past Filler, 7-6, when the usually precise German botched the 6 ball in the final rack. ("He's human afterall," said a relieved Ouschan later.) Edwards also escaped, beating mistake-prone Juszczyszyn, 7-6.

Only Woodward and Kazakis advanced as seeded invitees, with Woodward looking sharp in a 7-4 win over Gorst and Kazakis taking care of Sajich, 7-3. Alcaide continued his solid play with a decisive 7-3 win over Van Boening in the quarterfinals. Van Boening assumed early command of the match, breaking and running to a quick 3-0 lead. But that was as close as the American would come to the finish line. Once Alcaide got to the table, he controlled the remainder of the match, again buoyed by the pro-Spanish crowd.

American hopes remained alive, however, after Woodward handled Ouschan with surprising ease, 7-3. It was their first meeting since Woodward's thrilling 5-4 win over the Austrian on the final day of the 2018 Mosconi Cup, a win that pushed Team USA to the brink of victory, clinched the MVP award for Woodward and secured his spot in the Masters.

In the other quarterfinal tilts, Kazakis, who finished third in the 2018 World 9-Ball Championships, looked every bit of a champion during his 7-1 demolition of Edwards, while teen sensation Kaci nearly blew a 6-1 lead before holding off Pagulayan, 7-5.

Both semifinal matches were one-sided affairs, with Alcaide keeping his loyal fans happy with a solid 8-3 win over Kaci. Kazakis was even stronger, keeping Woodward seated in an 8-1 victory.

"Skyler played amazing in his previous two matches," noted Kazakis. "So, I knew I had to keep him in the chair if I wanted to win. That's what I did. I had the rolls early in the match, but I didn't give him many chances either." "That happens," rationalized Woodward. "He played good."

In the title match, Alcaide once again found himself trailing early. Kazakis broke out to a 5-0 lead in the extended race to nine. Alcaide battled back, trailing 6-3 and 7-5, but a scratch on the break allowed the Greek star to reach the hill, 8-5. Kazakis had little to shoot at from that point, as Alcaide held his nerve and got the better of positional battles to tie the match, 8-8.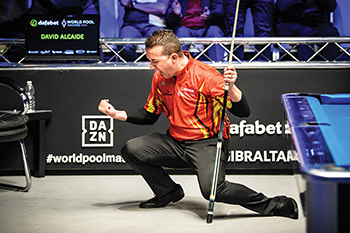 Down to the final 9, Kazakis turned the table over to Alcaide, who drilled a nervy table-length bank shot and dropped to his knees in celebration.



Alcaide broke in the decider and maneuvered his way to the 5 ball, but poor position forced him to masse the cue ball and the 5 failed to drop. Kazakis appeared to be home free, but he left himself a steep cut on the 9. The Greek eschewed a possible title-winning bank shot for a safety, leaving the 9 ball and cue ball at opposite ends of the table.

Alcaide never flinched.

"As soon as I saw Alex play safe I was very excited," Alcaide said. "I didn't think I would get another chance, so I didn't want to give that chance away. I really concentrated and told myself that this was my moment, this was my opportunity. It was my time."

In his mind, Alcaide exhorted, "Let's go, David."

With little hesitation, Aclaide lined up the table-length bank shot and fired away. The 9 bounded off the end rail and raced into the opposite corner pocket without coming even remotely close to a rail.

As the 9 dropped, so did Alcaide, bending forward and pumping his right fist, while the small but vocal crowd roared its approval.

"All the tension inside of me came out at that moment," said Alcaide, who earned $25,000 from the $100,000 prize fund. "It is a feeling that is very difficult to explain, but I was very, very happy.

"I know it is a tough way for Alex to lose," Alcaide added. "He played a really good tournament."

For Kazakis, the heartbreak was all too familiar. He was forced to sit in his chair while Van Boening speared the final 1-9 combination in the Mosconi Cup, and just weeks later snookered himself during a routine run out in the case rack against eventual champion Filler in the semifinals of the World 9-Ball Championship.

"I really didn't play well at the beginning, even though I won the first five games," Kazakis said. "I played an aggressive shot when I could have played safe, and that started David's comeback. He took advantage and played outstanding to 8-8.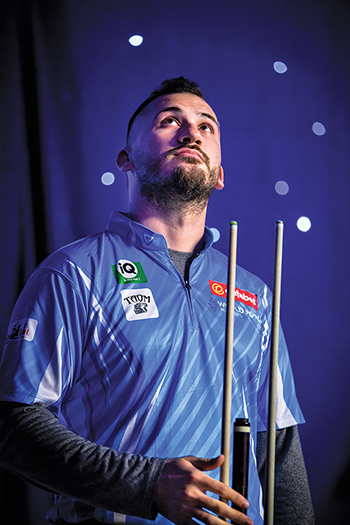 Kazakis suffered another heartbreaking defeat in the final.



"My mistake in the final rack," Kazakis added, "was from the 6 to the 7. I didn't draw the cue ball as much as I wanted. Then from the 8, I tried to pass the 9 and play it in the side. I got the worst kiss ever. I had a tough bank or an easy safe. You don't have much time with a 30-second shot clock. I think I played the right shot. But he played a great shot with a lot of heart."

Another opportunity missed, Kazakis tried to look ahead.

"It is disappointing that I am so close but I also know I have some mental things to work on," he said, adding with a laugh, "and when I get that straight, maybe next time I'm in a world final I won't dog it!"