Current Issue

Previous Page Page 3 Next Page >



Her Majesty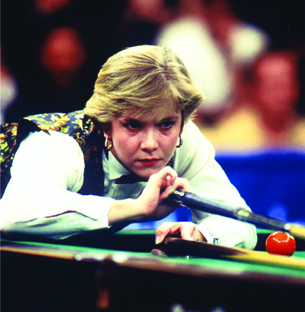 Fisher wasted no time as she won two of her first three Classic Tour events.
Fisher also decided to trade Toronto for Charlotte, N.C., at first moving in with the Oyamas.

"I had driven from Charlotte to Florida with Kelly, Loree Jon, Robin and Gerda [Hofstatter]," says Fisher. "Everyone was really nice, and I felt really comfortable right away. Kelly invited me to stay with her and her family, and I just said, 'All right.' It's a bit bizarre when you look back on it, but everything was falling into place."

The best decision of Allison Fisher's life turned out to be a most painful decision for her 9-ball contemporaries. Over the course of her first five years in the U.S., Fisher amassed a piggish 24 Classic Tour titles, five WPBA National Championships, a pair of ESPN Ultimate Challenge titles, two Tournament of Champions titles and a few WPA World 9-Ball Championship crowns.

For those trying to keep count, all told Fisher won 37 titles between September 1995 and December 2000. (And that's not counting overseas events like the Amway Cup.) Even more astonishing is that the total number of women's Classic Tour, non-points events (BCA 9-Ball Open, Gordon's Shootouts, ESPN special events, etc.) and world championships through that span was 66.

That's right 37 titles in 66 events! (A 56 percent winning percentage!)

Not surprisingly, she was selected Billiards Digest Player of the Year in each of those years, save for her 1995 debutante campaign.

And the newly anointed "Duchess of Doom's" reign of terror didn't stop there. In the 14 years Fisher has lorded over the WPBA tour, she has won an otherworldly 53 Classic Tour titles in 116 events - a 45 percent winning percentage! Few players can even say they've finished in the top 10 at a 45 percent clip. Her total first-place trophy haul is in the neighborhood of 80. (Probably double that if you throw in snooker hardware.)

"Her winning percentage is absolutely ridiculous," marvels Laurance. "Only Jean [Balukas] even comes close. And in Jean's day, there were only four or five players who could even compete at her level. Allison has had so many other competitive players to battle through."

Previous Page Page 3 Next Page >

Top