Current Issue

Previous Page Page 2



The Fantastic Finns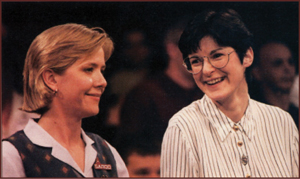 Fisher and Corr ruled the WPBA Classic Tour for a decade.
And despite Fisher's astonishing 55 Classic Tour titles, Corr held her own in head-to-head battles. In fact, Corr's first WPBA title, the Cuetec Cues Championship, culminated with a win over Fisher. In WPBA events between 2000 and 2007, Corr faced Fisher 18 times in title matches, winning an astonishing 12 times. In 2001, her finest year, Corr won five of six Classic Tour events, beating Fisher in the final three times. The onslaught earned Corr the WPBA's No. 1 ranking and Player of the Year honors.

"That was my proudest moment as a player," Corr stated. "Reaching No. 1 and getting Player of the Year while my dad was still alive meant a lot." (Corr's father passed away in 2003.)

As new stars like Ga Young Kim and Jasmin Ouschan migrated to the Classic Tour, Corr's and Fisher's dominance was challenged with more frequency, and Corr hasn't won a title since the 2008 Tournament of Champions.

Of course, Corr's absence from the game over the past two years has had a big impact, but it is time away that Corr wouldn't trade for any title.

"When my mum was diagnosed with breast cancer in May 2010, I decided to go back to England and be with her," Corr said. "She needed to start treatment and I needed to be there. That was far more important than pool. I knew I could always give pool a go again, but I'd never have that time with Mum again. She had given up her life to care for my dad when he was sick, which gave me the chance to play pool."

In the early stages, when Corr's mother (Diane) wasn't too sick, she'd occasionally sneak off to her brother Brian's club in Bourne to run a few racks, but the game didn't seem very important.

"That was time you never get back, and they were precious times," said Corr. "I certainly have no regrets."

Diane Corr passed away in Lincolnshire June 11, at the age of 71. She was buried with her husband in Wexford, Ireland. In August, Corr returned to the U.S. to start her pool career over again, a new beginning she seems to embrace.

"Pool will be my life again," stated Corr, who recently moved back to the Philadelphia area to renew her tutelage under Pete Fusco at Fusco's Family Recreation in Feasterville, Pa. "I'm going to give it a go for a year and see if I can get back to the top levels. Obviously, I missed a lot of competition in the past two years, but I want to see what level I'm at.

"It's a different motivation now. I'm getting older and the players are all younger, but for now I'll give it a go and see if I have a few more wins left in me."

Corr plans to jump back into Joss Tour competition, will play in what few Classic Tour events remain, and hopes to get an opportunity to compete overseas again.

"Most of the tournaments are in Asia now," said Corr. "I lost my sponsorship with Yaling Billiards when I left the tour, but if I can get back to a high level maybe I can get sponsors again and get back to the big tournaments."

And if that doesn't pan out, Corr will simply move on.

"Eventually, we all have to think about doing something else," Corr said philosophically. "I'm thankful that I've had an opportunity to have a career in cue sports. It's been great."

Previous Page Page 2


Top
MORE VIDEO...