Current Issue

Previous Page Page 2



The Fantastic Finns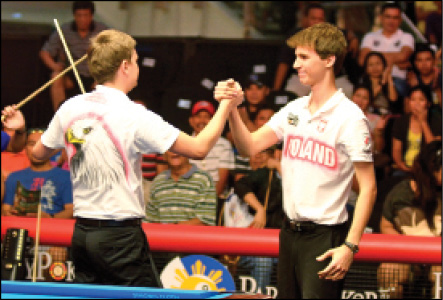 Skowerski (left) and Szewcyk nearly grabbed the title, but a late miss gave the Finns control.
There, they met the United States pair of Rodney Morris and Shane Van Boening, who won this event in 2008. Since that victory, though, the Americans have failed to advance out of the quarterfinals as the team's lineup has changed each year. Reunited, Morris and Van Boening escaped an early hill-hill scare from India, before eliminating Austria, 8-4. Surviving a second hill-hill set - this time against China, 9-8 - the Americans were in the semifinals and as good a bet as any to take home the title.

The Poles matches up with Taiwan's Hsu Han-En and Chen Hsin-Ting. Emerging from a country stacked with world-class talents, including Chang Jung-Lin and Yang Ching-Shun, the teenage talents won a qualifying event to represent their country. And while the pair looked strong in early rounds, Poland quickly dropped them in a 5-0 hole in the semifinal. Skowerski and Szewcyk eventually booked their spots in the final by a 9-4 count.

The Americans looked equally cool in the second semifinal as they established a 5-2 lead against the Finns. But shaky shot-making allowed Immonen and Makkonen to tie the set at 7 games apiece. Then a bit of luck put Finland on the hill when the 9 ball dropped on a fluke. A missed 6 ball from Morris in the next rack was the end of the Americans' title hopes.

"We hung in there," Immonen said. "Our break was a bit off at the beginning and then we adapted."

Against the upstart Polish tandem, Finland couldn't get much breathing room in the race to 10. The two teams met even at 3-3, 5-5 and finally 8-8. In the 17th rack, Makkonen scratched playing a difficult jump shot and the Poles cleared to the 6 ball. But poor position forced Szewczyk into a difficult shot down the rail. The 6 hit the pocket point and the Finns cleared to move within one of the title.

Finland was breaking for the match but the Polish pair made it back to the table after Immonen missed a tricky 2 ball. Poland got down to four balls before Szewczyk missed a makeable cut in the side pocket to hand the table to Finland. From there, it was Makkonen nailed the winning 9 ball.

"I'm completely spent right now," Immonen said, after the final 9 ball. "We put everything we had into this match. It was a high quality final and it was the toughest match we had. We were hanging by the skin of our teeth."

Previous Page Page 2


Top
MORE VIDEO...