Current Issue
The Rocket

Few players have faced the adversity Rodney Morris has faced, but the likeable Hawaiian persevered and has earned his seat in the Hall of Fame.
By Mike Panozzo
"If my luck in pool is any indication," "Rocket" Rodney Morris says with a laugh, "my career in the military wouldn't have lasted very long." The fun-loving Hawaiian is as quick with self-deprecating humor as he is with a smile. His homegrown, "Hang Loose" demeanor has long made Morris, now 46, a favorite among players and fans. But while his wide, dimpled smile has been known to put an entire tournament arena at ease, his broad shoulders can be equally disarming.

Today, as he approaches his formal induction into the Billiard Congress of America Hall of Fame, Morris is in a reflective mood. "My plan through high school was to go into the Air Force and be a pilot, like my grandfather, Richard Morris," Morris recalls. "He was my mom's father, and he was my idol. "Then I discovered pool."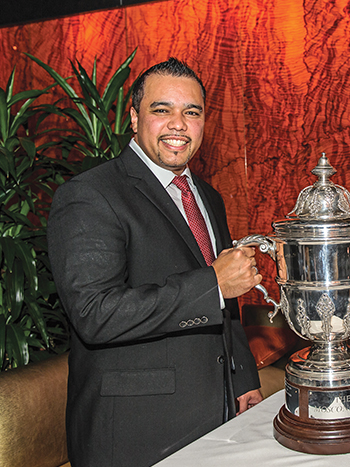 Rodney Morris, BCA Hall of Fame Class of 2016

It was shortly before his senior year at Pearl City High School in Honolulu that the game called Morris. But it wasn't just the gleam of the balls and the sound of them slapping into pockets that drew Morris in; it was what the game represented to him.

"One of my friends, Evan Kakugawa, played," remembers Morris. "He was three years older than me, he was good looking and had the body of Adonis. He was a great player, had a smooth stroke, always won gambling and got all the girls. I wanted to be like him."

Morris began spending all of his free time at the legendary Hawaiian Brian's, practicing by himself and occasionally matching up for money. When he ran out of money, Morris would become a railbird, watching players like Brian Hashimoto, the room's namesake.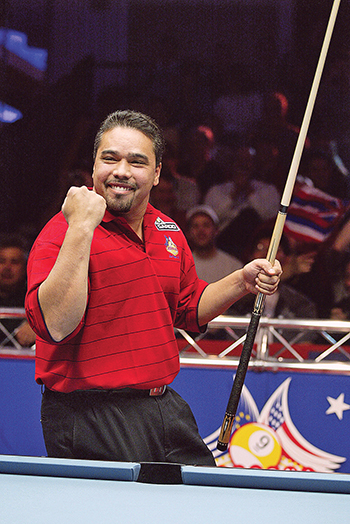 Morris' powerful stroke and charisma have made him a fan favorite and a strong television presence.

"Once Brian asked why I wasn't playing," Morris says. "I told him I was out of money. He told me if I cleaned up around the room and threw out the trash, I could practice for free. From that point on, I was there 18 hours a day." That was the summer following Morris' high school graduation, and soon the time came to make a decision between playing pool and following his childhood dream of entering the Air Force. "I had done all the preliminary work to get into the Air Force," he says. "But I was getting really good, and I'd already made about $50,000 that summer. Richard Akimoto, Hawaiian Brian's owner, told me I needed to consider what I wanted to do. He said I had more talent than anyone he'd seen, and that I'd never get back the time I'd lose in the Air Force. And he told me to make sure I was doing something I enjoy and am good at. "Pool had me hooked. I was doomed."

Twenty-eight years later, Morris insists he has no regrets.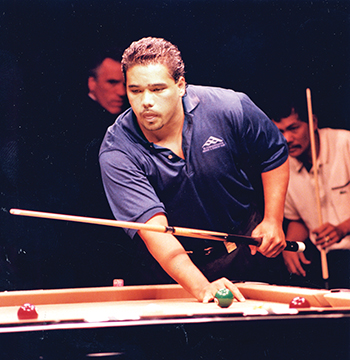 According to Morris, topping Efren Reyes (seated) in the final of the '96 U.S. Open 9-Ball Championship "couldn't have been scripted any better."

"I flash back all the time now," he says, "and think about all the stuff I've been able to do in this game. And I think of the first time I knew about the Hall of Fame and was playing in tournaments with all the living legends — Jim Rempe, Buddy Hall, [Steve] Mizerak, [Mike] Sigel, [Nick] Varner. I was, like, 'Wow!'" In typical Morris fashion, he pauses for a second and adds with a laugh, "Now, I can look back and say, 'I robbed him. I robbed him. I robbed him…'" Morris has certainly done his fair share of robbing during his celebrated career, starting with back-to-back wins on the Pro Billiards Tour in 1996 that put him on the map. First, Morris swept to the title in a PBT tournament played in Puerto Rico. Two weeks later, he crushed an in-his-prime Efren Reyes in the final of the U.S. Open 9-Ball Championship. "Even more so than now, the U.S. Open was THE tournament to win in pool," Morris remembers. "That's the only tournament I ever spent time telling myself, 'I'm going to win the U.S. Open.' I really geared myself up for that tournament every year. And then to beat Efren in the final? I couldn't have scripted it any better." Just 26 years old, Morris looked to be one of the pro tour's best and most charismatic young stars. "I was on my way," Morris recalls. "Then that whole prison thing got in the way." That "prison thing" was a five-year stretch for a federal drug conviction in 1998. Morris, young and flush with cash, loaned a friend money, knowing that the friend was connected to drug dealers. "I knew what they were doing," Morris admits. "I figured I wasn't directly involved. But the feds said I financed the operation and it became a conspiracy thing. Still boggles my mind that I got seven years [the original sentence] for lending some guy money. I was never directly involved in any of it."

Morris spent nearly four years in several federal prisons, never once picking up a cue. For a while he was bitter, resenting the game that he used to make the money that eventually landed him in prison. Then the resentment went away. "Even the guys I knew in prison told me that I'd be fine once I got out," Morris says, "because I wasn't really a criminal." Morris returned to action late in 2001, and almost immediately captured a title — the Sands Regency Open 9-ball Championship. Just over a year later, he won the Matchroom Sport-promoted World Pool League title, beating reigning World 9-Ball Champion Thorsten Hohmann of Germany in the final. That performance earned Morris the first of his eight appearances on Team USA in the Mosconi Cup, another of his career highlights. "That first Mosconi Cup for me in Las Vegas in 2003 was amazing," he remembers. "I was a rookie, with Johnny [Archer], Charlie [Williams], Earl [Strickland], Tony Robles and Jeremy Jones. Nick [Varner] was the captain. Europe won like every match on Saturday to take an 8-6 lead [in a race to 11]. That night the team went to see Shania Twain. It was such a good vibe. We were totally relaxed and having fun. "The next morning, I was the last player to show up in the practice room. Nick asked if I wanted to go out first in singles. I said, 'Sure.' I was fired up. I told everyone we're going to come back. Thorsten was the hot player then, and we knew they'd send him out first. They wanted to put the nail in the coffin. There was no way I was losing that match. I ended up winning, 5-3, and that was the turning point. We won the Cup, 11-9. "Afterwards," Morris laughs, "Nick told me no one else wanted to go first, and that nobody really thought I was going to win." Morris went on to be named Mosconi Cup MVP in 2004 and won the Pro Tour Championship in 2006. That was the year the International Pool Tour was launched by infomercial giant Kevin Trudeau, and Morris finished second in the IPT World 8-Ball Championship, earning $150,000.

"I thought pool had a chance then," Morris sighs. "I really worked hard on my game that year." Morris has added several significant titles to his resume in the past eight years, teaming with Shane Van Boening to win the 2008 World Cup of Pool, capturing the Turning Stone 9-Ball Championship in 2001 and the U.S. Open 10-Ball Championship in 2013. In what he claims will be his final year of tournament play, Morris is making a strong bid for his ninth Mosconi Cup appearance. "I was lucky to be around when I was," Morris says, reminiscing again. "We had some great years, and, to be honest, I thought the players who were at their peak in the '90s played the game better. It was 100 percent their job back then. It was their career. There was more pride. And they all played perfect. One mistake and you were done." One mistake was almost too much for Morris, but he persevered and earned his place among the game's greatest names. "It's cool," he says, "to think that years from now people will see your name and think, 'Man, this guy must have done some pretty cool things during his time.'"
---
Belle of the Ball
Texas-raised Belinda Calhoun blazed her own trail in women's pool, earning a reputation as a champion on and off the table.
By Keith Paradise
Belinda Calhoun still remembers one of the first prizes she won in her five decades in pool. She was just getting her feet wet in competition during the early 1970s and a San Antonio tournament was giving away a foosball table to the winner. She remembers it well because that table sat in her garage for many years.

Calhoun will be receiving a much-more-prominent award on Oct. 20 in Norfolk, Va., when she is formally inducted into the Billiard Congress of America Hall of Fame. After picking up the game as a teenager, the 63-year-old Calhoun went on to be one of the prominent women's professional players in the 1980s and '90s, as well as one of the influential voices on the Women's Professional Billiards Association. "I think Belinda's induction is a fitting honor for a player who not only achieved success on the table but has devoted her life to our sport," said former WPBA player Vicki Paski, who competed against Calhoun on the table and worked with her as a WPBA board member.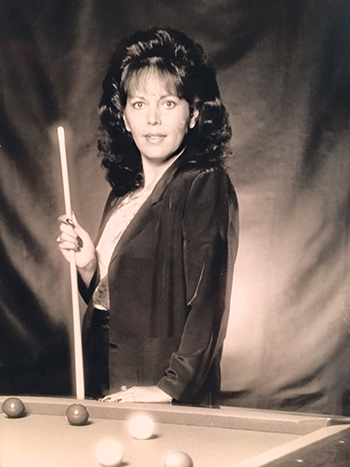 Belinda Calhoun, BCA Hall of Fame Class of 2016

"She really is the epitome of what the WPBA is all about and what sportsmanship should look like at the table," said fellow pro and WPBA President Kim Newsome, who recalled her first matchup with Calhoun at the 2005 Texas Open. Newsome won the match and Calhoun was gracious in defeat, allowing unlimited time for pictures and conversation.

Calhoun's start in pool was practically by accident. A natural all-around athlete as a teenager, Austin, Texas-born Belinda Campos was dating a guy in high school who would take her with him to watch while he played. She eventually got restless watching and picked up a cue. For an athletic person, the game's complexities frustrated her instantly. "I couldn't even make the cue ball hit the object ball," Calhoun said. "When it didn't come easily to me it was an instant challenge and has been a lifelong pursuit of excellence. By the time I could make a ball or two, I was totally hooked."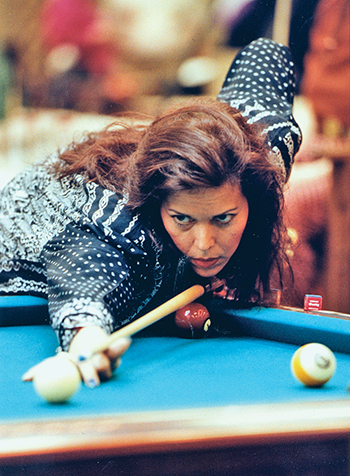 Calhoun's strong, smooth left-handed stroke was the envy of her contemporaries.

Being hooked, however, wasn't going to be easy in her home, where none of her family played the game and her father didn't exactly have the best opinion of pocket billiards. "My dad would say, 'Nice boys don't go into the poolrooms,'" Calhoun said. "I had to actually hide that I was playing pool." Further complicating matters was her father's belief that his children were to be either in school or working if they were living in his home, neither of which Calhoun was doing in the summer after her senior year of high school. By this time her mother knew of her pool playing secret and the two devised a strategy: Pool would be her "job." Five days a week, Calhoun would go to the pool hall and treat it like a regular day job. She was careful to park her car behind the poolroom, knowing her father traveled the same road to and from work.




Calhoun (top, with Mike Sigel) captured World 14.1 title and the Texas River City Open (above, with Sid Mann) in '86.

After she had been playing for a couple of years, Calhoun stumbled upon a copy of the National Billiard News and was drawn in by the tournaments and player coverage — completely unaware that a professional pool world existed. From then on, Calhoun's path to professional pool was established. She started competing in weekly local events and in the annual Texas Open in the early '70s. Paski first remembers seeing Calhoun at the Rockford Open in 1978 and the two became friendly competitors away from the table. She remembers a girl with a ton of talent, steely determination and a quick laugh. At a time when pool was a regional game, Calhoun was one of the first willing to travel almost anywhere for a tournament.

"When Belinda showed up with all of that talent and that Southern accent, it made me realize that maybe I wasn't the only one willing to jump in my car with my cue," Paski said. Her first breakthrough occurred when she qualified for the BCA U.S. Open straight pool tournament and finished third behind Jean Balukas and Gloria Walker. Being a newcomer to the game, Calhoun didn't have an understanding of how pool or pool players were perceived at the time. So she was stunned when the first comment from the tournament director at the conclusion of the event was, "We want to make sure that you players pay your hotel bill before you leave town." "I didn't even know that was an option in some people's minds," Calhoun said.

Calhoun entered professional pool at a time when women were considered more of an afterthought. The idea of a stand-alone women's tournament — much less a women's tour — hadn't been conceived yet, so women either competed against men in open division tournaments or in the women's division of larger events. She remembered the U.S. Open 9-Ball Championships in Norfolk, which contained a women's division which was staged on three tables in the back of Q-Masters without any spectator space.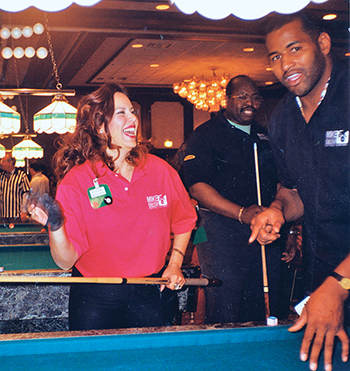 Calhoun's Southern charm made her a favorite with celebs like former NFL player Richard Dent (above, right).

"The U.S. Open is a good example of how we were treated like a sideshow back then. If a fan didn't already know we were there, they may not have known that there was a woman's division going on in the back room," Paski said. As women's pool grew, Calhoun, nicknamed the "Texas Belle," would earn her share of first place trophies along the way. She won the Women's World 14.1 title, WPBA National Championship and U.S. Open 9-Ball Championships in 1985, and was named Player of the Year by Billiards Digest. She also holds two BCA National 8-Ball titles and ran seven-and-out against Susan Thariasch in the 1993 World 9-Ball Championships — a feat she didn't realize she had accomplished until it was over. "It was three sets and I had won the first set, and all I knew was that I didn't want to play a third set. I was trailing 4-0 in the second set when I got a shot, and she never got back to the table," she said. In the early 1980s, Calhoun was nominated to the WPBA board and has held various board positions within the organization over the past four decades. She was instrumental in establishing mandatory pre-tournament player meetings as well as a dress code. In an era before social media and e-mail, meetings were essential for dispersing information on procedures and any rules changes. Additionally, with the women breaking away from the men's tour and looking to stand out, she believed the players should dress the part — allowing the players to differentiate themselves to spectators as well as to sponsors.

Calhoun's ability to develop a plan and pitch it ultimately led to her teaching a billiards course at Texas State University, beginning in 1997. A poolroom owner friend discussed their desire to develop the class and she met with school officials to present her curriculum ideas. School officials approved the 14-week class, which is currently available in TSU's physical education, health, recreation and dance curriculum. In addition to "homework," students expecting an easy A instead found themselves taking three exams plus a final. The class, covers a wide variety of pocket billiards topics including history, position play, strategy and types of English. "It provided them with the tools to improve their games for the rest of their lives," she said.

Occasionally, a student attempted to defeat the teacher and found their efforts unrewarded, assuming the student got a shot at all. "Every once in a while, there would be a hotshot kid that wanted to challenge me to a match. Let's just say that he became a better student for it," she said. That ability to pitch and organize would benefit women's pool this year. Calhoun was appointed to the WPBA board again in 2014 after a few years away and almost immediately began securing a new event. Through a contact at Pittsburgh's Rivers Casino, she pitched the idea of a tournament at the facility. The inaugural Rivers U.S. Open was held at the casino in March, with the finals streamed live on ESPN3. The event was a success for the casino and the WPBA, and Calhoun and Newsome said plans are currently in the works for the Open to return in 2017.

"It was definitely a joint effort, but without Belinda I'm not sure that event would have come to pass," Newsome said. Calhoun isn't showing any signs of slowing down on or off of the table anytime soon either. She won the South Carolina State 9-Ball Championships and finished third in the Texas Open in September. Calhoun also is committee chair for the WPBA regional mini tours, in addition to running her own four-state mini-tour. "She just supports everybody. Wants the industry as a whole to do well," Newsome said.
MORE VIDEO...