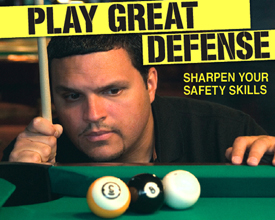 THE SPORTS ADAGE is as old as the game of pool: Offense wins games, defense wins championships. Admit it, you've been stuck at the table with an idea that you should play safe; but actually knowing what to do and how to do it didn't come so easily.

Just in time for your triumphant return to league competition, we've assembled our team of experts to help you out. Safety play might not be as sexy as a jack-hammer break, but think of how many games are won on the break. Compare that to those end-game shots where your game is dependent on hooking your opponent.

From BD's instructional staff, here's a crash course in defensive play - from in-game situations to practice drills that will keep things lively. You won't be sorry playing it safe.

Bob Jewett: Great Safety Drills
Tony Robles: Knowing How and When
Mark Wilson: Practice Pays Off
Larry Schwartz: Clusters - Muck It Up
George Fels: Playing Safe in Straight Pool
Nick Varner: Cooling Your Opponent
Tom Ross: Stunning Safes from One-Pocket
Allan Sand: Have It Both Ways
MORE VIDEO...