Hottest threads from the Cue Chalk Board
Subscribe
You Can Sell BD
Gift Subscriptions
Back Issues
Change of Address
Problems?
Where to find BD
Renew
How to Advertise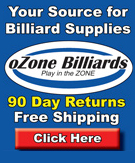 Current Issue

Previous Page Page 2 Next Page >



On Top of the World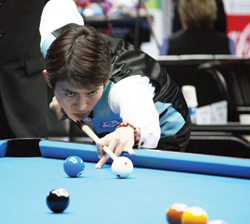 Yang couldn't recapture the magic of his gold medal performance at the 2001 World Games.
In the men's 9-ball competition, what used to be a 16-player single-elimination field split evenly between world-beaters and international unknowns in past World Games was a field of nearly all top-echelon players in Taiwan. Souquet began his march to the final with an 11-6 win over Radiv Reljic of New Zealand, before surviving a dicey match against Leonardo Didal, the lone Filipino in the field.

Struggling throughout the match, Souquet pushed through to the semifinal, edging the internationally untested Didal, 11-10. "If you survive a double hill match without playing your best game, it seems to be destiny to win the whole event," Souquet said.

He next matched up with Stephen Cohen of France in one semifinal, while countryman Thorsten Hohmann took on 31-year-old Yang Ching-Shun of Taiwan.

Souquet eased into the final thanks to a rather routine 11-6 win over the Frenchman. Yang, meanwhile, was looking up at an 8-5 deficit against 2005 silver medalist Thorsten Hohmann. Yang battled back, winning five of the next seven racks, despite the alternate-break format, to knot the match at 10 games apiece.

In the case game, both players bobbled balls early in the rack, before trading safes on the 5 ball. Yang had the first open look at the orange ball and speared a difficult cut shot. From there, the runout was elementary, and Yang buried the 9 ball, sending the hometown crowd into an eruption of applause.

The Souquet-Yang final, as luck would have it, was a rematch from the 2001 gold medal contest. Eight years ago in Akini, Japan, Souquet held an 8-5 lead, just three racks from victory, only to see the then 23-year-old collect the next six games for an astonishing 11-8 comeback victory.

Entering the 2009 final, though, Souquet was confident that history would not repeat itself, partly because of Yang's popular support in the packed arena.

"That was my biggest advantage because I realized that Yang was very nervous in his semifinal with Thorsten," he said. "[I knew] that the pressure was definitely on him."

With a 3-2 lead, Yang looked to be getting comfortable with his surroundings. But on his way out in the next rack, he fumbled an opportunity to extend his lead and allowed Souquet to gain momentum. The German took the next seven racks, turning a potential two-rack deficit into a 9-3 advantage. At that point, Yang was all but done, while Souquet kept rolling to an 11-4 victory, clinching the gold medal and atoning for his own missed opportunity in the 2001 final.

"The key was the sixth game," Yang said. "If I had sunk the 1 and cleared the table, I might have had a chance to widen the lead."

Instead, he had to settle for silver, while Souquet was left to reflect on yet another international title.

"It was just awesome," he said. "It's too bad it's over already."

Previous Page Page 2 Next Page >

Top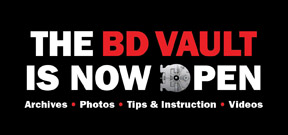 MORE VIDEO...