Current Issue
Lee, Hearn Enter Hall of Fame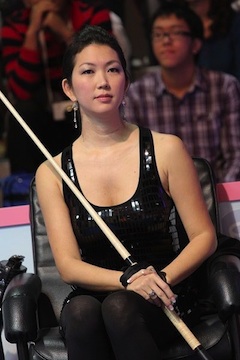 Jeanette Lee
IN THE closest election in the history of the Billiard Congress of America Hall of Fame, Jeanette Lee edged Mika Immonen for a spot in the Greatest Players wing of the sport's most coveted club. "The Black Widow" and longtime pool promoter and Matchroom Sport Chairman Barry Hearn (elected in the Meritorious Service category) will officially become the 61st and 62nd members of the BCA Hall of Fame at ceremonies Dec. 2 at the Mirage Hotel/Casino in Las Vegas during the Mosconi Cup.

For the first time since the United States Billiard Media Association took over the election process for the Hall of Fame, two players tied after initial voting. By Hall of Fame bylaws, two players can be elected to the Hall of Fame in the same year only if both players are named on more than 70 percent of the ballots. According to the BCA press release announcing the election results, Lee and Immonen were named on 53 percent of the ballots, resulting in a run-off election among the voters. In the head-to-head run-off, Lee garnered two more votes than Finnish transplant Immonen.

Other players on the 2013 ballot included Germany's Oliver Ortmann, who received 28 percent support, Belina Calhoun, Kim Davenport, Gerda Hofstatter, Mary Kenniston, Rodney Morris and Vivian Villarreal. "It's really too bad that we both couldn't get in," said Lee, 41, "but this is fantastic. It's the validation of a career, and I feel like everything has come full circle."

Lee was a sometimes polarizing figure on the Women's Professional Billiard Association Classic Tour, which she joined in 1992. Outspoken and flamboyant, Lee boldly declared her intention to become the No. 1 player on tour, and backed up her promise by ascending to the Tour's top spot in less than two years. Lee won 10 Classic Tour titles between '94 and '99, and also added a U.S. Open title and two ESPN titles during that period.

Her natural beauty and charisma, combined with her obvious talent and drive, made her a media favorite, a role she relished and embraced. Lee worked as hard off the table as she did on it in an effort to maximize her marketing potential and transcend traditional billiard circles. She was an almost constant figure representing the sport in mainstream media, making countless television appearances and finding her way onto the pages of Sports Illustrated and ESPN The Magazine's "Body Issue." Lee has been a client of sports agency Octagon since 2001, and was earning high six figures in endorsement contracts and appearances through the early 2000s.

"My success came so quickly early in my career," she added, "and I wasn't really ready for it. I feel I was misunderstood, and it took a long time for that to change. Over the years I've tried to be both a great player and someone who gives back to the game. That was always very important to me. This makes me feel like I did do the right things, both competitively and for the game."

Lee's incredible success at and away from the table are made all the more remarkable by the physical ailments she has endured. Advanced scoliosis, arthritis and bursitis are among the maladies that have resulted in more than 10 surgical procedures during her career.

While Lee proved adroit at making more money from pool than any player before her, Hearn will be honored for putting more money into players' pockets than any other promoter.

Over the past 21 years, the 65-year-old Brit has promoted and staged more than 60 international pocket billiard events (including the Mosconi Cup, World Pool Championships, World Cup of Pool and World Pool Masters), none of which included an entry fee, and has paid out nearly $9 million in prize money. Equally as important, Hearn's events have received massive television hours around the world. More than 800 hours of Matchroom pool have been aired live throughout Europe and Asia.

Ironically, Hearn began his professional career as an accountant. In the early 1970s, he bought several billiard halls around London, then expanded into event promotion and television with the formation of Matchroom Sport. He also delved into player management, with his first client being Steve Davis, who went on to win six World Snooker Championships in the '80s and become the sport's first millionaire. When Hearn began promoting American pool events in the United Kingdom, he often included Davis to leverage the star's national appeal.

"It's nice to be appreciated and recognized at my age, as I slip off toward the horizon," Hearn joked, after being informed of his election into the BCA Hall of Fame. "Really, it's quite an honor. I've always been a fan of American pool, and it's very satisfying to see an event like the Mosconi Cup start in a bowling center in Romford [England] and evolve into a global event."
MORE VIDEO...