Current Issue
Hot Rod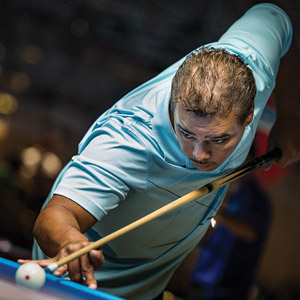 "The Rocket" Rodney Morris
There were those who watched Rodney Morris go undefeated in the U.S. Open 10-Ball Championships in Las Vegas this past July and said, "The Rocket's back!" Morris, however, didn't see it that way. As far as he was concerned, he didn't come back from anywhere. Never went away. He just got more selective about tournaments, particularly those that required overseas travel.

"I don't leave the country anymore," he said from his home in California, about a week after the Open. "It's just not worth it. I don't have anything to prove, and the cost doesn't work out for me."

As a result, there was a striking drop in the number of tournaments he participated in between 2011 and 2012. Morris began 2011 with a victory at the Derby City Fatboy Challenge in January and went on to win six more events through October that year, including Turning Stone XVII, the Interpool 9-Ball Open in Sweden and stops on the Seminole and Poison Tours. He was also a member of the Mosconi Cup Team USA squad, his eighth appearance. In 2012, the tournaments in which he appeared on a list of payouts was cut almost in half - from 25 down to 14 - and featured only one victory, the Wyoming Open in March. And for the first time in nine years, his name was not on the U.S. Mosconi Cup roster.

Lower participation led to less prize money, which is often what puts a player on various Top 10 lists among active professionals.

That said, you could see the triumph on his face when he dropped the final 10 ball in July. He may not have been thinking "I'm back!" but his face hollered it out, loud and clear.

Or, Morris' elation may well have been triggered by his conquest of a different mountain in winning the U.S. Open 10-Ball title. His undefeated run through the field of 94 in the finals was capped by a title-match win over a fellow pro against whom Morris had endured a decade of futility. "I beat Dennis Orcollo in Cardiff in 2002," Morris said. "Met him about 10 times since then, and he's gotten me every time."

Orcollo, winner of last year's U.S. Open 10-Ball crown, already had tasted victory in the tournament's One-Pocket event, where he had also won 11 straight on the loss side to reach the final.

Morris' seven-match march to the finals included wins over Marc Vidal, Thorsten Hohmann (a double hill, nail-biter), John Morra, and a commanding 9-2 performance against Lee Van Corteza in the battle for the hot seat. But he felt that none of these matched his victory over Orcollo.

"It was a huge win," he said of the $15,000 he won with the title. "And to do it that way..."

"That way" was the almost insurmountable deficit Morris faced in the final. After 11 games in the race-to-13 finale, Morris trailed the Filipino monster, 9-2. Finding a gear few thought Morris still possessed, Morris took 10 of the next 11, and reached the hill first, 12-10. With only the 10 ball left to claim the victory, Morris missed his shot. Inexplicably, so did Orcollo, and Morris made good on his second chance.

Reductions in tournament participation aside, "The Rocket" was back.

The U.S. Open 10-Ball Championship was just one of many events produced by Cue Sports International during a weeklong poolfest at Las Vegas' Rio Hotel & Casino. On the pro side, the U.S. Open One-Pocket and U.S. Open 8-Ball Championships were staged, along with numerous amateur tournaments under the umbrella of the BCA Pool League. Orcollo pocketed $7,500 for his victory in the One-Pocket event, while Shane Van Boening took the top spot and $15,000 home with a victory in the 8-Ball tournament.

In the 64-entrant One-Pocket event, Orcollo had to face the reigning Derby City One-Pocket champion, Corey Deuel, twice - first in the battle for the hot seat and later in the finals. Orcollo, who never allowed an opponent to reach the hill in this event, faced Chris Bartram among the winners' side final four while Deuel squared off against Francisco Bustamante. A pair of 4-2 wins put Orcollo and Deuel into the hot seat match, where Orcollo made it look easy with a shutout.

Deuel moved west to an epic, five-hour battle against Carlo Biado in the semifinals. Deuel prevailed in the double hill match and got his second chance against Orcollo, who took an early 2-0 lead. Deuel fought back to win two in a row and they traded games to a 3-3 tie. That proved to be his last, as Orcollo went on to win two more and claim the One-Pocket title.

Though unable to defend his U.S. Open One-Pocket title, Shane Van Boening did chalk up his first major victory in an 8-ball event with an undefeated run through the 94-entrant 8-Ball Championships. His seven-match trip to the winners' circle included victories over Jesse Engel, Corey Deuel and John Morra before facing Warren Kiamco at the winners' side final four. Warren Cheng, in the meantime, squared off against Jayson Shaw. Van Boening sent Kiamco west, 8-4, as Cheng was busy downing Shaw, 8-2. Van Boeing gained the hot seat, having given up only a single rack against Cheng, waiting for what turned out to be the return of Carlo Biado.

Biado was in the midst of a five-match winning streak that began after Shaw defeated him, 8-1. In his first loss-side contest, Biado survived a double-hill match against fellow countryman, Francisco Bustamante. When he faced Shaw a second time, he wreaked vengeance with an 8-2 win that set him up against Warren Cheng in the semifinals.

Biado took an early 5-1 lead against Cheng, but Cheng rapidly closed the gap to two games twice; at 5-3 and, with Biado on the hill, at 7-5. Biado won the deciding game, and moved on to face Van Boening in the 8-ball finale. This match proved to be more of a battle than either had perhaps anticipated.

They traded runouts to a 2-2 tie, and then bogged down in a couple of safety games that knotted things at 3-3. They then traded runouts 14 times in a row to bring them to 10-10. A scratch in the 21st rack by Biado gave Van Boening that game, though Biado came right back to tie things again at 11. A missed shot by Biado in the 23rd rack allowed Van Boening to run out and reach the hill first. Though he made things interesting by over-running his shape on the 8-ball in the 24th rack, Van Boeing closed it out by making the tough shot, completing his undefeated run, and chalking up his first major 8-ball title.
MORE VIDEO...