Current Issue
Next Page >
In the Black
Jeanette Lee is everywhere - broadcasting at the ESPYs, lounging in Rocawear, selling jewelry on the Web, and shooting trick shots at Bass Pro Shops.

Extending the Black Widow's reach beyond billiards eventually could earn her $1 million a year. But is it good for pool?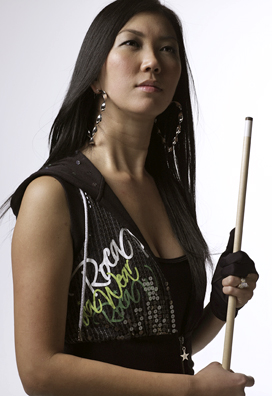 A model for marketing in the billiard industry, Jeanette Lee recently modeled urban styles for Rocawear. [Photo courtesy of Rocawear]
Hip-hop and hunting. Hoodies and fishing tackle.

Nothing better illustrates the new height and breadth of Jeanette Lee's celebrity as the Black Widow than her current endorsement deals with an outdoor recreation chain and an urban apparel brand.

On Feb. 20, as part of a long-term deal with Bass Pro Shops, Lee attended the grand opening of the chain's latest store in Independence, Mo., entertaining outdoor enthusiasts with her typical gig of talk, trick shots and challenge matches.

The same week, the March issue of Vibe magazine hit the newsstands. Inside, Lee was decked out in funky black togs in the "I Will Not Lose" ad campaign from Rocawear, the urban lifestyle brand founded by rapper Jay-Z.

"Isn't it hilarious?" Lee says of the malleability of her marketing appeal. "It's amazing that I can go to an event with Donald Trump and Muhammad Ali, or whoever, and yet also go to a Bass Pro Shop or NASCAR event."

Few celebrities can span such divides. Happily for Lee, she's also filling the spaces in between, with a myriad of endorsement, licensing and appearance contracts.

You can find her online selling a "Black Widow" line of jewelry and goading Internet pool sharks in "Black Widow" 8-ball and 9-ball games. On TV, she's reporting from the sidelines of a bowling event for ESPN, and hawking a new brand of cues in an informercial. You can buy an instructional DVD, "Black Widow Billiards with Jeanette Lee," or a photo of Lee for your cell phone.

There's more in the works, including Black Widow billiard parlors and even a fragrance.

"She has an interpersonal charisma and aura that is it," says Tom George, Lee's manager and marketing agent. "Whatever it is, she has it."

For more than a decade, Jeanette Lee has served as the alluring public face of billiards, but her revenue opportunities outside of tournaments were largely confined to industry sponsorships and appearance gigs.

Her marketing strategy has shifted in recent years, extending her reach well outside the billiard industry and garnering multiyear deals that seriously expand her revenue stream.

According to George, Lee earned approximately $650,000 in 2007. And, with more revenue already contracted for 2008 from existing marketing deals than her total earnings from '07, and nine months to arrange yet more work, George estimates that Lee will likely top the $800,000 mark in '08 earnings.

In fact, George expects Lee to net more than $1 million a year from marketing deals in the near future.

"The general public does not really know her yet," says George. "In the billiards world, she is the No. 1 celebrity. In the sports world she is a reasonable celebrity. So we're looking to TV and film, and we will find the right thing eventually."