Albania's Eklent Kaci captured his second World 10-Ball title, roaring from behind to thwart Francisco Sanchez Ruiz's bid for a Triple Crown.
By By Keith Paradise
Photos By Matt Porinsky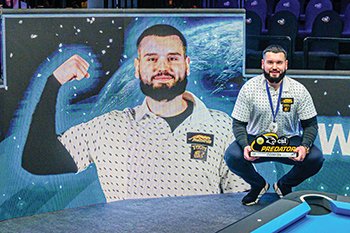 Francisco Sanchez Ruiz stood at the table in the final of the Predator World Pool-Billiard Association World 10-Ball Championship after getting off to a nearly perfect start.
He had just won five of the first six racks in a race-to-10 and appeared to be in control of not only the match, but also a date with the history books. Having won world championships in both 8-ball and 9-ball over the previous four months, a victory on this Saturday night in March against Eklent Kaci would make the Spaniard the first player to hold world championships in all three disciplines simultaneously. After surveying the table after the break in the seventh game, Sanchez Ruiz missed a combination shot on the 3 ball, then offered an open lane on the ball after misplaying a safety.
"I had that one ball where I had to play a safety," said Sanchez Ruiz. "But after this shot, everything changed."
That track to the ball was all the big Albanian needed, clearing the table then using his big, bruising break to ultimately win nine of the final 11 racks and earn his second World 10-Ball Championship in the last three years at Las Vegas's Rio All-Suites Hotel and Casino. Kaci, who also won the crown by defeating Naoyuki Oi in 2021, celebrated a record of his own, becoming the first player to win multiple World 10-Ball titles in the eight times the world championship has been staged since 2008.
"It feels pretty good," said Kaci, who was also a semifinalist in the 2022 event and led eventual champion Wojciech Szewczyk, 9-7, before losing. "My confidence was there no matter the score. I was just waiting for my chances. I played a couple of pretty good safeties and hooked him a couple of times. Rack by rack, I just kept on going."
The victory denied Sanchez Ruiz his chance at history but still earned him $40,000 for the runner-up finish in the five-day, 128-player tournament, which is held in collaboration with CueSports International's annual Expo and the BCA Pool Leagues championships. A week later, Sanchez Ruiz rebounded by winning Matchroom's Premier League Pool event in England.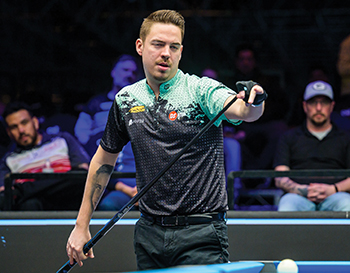 Sanchez Ruiz jumped to an early lead in the final, coming tantilizingly close to his third world title in less than a year.
"I cannot say that I feel bad because I had an unbelievable week," said Sanchez Ruiz. "I played really good under pressure but in the final, I made a mistake, and he played really well. His safety game is unbelievable, and he deserved to win. But I am really happy with my performance here this week."
Kaci's week started strong, using that powerful break to easily defeat Joven Bustamante, 8-1, and Radoslaw Babica, 8-3, before falling in his third match to Ping-Chung Ko, 8-3. Now playing on the one-loss side for the opportunity to make the single-elimination phase of the event, the Albanian gutted out an 8-5 victory over Feri Satriadi of Indonesia, then held off Poland's Szymon Kural, 10-8. After besting Oliver Szolnoki, 10-8, Kaci advanced to Friday night's quarterfinals where he met Shane Van Boening, a player who had seen more ups and downs during the event than the rollercoaster across town at New York, New York.
In his opening round matchup against Austrian Daniel Guttenberger, Van Boening watched his opponent build a 5-1 lead, only to win seven of the last eight to pull out an 8-6 victory. Playing in a winner's side matchup on the second day of the Championship, Van Boening found himself in a similar place, trailing Canadian Martin Daigle, 7-4. Once again, the American used some strong shot-making along with a couple of mistakes by his opponent to come from behind and win, 8-7. He used a similar escape route in his next match against Marc Bijsterbosch of the Netherlands, using a missed opportunity by the Dutchman to tie the match, 6-6, then breaking and running twice to close out the match, 8-6.
In the single-elimination phase, the American caught Bijsterbosch again in the redraw and found his gear, easily winning, 10-3, then taking down Austria's Max Lechner by the same score to reach the quarterfinals and Kaci.
With comedian and podcaster Joe Rogan watching from the front row, Kaci jumped out to a 6-4 advantage after splitting the first eight racks. The American kept the match close but was unable to close the deficit, as the Albanian took down Van Boening, 10-7.
Facing former U.S. Open champion Joshua Filler in the semifinals, Kaci fell behind, 3-0, before a long jump shot ignited his comeback. After the German won three of the next five games to build a 6-5 advantage, Kaci used a misplayed safety by his opponent to win three straight and take an 8-6 lead. The former China Open champion was able to scratch out victories in two of the next three games with defense to cut the lead to 9-8 but Kaci used successful safeties of his own to close out the match, 10-8.
"I didn't play safeties strong enough and he kicked it well and jumped it well," said Filler after the match. "I played pretty well but he didn't get punishing on the balls he missed by letting me have a shot, but that's how it happens."
Filler made a charge but couldn't match Kaci's solid safety and escape play in the semifinals.
In the title match, it was Sanchez Ruiz who came out on fire with three run outs from the break in his first four trips to the table and, before Kaci had even gotten settled in his seat, Sanchez Ruiz had built a seemingly commanding 5-1 lead. Despite the deficit, Kaci was unfazed.
"I didn't do anything wrong," said Kaci. "I actually made a few nice kicks. I'm like, 'Just keep on playing.' I'm trying to stay focused because it's a world final and you don't get in this position too often. I was just waiting my chances."
Fortunes changed on that 3 ball in the seventh game, which he used to win six straight and turn a four-game deficit into a two-game lead, then used a misplayed safety by Sanchez Ruiz to tack on another rack. Trailing by three, Sanchez Ruiz attempted to claw back in the 14th rack when he took a safety shot from Kaci, turned it into a successful combination shot on the 4 ball and ran out. He had another chance to pull within a game but missed the 4 ball in the corner pocket.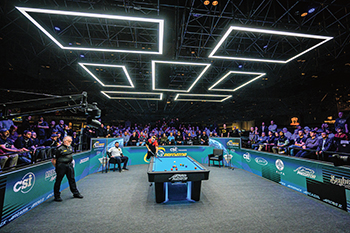 A packed house and glittering arena made for an atmosphere worthy of the performances put on in the finale.
"I missed the ball, I have to be honest," said the Spaniard. "When I played, I was down so I tried to play a little bit faster to come closer, but I think that was a big mistake."
After Kaci cleared the table to make it 9-6, the Spaniard tacked another rack on to pull within two racks again but lost a safety exchange in the next game to leave a wide-open path to victory for Kaci.
Sanchez Ruiz suffered a third-round loss to Lee Van Corteza in which he struggled with his break, then had to walk through a gauntlet to reach the finals — defeating Jesus Atencio, Billiard Congress of America Hall of Famer Alex Pagulayan, Jung-Lin Chang and Aloysius Yapp to reach the semifinals. Facing Russia's Fedor Gorst for a chance to reach the finals, he won an epic hill-hill match that seemed to have a little bit of everything.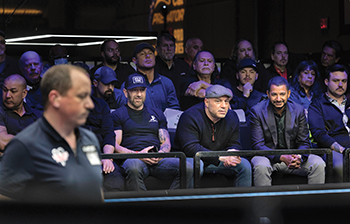 Podcast giant and pool fan Rogan (center) kept a close eye on action in Las Vegas. (Photo by Richard Wear)
The highlight reel match seesawed from the start, with Sanchez Ruiz out to an early 2-0 lead, but Gorst rebounded to fight to a 7-4 advantage.
Sanchez Ruiz cut the deficit to 7-5 when Gorst missed a jump shot, but the Russian added another game when he forced his opponent into a foul with a safety. Trailing, 8-5, Sanchez Ruiz was able to take advantage of a scratch on an attempted safety to steal two games and trim the margin to 8-7.
"I was trying to bring the cue ball to the short rail but the whole match I couldn't get used to the table," said Gorst. "I couldn't get comfortable. The table was playing differently than it was in previous rounds. Right before the match, they cleaned the balls which made it more unpredictable. I was playing okay for the circumstances I was in, but it wasn't one where I was super comfortable."
Things got interesting in the following rack, when Gorst responded to a Sanchez Ruiz safety by rocketing in three successive jump shots, only to scratch on a jump-bank shot, allowing the reigning World Pool champion to tie the score, 8-8.
The pair split the next two games, forcing a deciding rack. With the break in the deciding rack leaving clumps of balls all over the table, the two players engaged in a lengthy safety battle in the deciding rack, which the Spaniard won by forcing Gorst to commit three fouls – including a final one that occurred when the Russian kicked one rail, made contact with the object ball but scratched.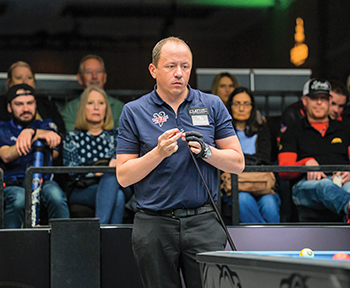 Van Boening escaped disaster on several occasions, but couldn't see his way clear in the quarterfinals, losing to champ Kaci.
"There were like three different racks in a row where I felt like I outplayed him and outmaneuvered him and he kept kicking and the balls were rolling funny," said Gorst. "I couldn't tell where the cue ball would go, I couldn't predict the banks, or how to kick. On any other table I feel like I could execute any of the kicks that I was trying but here it was tough for me."
Despite struggling with the table conditions, the third-place finish by Gorst capped off a week of strong play which continued into the following week at the U.S. Open 8-Ball and 10-Ball Championships, which he won.
Gorst opened his run at the World 10-Ball Championship with commanding 8-1 victories over Emil Andre Gangflet and Japan's Yoshihiro Kitatani, then survived his third-round match against Oscar Dominguez, 8-4, to earn a trip to the single-elimination phase. After drilling Quoc Hoang Duong of Vietnam, 10-1, and surviving a late charge and holding off Jan Van Lierop, 10-7, in the round-of-16, Gorst reached the quarterfinals where he met Estonia's Denis Grabe, with admirer Rogan once again in attendance. The mixed martial arts commentator and podcaster, who interviewed Gorst on his wildly popular show in December, was in town and snuck in through a back entrance to take Gorst's match. Rogan even stepped in to do some commentary on the live broadcast of the match. After Gorst won convincingly over the Estonian, 10-3, the comedian also handled the post-match interview duties.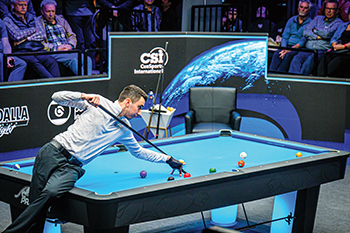 Gorst was a human highlight reel during his 10-9 semifinal loss to Sanchez Ruiz.
"Joe and I were chatting back and forth so it didn't add any extra pressure," said Gorst. "It was kind of cool." Finishing tied for third with Gorst was Filler, who looked equally as solid throughout the week. After qualifying for the single-elimination division by winning his first three matches by a combined score of 24-5, the German easily defeated Vitaliy Patsura, 10-3, Lee Van Corteza, 10-4 and former World 10-Ball Champion Ping-Chung Ko, 10-3, before falling to Kaci in the semifinals.
"I'm pretty happy with third place," said Filler, who struggled with the break on the final day of play. "I played pretty strong, and I can't wait for the future."