Matchroom founder Barry Hearn may have relinquished his formal executive title at the thriving promotions company, but that hardly means he's stepping away from the action. And that's good for pool.
Barry Hearn, now 73, has been at the helm of Matchroom Sport for 45 years, building a stable of sports and events that has made the company one of the world's largest promoters and producers of sports programming. Pool has been in the Matchroom portfolio since 1994 and, along the way, Hearn has produced more than 100 pool events, handed out more than $10 million in prize money and produced well over 2,000 hours of original television programming that has aired all over the world. In April, Hearn announced that he was stepping down as Chairman of the Matchroom Sport Group of Companies, instead taking on the role of group president in an advisory role. Billiards Digest publisher Mike Panozzo talked with the indefatigable promoter about his new role and what it means for the future of pool.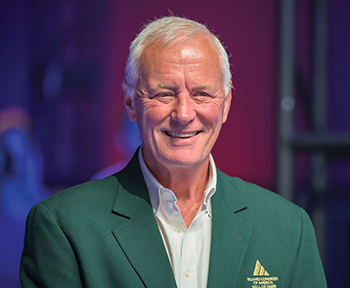 What does "stepping down" as head of Matchroom mean for Barry Hearn? And how does your new role affect pool?
I am a non-executive president, and my role is an advisory role in strategic events and global development. This is the position that a sport like pool needs. Someone out there that has the time and resources to create deals and opportunities. It's exciting for me. It's what I like to do.
It's like the darts. When we took over the darts 15 years ago, we never envisioned that we could build to the size of the business it has become. Why not do that for pool? Emily Frazer is an excellent manager and COO with a committed team behind her. They're all passionate about pool. So, the infrastructure is in place. It's all about determining how we want to move it forward. It all comes down to activity. We want to give the players a reason to get out of bed and an opportunity to earn a real living in their chosen sport.
You've said before that you want to get the prize money to a legitimate livelihood level for the players, but that you couldn't do it alone. That you needed other promoters to be the foot soldiers to help build a solid base of events and Matchroom would be the top end. Do you see that changing? Do you see Matchroom not waiting now and taking the bull by the horns?
I think my role is exactly that. It's unfair to criticize other promoters, but the pandemic had quite a dramatic effect on businesses. I believe we're a company that came out of it stronger than we were going into it. It's made us more innovative, and it's made us prepared to roll the dice a little bit more and to take the lead a little more. The reality is that if you don't have the resources, it's an uphill battle. Fortunately, we have the resources.
I'm very proud of this company. Through passion and hard work and innovation, we produced more events during the past year than we did the prior year. A lot were behind closed doors, but we utilized our hours. Of course, we ran the World Pool Championship and I'm pretty sure the WPA would not have had the resources to pull that off on their own.
The situation does seem to dictate that we take the lead. We withstood the damage done by the pandemic, whereas many other companies and promoters had a much rougher time and will need time to rebuild. As the major player in the sport, the responsibility falls on us to live up to that title. Are we really a major player? Or is it all talk?
It's not. We love the sport and are prepared to charge ahead. And in my role now, I have more time on my hands and it allows me to be more creative. And I have a group in Emily and her team that I enjoy working with because they're as passionate as I am.
So, now it's time to talk to the WPA and look at other events to build on. There have to be enough events out there to justify calling yourself a "pool professional," not a window cleaner by day and pool player by night.
When we started off in darts, I don't think there were more than half a dozen players that were really full-time. Pool is similar. There isn't enough out there on a professional level to make a living, so players resort to playing for money all the time. And there is no future for the sport in that. Image-wise, you get slaughtered, and you don't get taken seriously as a major sport. What you need is a full tournament schedule that is real. We're working on that for 2022. And when we announce it, it will be real.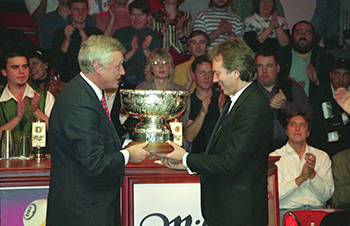 Matchroom's foray into pool began in 1994 with the Mosconi Cup, an idea Hearn (left, presenting the trophy to Team USA's Bobby Hunter) admittedly stole from another of his favorite sports, golf.
Trying to create a global tour, are you prepared to be that company? You'd always been an event promoter as opposed to a full tour operator. That changed with your taking over the WPBSA and PDC. Are those the blueprints you'll use in pool?
I think so. You have to focus on what you're good at. You take darts and snooker. Both really good examples of getting it right. Ten times the prize money and creating a calendar of events where everyone is practicing for a specific purpose. Now, you can't be in that position commercially and also be the governing body. We don't want to be a governing body. But you need one to understand the journey they're going on. We have that with the WPBSA and Jason Ferguson and we have that in darts. Things like integrity, discipline, rules of the game, etc., you farm that out to people for whom that part of the sport is their passion. What we're good at is the commercialization of the sport. We take the rights and say, "We'll show you what we can do." But we won't be handicapped by committees and such. That slows you down.
So, will you create that governing body or use an existing structure?
I hope we don't have to. I will talk to the WPA and tell them our plans and say, "Do you want to be part of this journey or not?" This sport is very fractured, and I don't know what the WPA really does. I think they could be useful if they are sensible. They're part of the IOC. Things like that are important for credibility when you're dealing with corporations and sponsors. With the WPBSA, I'd be lost without Jason Ferguson. He's the one with the suit that goes in and gives the speeches. I don't have time for that and don't want to do it. But I understand the importance of it. Pool doesn't have that credibility factor. We've seen what we can do with snooker and darts and it's lifechanging for players.
I think we'll create two or three new major events next year. In the long term, this can't be a sport reliant on entry fees. Entry fees at the start are essential. But it can't become a barrier to entry. At one point in snooker, instead of using entry fees to pad the prize fund, we simply cancelled them. But not just any player can sign up for a tournament. With proper qualification comes the bonus of not having to pay an entry fee. Pool is not there yet. But we'll get there. We'll get to the point where the prize fund is developed through the commercial exploitation of the sport.
To a certain extent, though, it's a chicken-and-egg scenario. You want to get prize funds that provide a living to the players. Also, the bigger the prize fund, the more attention people pay to it. You spoke once before about darts having a $2.5 million prize fund and that allowing you to tell potential sponsors, "You don't think you're going to this sponsorship for nothing." But where does the initial prize fund come from that will impress those potential sponsors?
It's a bit speculative. Take the U.S. Open. That really inspired me this year. We cut the entry fee. We filled the 256-player field in four hours. That tells you something. I still think it's too much, but you have to start somewhere, and we need to have $300,000 prize fund. Even that's not enough when it comes to getting on sponsors' radar. Half of those players are playing just for experience, which is fine. We need new players, and you get new players with more frequent events. A kid doesn't suddenly become a great player. We need a structure that helps build the sport.
We got 256 for the U.S. Open. Does that mean if we held a tournament in London, we could also get 256? I don't know. That's where we have to invest. We have to underwrite certain things and keep our fingers crossed that we don't get too burned. We have to be brave.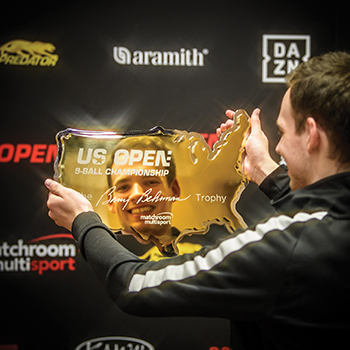 Hearn insists that Matchroom's acquisition of the historic U.S. Open 9-Ball Championship has "inspired" him to build a sustainable event structure in pool.
One of the things I've always admired about you and Matchroom is your willingness to give events and even sports time to grow. You don't panic if they are not profitable in the first year. That takes nerve and belief. Where did that philosophy come from?
The basic philosophy is that we don't get involved in any sport for the sole purpose of making money. We get involved in sports that can make money, but sports that we are passionate about in the first place. If we're not passionate about a sport, we're not going to get involved. Motor sports and tennis are two sports that are big enough to make money in. But I don't really care for either, so we don't touch them.
It's all about long term sustainability. We're not interested in making the big splash on day one and then the quiet exit on day three.
We're here for the long term.
You've certainly been in pool for the long term. What's changing?
We've been in pool for years and years. It hasn't really exploded like I wanted it to, but now I'm taking a bit more of an aggressive view because what I'm seeing through Emily and her team is a massive explosion in social media numbers in the past year. This is one of the things I'm selling to broadcasters. The ratings are okay. But in today's world, TV ratings don't have the relevance that they once had because the real relevance of connectivity today comes through social media. In many ways, social media numbers are more relevant than the number of people sitting on their sofa watching television.
How has the production and dissemination and sales of programming changed from your early days to now, and how have you kept ahead of it?
What's going on in the world of television at the moment is the biggest change since the advent of color television. What we're seeing is TV broadcasters no longer being financed by advertisers built around TV but moving more to a pay system. Of course, that's been going on for a long time with things like ESPN subscriptions and cable rights, etc. But now it's the digital OTT (Over-the-Top) platforms. We've been fortunate enough to be a major client of DAZN. They have aspirations of becoming the Netflix of sports. It's global development, but clearly the U.S. is a big part of it. This is where a subscriber doesn't get lumbered with a regular chunky monthly standard payment but buys on demand. It's a mini version of a pay-per-view format. For the younger consumer today it's more relevant that they know they can watch whatever they want, whenever they want and on whatever device they want. It's freedom and flexibility to get their sports fix.
DAZN has given us unlimited airtime on darts and snooker and pool. This gives me data that excites me in my role in strategic development. I'm seeing numbers that don't tell lies. Pool is showing dramatic increases, although they are from a lower base. But still, it's enough for me to think this is worth the investment.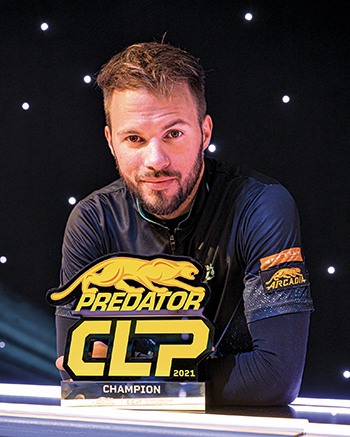 After adding Championship League Pool and the World Pool Championship in 2021, Hearn expects Matchroom to add more events to the schedule in 2022.
With all these platforms and options available to today's consumer, how do you make sure they know what's available to them in pool. How do you get it noticed?
Today you reach more people through fans on social media. It's almost like recommendations, and those recommendations get shared and so on. It's a long process. You have to have deep pockets, endless patience and be willing to work your socks off to get the word out. It's the snowball rolling down a mountain scenario. It's about momentum and I think pool has that right now. Fans are talking about what we're doing. Twelve months ago, we had six million interactions a month on pool. Today, we've got between 26 and 28 million per month.
Social media numbers — interest in the sport — come before subscriber advancement. That gives me confidence that there is something out there. The next journey is to try to convert that demand into a demand for subscriptions. With DAZN, we move the needle by viewership and hours consumed. We're fortunate to have someone prepared to invest in programming like pool to give it a chance to advance. If they make it as successful as we've made darts and we do it together, then it becomes a good business for them. America is such a big consumer of sports. It doesn't take a big chunk of that to change the whole landscape of a sport like pool.
You have more time on your hands for "global development," but you also still have your hands in a lot of sports and programming. Is pool near the top of your to-do list?
I think it is. I've been fortunate to have built an incredible management team. I don't need to get involved in boxing. [Son] Eddie is a far better boxing promoter than me and his right-hand man is a better organizer than I've ever hired, so away they go. Matt Porter runs the darts and he's done it all. The snooker team in Bristol runs brilliantly. Emily is relatively new to senior management, but she's making waves and seems to be doing an excellent job. I can relate more to her at her stage of the journey than the others. She's always ready to go to war and that attitude always adds a little sparkle to me. Together we can go forward. She can continue to work the operations and I can help with the commercialization. So, I'll probably be concentrating on pool more than anything else over the next 12 months.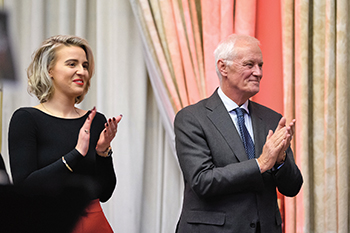 Hearn is bullish on Multi Sport COO Emily Frazer (left) and her team, and expressed excitement at the prospect of focusing on the "commercialization" of the pool properties in 2022.
One thing I've been curious about: For all Matchroom has done for pool, and the fact that the bulk of that was built in the U.K. and as live programming on Sky Sports, why hasn't American pool become a bigger participation sport on the island?
There are less people playing snooker in the U.K. than five years ago, but the prize money is bigger. What we're seeing is that in a lot of sports we've become more of a television sport than a participation sport. I don't think they play snooker at all in many of the European countries, but when we stage the German Masters in Berlin, it attracts 3,000 fans for every session. They don't need to be participants to enjoy watching the action. It's entertainment.
Using your snooker and darts success as templates, how will you position pool going forward?
I'm going to promote pool as snooker-meets-darts. In other words, it's a high-skill game but played in a lively atmosphere. It's a different experience. We need to cultivate the Mosconi atmosphere at all of the events. It needs perhaps a little image makeover, but the key is to get fans to look at it. Once they go, as we saw with the growth of the Mosconi Cup over the years, they will continue to go in increasing numbers because it's good value for the money and a fun night out. We're not asking them to go down to the poolroom and play. We're asking people to come and watch.
Looking back, who are your favorite players?
I got to know Minnesota Fats pretty well. I tend to gravitate to characters like that. His persona was bigger than life. His name still resonates with people, old and young. One of my fondest memories was when he invited me to his suite at the Hermitage Hotel in Nashville and I commented on all the photos of him with beautiful women. His comment to me was that when he was young, women used to chase him down the street with a mattress strapped to their backs! Who else could look you in the eye and tell you a tale like that? It was brilliant.
Efren Reyes is way up there. And, of course, Earl Strickland. He was difficult to deal with, but geniuses are not the same as other people. It always annoys me when people criticize geniuses' behavior. Geniuses don't have the same rules we have. Same with Ronnie O'Sullivan and Alex Higgins.
They're all more difficult to deal with. But if you try to make them the same as you or I, they're no longer interesting.