Life as a junior player is unique and exhilarating, filled with great moments, great friendships and life lessons.
By Kennedy Meyman
Believe me, I realize I'm not the typical 17-year-old doing typical 17-year-old stuff. And, honestly, I wouldn't have it any other way.
Traveling the country and world doing something you love at a young age is something most kids can only dream of. And yet, here I am, traveling to a different state a few times a month, playing pool and learning what will take most kids years into their adulthood to learn. It's not for the faint of heart, but waking up each day in a new place, preparing to use the skills you've spent countless hours developing, is a surreal feeling and a blessing.
I could not imagine a weekend without making the morning Starbuck's run, young kids from the town on their computers, probably rushing to turn in their next schoolwork assignment, while I'm preparing to go do what I love for the thousandth time in my life.
Pro player John Schmidt once talked about how the normal person can tell you what the best day of their life was, while he has had hundreds of them. I feel the same way at 17.
I never forget any trips I go on. Road trips are the best part of traveling — talking about everything that you can imagine, singing and making jokes. All my trips make memories. Walking into a new poolroom and meeting new people is one of the greatest feelings, a new place to add to the memory book.
One of the most interesting things is the switch from the intensity of competition to the storytelling and camaraderie once the day is complete. I love going to eat, laughing, collecting stories, going back and forth with other players about shots and things they experienced that day. The seriousness that players have during competition melts away. Then, the very next day you see them turn back into serious athletes who have dedicated their lives to the sport.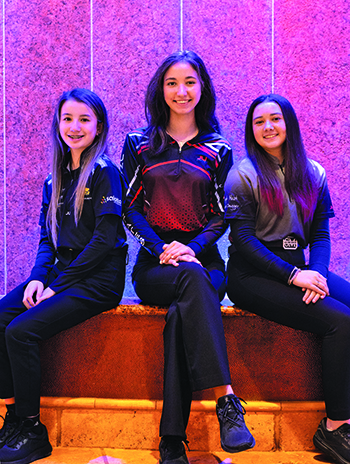 Author Meyman (center) with fellow juniors Savannah Easton (left) and Sofia Mast (right).(Photo by Corby Dayhoff)
I'm a junior player and I've already enjoyed an amazing life.
And the opportunity to live this life right now is due to two things: the dramatic rise in the development of junior pool in the U.S. and incredibly supportive parents.
It wasn't that long ago that national tournaments for junior players were scarce, really, just the Billiard Education Foundation (BEF) Junior Nationals and the Valley National Eightball Association Nationals. But in recent years, more events for juniors have popped up. In 2021, the Junior International Championships (JIC) started. That was a game-changer for a lot of us juniors because now kids under 18 could play against each other every month, traveling all across the U.S. The quality of play keeps getting better and better because we push each other to levels not commonly seen before.
Don't get me wrong. There have been great junior players before — Tyler Styer, Chris Rienhold, April Larson, Shane Wolford and others. But there wasn't as good a platform as now, so there weren't as many great players. And now all these former juniors are helping to guide the next generation.
"Information is more readily accessible and there are more tournaments than ever for juniors," Chris said, noting differences between his junior days and today. "With technology you can watch so many more matches and record yourself. And the junior events have never been better."
When I stop and look at where I am today, it seems so far from where I started. I was like most junior players, first messing around during their parents' league nights or getting into a local junior league. Every pro player started somewhere, probably just for fun without considering a future. It all starts making that one ball that is sitting right near the pocket. The pure fun and excitement of making your first shot. It's a feeling you want to repeat, again and again. Once you find love for the game, it becomes a sport.
One of my best friends from juniors is Bethany Tate. She vividly recalls realizing her love for the game playing with her dad every night.
"I started just because I liked spending time with my dad and it was something he loved to do, and then I started to strive to beat him. It made me practice and I started making goals for myself. That was the point at which I truly started to love the game."
Before you know it, you start entering competitions. I started in local junior tournaments and worked my way forward one step at a time. I won my first junior state championship when I was 11 years old. It's an amazing feeling, one that other junior players have all felt. Then I entered my first BEF Junior National 9-Ball Championships. It was a great way for me, and other kids, to see what competition is like with players from around the country, and to be pushed further in our games.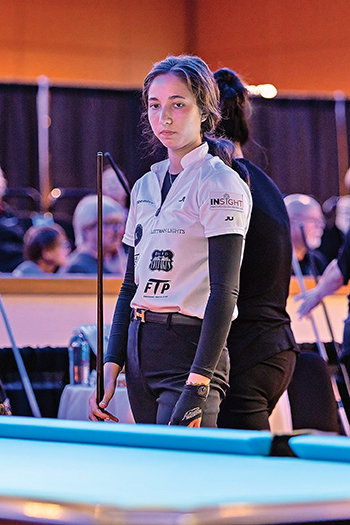 It's important for juniors to play in pro events. That's the transition.(Photo by Corby Dayhoff)
Historically, the BEF has offered the broadest support of junior players, offering playing opportunities, the opportunity to qualify for international tournaments and even academic scholarships.
"Because the BEF focuses not just on what a competitor brings to the pool table but also on what it means to be a champion in life, the BEF will always maintain a positive impact on junior players looking to excel in both cue sports and life," Billiard Education Foundation managing director Shane Tyree told me.
As a next step, JIC founder Ra Hanna said he wants his tournaments to help prepare juniors for the next level.
"The JIC is the only outlet that teaches the kids the path to be a professional player, national rankings, a dress code, a code of conduct, etc.," he said.
And just when you think you've seen it all as a junior player in the U.S., the Junior World Championships is junior pool on an entirely different level. The level of talent at the Worlds is insane. The days when you were the best player in your state seems so far away. But it pushes junior players to work even harder and get even better. And it provides an opportunity to see the world and experience different cultures.
Of course, the opportunity to travel and compete is something no junior player could even think about doing without the support of his or her parents. They are the people who first believe in us. The time and the financial and emotion support invested in us by our parents is incredible. They make huge sacrifices. And, let's face it, it would be much more difficult to start playing pool at a later age when you can or must pay your own way. Growing up as a player with supportive parents or guardians truly sets you up on a path for success. What we as kids need to provide is the commitment and determination to excel.
Shane and Savanna Wolford's parents are very involved in junior pool, directing JIC tournaments. They're incredibly supportive of junior pool in the U.S.
"The best part of the JIC for me is watching the growth of the kids," Trena Wolford told me. "I have watched several of them go from being shy and timid to doing TV, radio, live streams and podcasts. Watching them blossom has been amazing.
"The second-best part is the friendship the kids and parents have developed," she said. "It's all business at the table, but when the last 9 ball falls, it's back to dinners, swimming pools, playing cards, tons of selfies and loads of laughs."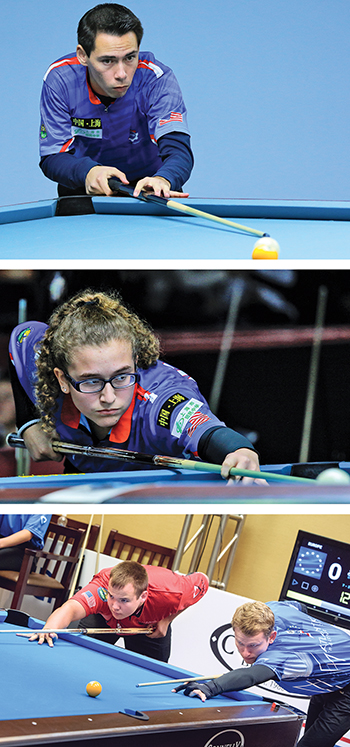 Former junior stars like Chris Reinhold (top) April Larson (middle) and Shane Wolford (below) are guiding the next generation. (Photos by JP Parmentier)
I realize my life is different than most kids. Part of that difference is in growing up in an adult world. You realize quickly that you're with adults and not in school when other kids are. It takes a while to adjust to playing in a pool tournament with adults on a weekday, with no concerns of it being a "school night." I've been doing online schooling since I started high school. (I'll be a senior next school year.) That's what makes traveling and playing in pro events possible.
But you know it's different. At first, you have the feeling of being a kid in an adult world. Over time that changes to simply being in an adult world. You grow up quicker, especially when you're traveling the country and in some cases the world to play in events. You grow up quicker traveling with friends and their families because your parents can't always get time off from work. I feel like I've already started the process of becoming an adult — not in the way of having to pay bills or support myself, but mentally. I'm responsible for making many of my own decisions and behaving properly, especially when traveling without my parents.
It's still a challenge. Sometimes you don't feel like you have a say in certain things because I'm "still just a kid." At one tournament someone wanted to call the police because I was a "kid playing in a pool tournament." I understand that not every kid is mature enough to handle this responsibility, but I think those who act responsibly should be treated as adults. At the end of the day, we're all pool players. Our age only defines what divisions we can play in.
I chose to grow up playing the sport I love in an adult world.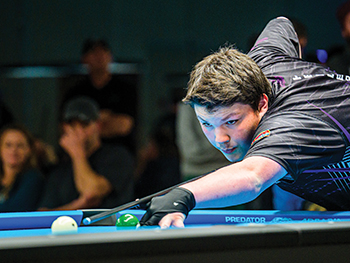 16-year-old Sam Henderson finished fifth in a pro event. (Photo by Matt Porinsky — Coin Flip Photography)
And honestly, I really don't miss the social aspect of a normal childhood, like going to a traditional school, hanging out with classmates, and going to basketball games. When I was in traditional schools, the kids just didn't get my love of pool. They immediately associated it with bars and alcohol. I still have some friends from school, and we occasionally go to the beach and things.
But when they're in school, I'm at tournaments. That's where my "family" is. I've found many great people and opportunities through pool, and having such a good community is a huge blessing. We've all become close. We spend so much time together, eating, talking, laughing, crying and, of course, competing, even off the table. Table tennis, footraces, cards, games and anything else we can find. We have deep respect and understanding for one another, and we enjoy having each other to grow up next to.
One of my favorite parts of traveling with other junior players is finding a place to sit in a hotel room or the lobby and talk about everything — without our parents being there. It's our own little support group. We talk about everything. We talk about our goals and about our parents. We can all relate to what our parents are talking about. We get their concerns. We know we're young and don't pay bills, but we've all put in a lot of time playing.
And we talk about the future a lot.
That's the scary part. For some players, junior pool is the end of the road. They enjoyed it as juniors, but they have different plans.
And for others, professional events are the next step. We've been traveling the world at the junior level, but some players are at the level at which they can hang in there with professionals. I started playing professional events when I was 16 and first cashed in a pro tournament when I was 17. Savannah Easton is playing in professional events at 13. She's already finished as high as fifth place. I asked her how it felt the first time she won an adult tournament. She told me she was "over the moon." "I thought I had conquered the world," she said. "And it was addicting. Once I won for the first time, all I wanted to do was win more!"
For me, the moment I knew I wanted — needed — to try to reach the next level was at the Women's Professional Billiard Association tournament in Fairfield, Iowa, in March. I won four matches and finished 13th. I was so happy. I saw all my hard work click. I got two spots into the money. That was a benchmark for me. I had set a time for myself to make a choice to try to play professionally. I wanted to be making serious steps forward by 18 or 19.
Everyone has goals they keep to themselves. In my mind, professional to me was playing at a level where you are finishing in the money. Before Iowa I didn't feel like I belonged yet.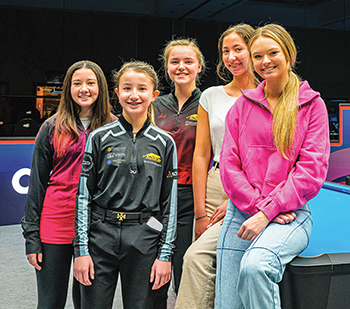 My favorite thing is sitting around the hotel talking with fellow junior players. (Here with, left to right, Sofia Mast, Savannah Easton, Precilia Kinsley and Hayleigh Marion.) (Photo by Matt Porinsky — Coin Flip Photography)
But I'll never forget the feeling. I was mentally exhausted and physically drained. I was upset that my run had ended, but I was a little relieved at the same time. They were things I'd never felt before and it was a really good feeling. I wish I felt like that after every tournament. I felt like I did everything I could with what I knew. Physically and mentally, I pushed myself as far as I could, and I learned what I need to do to get to a higher level.
At some point, all junior players have to have that conversation with themselves. We've put a lot of time into the game, and we all feel like we need to see what we can do on our own without our parents. Not trying would be heartbreaking.
Promoters like Matchroom and Predator and the WPBA are providing the next step for up-and-coming players. I asked another junior, Payne McBride, who has played in some of the top pro events, why it's important for young players to participate.
"It's important for juniors to play in pro events because it is the transition from amateur to pro," he told me. "Pool doesn't really have a smooth transition for the juniors to turn pro. Players have to ship themselves to the big events to get the knowledge and experience they need."
I talk a lot to Bethany and Hayleigh Marion and Savanna Wolford about this decision. Even the ones who have opted to give up pool have been supportive of the decisions of those of us who want to charge ahead. They understand.
One person I lean on a lot for advice and insight is April, who is also from Minnesota. She has talked to me a lot about the transition from juniors, admitting that its scary but exciting. The hardest part is making decisions for yourself and managing your tournaments.
"Taking over your own life is the intimidating part," she said. "Navigating the right path. If I fall off track, it's on me now to get back on."
The challenges of pool being a job and being on the road aren't easy. This is not a job many can handle, but April took the dreams she had as a junior and made sure they became reality.
There are many ways people approach their future in the game. There are no wrong decisions. Some players are making history and raising the bar for only a few years before going off to college and taking the valuable life lessons they learned as juniors with them.
For others, like me, juniors is the launch pad for the rest of their lives and careers in the sport.