Current Issue

Previous Page Page 2 Next Page >



The Quiet Man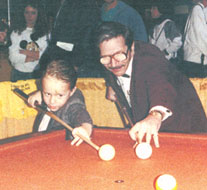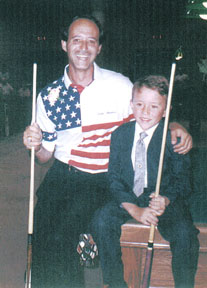 Barely more than a tyke, Van Boening played exhibitions with his grandpa, and ran out on Sigel.
SHANE VAN BOENING, now 24 years old, is sitting in an upholstered booth about a coin flip away from a labyrinth-like dinner buffet at the MGM Grand in Las Vegas. He's sawing into what must be his third plate of prime rib. No fussing. No talking. Just eating. Where it goes on his bamboo-shoot body is anybody's guess.

There's no telling how many times Van Boening has visited Vegas. From the age of 3 or 4, his family would pack him into the clunky white van with "8-Ball Express" written on the side and drive to the desert to play in national amateur championships.

They were celebrities, of a sort. The Bloombergs - his mom, Timi, grandma, Jeanne, and aunt, Gari Jo - won team trophies and individual honors year after year in the pool jamborees hosted by the Valley National 8-Ball Association and Billiard Congress of America.

Today, Van Boening is a celebrity too. He spent the afternoon in the crosshairs of international TV cameras at the 14th annual Mosconi Cup, playing for Team USA in the transatlantic 9-ball tussle.

In his rookie year on the team, things aren't going so well. The Americans are trailing Team Europe, 9-6, with one day to go. Before hitting the buffet, Van Boening listened in the players' lounge as teammate Cory Deuel insisted that they send Van Boening out in the first match tomorrow. He's their ace, Deuel said.

Shane Van Boening isn't just a pool player any more. Right now, he's the best pool player in America. One could argue that he's the best, period.

"I'm the number-one pool player in the world," he says, almost weighing the words in his mouth, unsure if he should swallow the suggestion.

"It feels good," he says, shrugging. "I just don't want to be too cocky about it. I like to be humble."

In his first full year as a pro tournament player, Van Boening has emerged from the international pack to earn BD's Player of the Year honors, with three major titles and a handful of runner-up finishes. It's something to brag about, but so far "The Kid" from South Dakota has been more whistling pine than babbling brook.

He's a quiet guy, having grown up in a world of silence. Sliding his dinner plates to the side, he recounts having trouble communicating as a kid. His peers harassed him - pushing him on the playground and putting gum in his curly hair. He often didn't understand his teachers. Music was just noise.

The things that made sense were bodies in motion - arms arched over cue sticks and balls bouncing off cushions.

Pool was his life. The people he loved played it. He was good at it, and people respected him for it. He learned how to express himself through the game, talking about the balls and the cushions and the players. It taught him how to win and lose, fight and shake hands. It took him all across the country, when some believed he should spend his time at special schools back home.

Pool made Shane Van Boening what he is today - strong, successful and confident. And today he's the best there is at the game.

Previous Page Page 2 Next Page >

Top