Current Issue

Previous Page Page 2 Next Page >



Second to None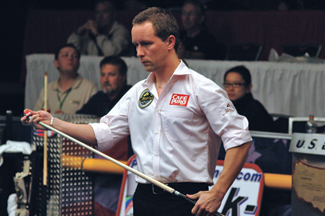 Immonen's focus was unwavering in the wake of his victory at the U.S. Open.
After something of an uneventful first nine months last year, Immonen got his head together enough to have a final quarter to end all final quarters, winning five titles - the U.S. Open 9-Ball Championship, the All Japan Championship, the Quezon City Invasion, the IPT Pro-Am and the Mosconi Cup - in his last six events (in the sixth, the Asian 10-Ball Championship, he finished second to Thorsten Hohmann) and producing, easily, the greatest year of his career.

"I've done some research on the legends of the game and most of them hit their prime between the ages of 35 and 50," said the 36-year-old Finn. "So this has to be my prime. I figure I have a good 15 years left of this. And maybe, if I keep myself in good shape, I can even push it to 55."

Immonen started what he called the "snowball effect" in late October at the 2008 U.S. Open, the scene of his most nightmarish professional defeat, back in 2001, when Corey Deuel soft-breaked him into oblivion, streaking, from the get-go, to 11 straight games in the final.

The memory of that match is still "disturbing" to Immonen.

"I came up through the losers side, and had to beat three great players - Ralf Souquet, Earl Strickland and Jose Parica - in one day to get into the finals," he remembered. "So I was drained, empty, had no energy left, and I just didn't show up."

But, more than anything, what infuriates Immonen even to this day is this:

"Corey put on 'The Soft Break Show.' He'd lag the ball to the rack and the wing ball kept going in and the 1 ball kept ending up by the side pocket. It's not the way 9-ball should be played."

He shook his head softly.

"I thought I was going to make history by winning the U.S. Open and the World Championship in the same year. And when it didn't happen and the way it didn't happen, I felt like I got robbed.

"I was frustrated, angry. It hurt for a long time."


Previous Page Page 2 Next Page >

Top