Despite Team Europe's 11-7 win, the 2022 Mosconi Cup in Las Vegas set yet another bar for pool's premier showcase.
By Mike Panozzo
Photos By Taka Wu

There was a twinkle in Barry Hearn's eyes as he made his way into the arena in the ballroom of Bally's Hotel & Casino in Las Vegas.
The silver-haired, 74-year-old Matchroom Sport founder, neatly attired in a grey blazer and black collared shirt, slowly turned to each side, allowing his eyes to circle the 2,500-seat bowl-shaped arena, a single black Rasson table perched in the center.
"I know it sounds kind of trite," he said after taking in the scene, "but it makes you proud, seeing the atmosphere and feeling the energy in the room. It's great when a plan comes together." "The room," in this case, was the setting for the 29th installment of the Mosconi Cup, the annual transatlantic clash between the top players from the United States against the best from Europe. Keen to add American pool to his sports portfolio, Hearn launched the Mosconi Cup in a Romford (U.K.) bowling center in 1994, offering free admission to curiosity seekers. Barely 100 took him up on his offer.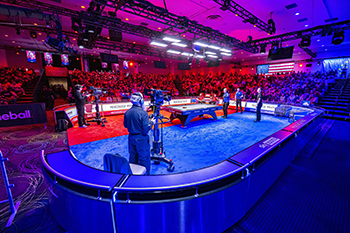 Nearly 30 years later, the 2022 Mosconi Cup in Las Vegas, a nervy, sometimes unruly, and highly entertaining battle that saw Team Europe escape with an 11-7 victory, vaulted pool's commercial crown jewel to a level never before witnessed in the U.S. For the first time in 10 visits to Las Vegas, the American crowd dominated the seat count - easily 80 percent - and thoroughly drowned out the European contingent for four solid days. Red, white and blue were the dominant color schemes in apparel, with gaudy striped pants, American flag hats and crowns, and painted faces in abundance. And the unavoidable sight of American pro and former Mosconi Cup player Billy Thorpe in American flag bib overalls, replete with a beer can belt that was never empty over the four days. Players and Mosconi Cup veterans agreed, the event, long appointment viewing in Europe, is finally must-see in the U.S.
"Thirty years to become an overnight success!" Hearn said with a laugh.
Hearn then elaborated.
"This event is built on simple formula of giving people good value for the money, inspiring the next generation of players, creating an event that people put in their calendars for next year and making sure when they leave the building, they leave the building with a smile on their face," said Hearn. "That's the essence of sports. Even if you don't play pool, if you don't love the spectacle of this, you're not a real sports fan."
How far the Mosconi Cup has come was evident in the staged press conference on the day prior to the start of the event. Open to ticket holders as well as the press, the interview session with the players and captains drew a bigger crowd than attended most of the early-year Mosconi Cup match sessions.
Not surprisingly, while various players danced around questions of preparedness and motivation, both press and fans patiently waited for the subject to turn to Team USA's 61-year-old team member, Earl Strickland. Having been chosen by Team USA captain Jeremy Jones for the 2022 team, but subsequently removed from the team and subject to quarantine in London the day before the event following a positive COVID result from a passenger on his flight over, Strickland was a controversial eleventh-hour pick by Jones for the 2023 squad. Age alone made Strickland a questionable choice, regardless of his resume as perhaps the greatest pure 9-ball player in the history of the sport. His relative inactivity in major events in 2023 added to questions of his merit against the likes of young gun Shane Wolford, who competed in numerous events in 2023, and even Thorpe, a veteran of Cup play and two-time winner.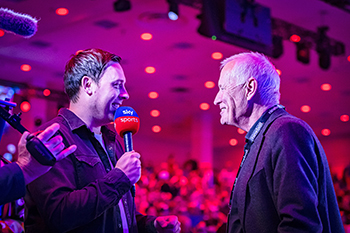 Hearn (right, with Karl Boyes) expressed pride in the 2022 version in the U.S.
But the primary reason press conference attendees were perched on the edges of their seats, of course, was in anticipation of witnessing the volatile and sometimes combative Strickland implode on stage. Team Europe's Jayson Shaw had publicly stated that he hoped Strickland would be selected so that he could needle the legend. To his credit, Strickland, while entertaining, for the most part kept his composure. Sure, there was a spirited back-and-forth with Shaw in which Strickland fat-shamed the hefty Scot, and Shaw poked fun at Strickland's platform-soled shoes. In the end, the former roommates (Shaw stayed with Strickland for three months in New York when he first moved to the States) professed admiration and respect for one another.
DAY ONE
Clearly outmanned on paper, Team USA lined up with reigning World Pool Champion Shane Van Boening making his 16 consecutive appearance, backed up by two-time Mosconi Cup MVP Skyler Woodward, just 29 but already making his seventh start. It was in the squads' No. 3, 4 and 5 players that Team USA appeared vulnerable. Veteran player and two-time team member Oscar Dominguez earned an automatic bid via the Matchroom Nineball Rankings, while three-time member Tyler Styer and Strickland were selected by Jones in wildcard spots.
Conversely, Team Europe was stacked, with Shaw, Germany's mercurial Joshua Filler, steady Mosconi Cup point earner Albin Ouschan of Austria and the brother-like Spanish duo of rookie Francisco Sanchez Ruiz and David Alcaide. For Ruiz, the Mosconi Cup would mark the culmination of a mind-blowing year in which the 30-year-old went from zero major titles to U.S. Open Pool Champion, World 8-Ball Champion, World Cup of Pool champion (with Alcaide) and Derby City 9-Ball Champion. Alcaide, Team Europe captain Alex Lely's final wildcard pick, was a somewhat controversial selection, with young Russian superstar Fedor Gorst cleared by the World Pool-Billiard Association to play following six months of exile due to Russia's invasion of the Ukraine. Alcaide's calm demeanor, Mosconi Cup success and close friendship with Sanchez Ruiz were cited as reasons for his selection over Gorst.
"Honestly," said Woodward, "their team is supposed to rob us on paper. But I believe we have more heart. They don't have to beat us at all."
With Sky Sports' beefed-up television production for the event, including a longer opening segment and several feature vignettes, the opening day was trimmed to just four matches (down from the typical five). The pro-U.S. crowd's impact on the 2022 affair was evident before the first ball was struck, as Team Europe was introduced to sustained booing, while the noise level for Team USA's introduction threatened to damage hearing of people in the arena.
"My guys told me the U.S. fans had found a gear in 2019," said Lely, who took over as Team Europe captain in the crowdless 2020 Cup. "But I didn't realize how much until the first day. For the players, you know going in it's going to be tough, but you still can't prepare for it. It's a different scale."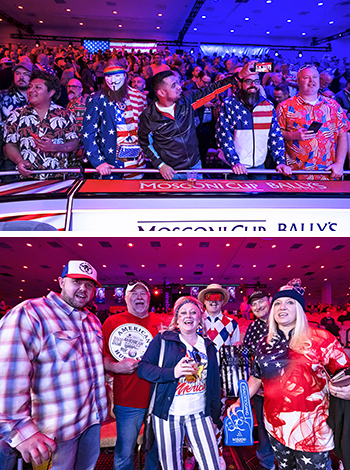 The raucous U.S. crowd took stateside Mosconi tilts to a new level in Las Vegas.
Surprisingly, Team USA had won the previous three team matches and Lely said he placed extra emphasis on having his team turn that tide. But, buoyed by a crowd that poured down to the arena rail to interact with the players after every rack win, Team USA served notice that their counterparts were in for a spirited fight with a 5-3 victory. Van Boening and Styer both scored a pair of rack wins, with Domiguez adding another.
Team USA suffered a temporary setback in the first doubles match, with the crowd and television viewers getting their first glimpse of Strickland. Paired with Dominguez, Strickland looked less than comfortable and the World Cup of Pool championship duo of Sanchez Ruiz and Alcaide cruised to a 5-1 victory.
With the first singles match on tap, both captains served up a mouth-watering matchup to really get the party started, and it did not disappoint.
"The first singles match was a freebie," said Jones, noting that the match did not count against either player in the format's overall match sequence. "That match was usually on Day Three. We knew they'd put Filler out. They probably thought we'd play Shane, but he hasn't done well in that match and Sky really wanted that role."
Filler held the lead throughout, but at 4-3 in the alternate break format, Woodward dropped the match's first golden break to force a decider. Testing the resolve of the four-inch corner pocket openings (quarter-inch bigger at the side pockets), Filler rattled a long 1 ball and Woodward cleared the table to steal the match, give the U.S. another lead and send the crowd into delirium.
Delirium then gave way to bedlam when Van Boening and Styer teamed up to win another hill-hill thriller, 5-4, against Shaw and Ouschan, giving the Yanks a 3-1 overnight lead.
"The USA team showed its fight," noted Lely after the event. "They showed fight last year too, but it looked like they had more belief this year."
DAY TWO
An added attraction in recent Mosconi Cups has been the Fan's Choice matches, in which fans around the globe determine the tastiest matchup through online voting. In addition to a Fan's Choice singles match, Matchroom added a Fan's Choice doubles match in 2022, with the caveat being that the players chosen in the singles match could not be voted into the doubles match. Day Two started with the Fan's Choice singles match, and it was obvious to all the moment Strickland was selected for Team USA that he would be voted to play his verbal nemesis, Shaw.
The voting appeared to penalize Team USA by forcing Jones to use his No. 5 player (Strickland) against Europe's top Mosconi Cup weapon, two-time MVP Shaw. But Strickland had the U.S. crowd entertaining visions of a miracle and 4-1 match lead when he jumped to a 3-0 lead. But at 3-1, Strickland missed a medium cut on the 8 to the corner. The dejected former Mosconi Cup hero slumped back into his chair. From that point, Strickland could barely muster a multi-ball run, missing another shot and scratching while losing the next four games. During match breaks, Strickland could be heard mumbling to his encouraging teammates, "I don't belong here."
The momentum seemed to instantly swing, with Filler making a crucial jump shot at 3-3 against Van Boening enroute to a 5-3 win and Styer (paired with Dominguez) missed a critical shot at 3-3 to allow Ouschan and Filler to pull out another 5-3 win, pushing Europe in front in the match score, 4-3.
"We were up 3-0 in one match, 3-1 in another and tied 3-3 in the third," Jones commiserated later. "We could have easily won at least one of those matches."
Thankfully, Woodward, whose penchant for rising to the occasion at the Mosconi Cup is becoming almost legendary, was on deck to face the game's hottest player, Sanchez Ruiz. Trailing 2-0, Woodward got a fortunate roll when a banked 6 ball missed but found a pocket on the second bank.
The shot spring-boarded the Kentuckian, who raced to a 4-2 lead, only to have a global broadcast outage put the match on ice for more than 20 minutes. The fidgety crowd sensed another possible momentum shift, with Sanchez Ruiz escaping to the Team Europe practice room to regroup. Instead, Sanchez Ruiz returned to the table following the restart of play and promptly broke dry. In less than three minutes, Woodward put a finish to the match to level the overall score at 4-4.
The fallout from the delay, however, forced Matchroom to push the day's final match — a doubles tilt pitting Van Boening and Strickland against Shaw and Alcaide — to Day Three, which would now feature six matches.
DAY THREE
In what would prove to be the pivotal day in the 2022 Mosconi Cup, the U.S. lineup featured a heavy dose of Strickland (twice slated for doubles action) and required singles matches for Strickland, Styer and Dominquez. With the knowledge that the Strickland/Van Boening doubles match was moved to Day Three, and that his Nos. 3, 4 and 5 players would have to play singles, many questioned Jones' choice of Strickland with Woodward in the day's second doubles match.
"Honestly, I didn't understand using Earl three times in one day," admitted Lely.
"That's the move I'll get questioned for," concurred Jones later. "I certainly see the argument for putting Tyler in with Sky. But going in, I felt like Earl was going to play well. I watched him and Shane practice. I liked them together. Plus, everyone is going to have a rough match in Mosconi, and I thought Earl could reset better than some of the other options. I thought Earl and Shane would win, and that momentum would carry over to his singles match. He was also pumped to play with Sky.
"We knew we had Tyler, Earl and Oscar in singles," he continued. "But we were hoping to have a little lead then. And there are just as many doubles matches as singles in the first three days, and we'd been really strong there."
"They were very strong in doubles," Lely agreed. "And they were winning the hill-hill matches. I can see they're getting closer."
Lely's point was proved in the opener, with America's veteran duo withstanding a fluked 9 from Shaw and running out the final rack for a 5-4 victory and a 5-4 overall lead. It was Strickland's first point aside from the team match and it occurred in Van Boening's 100th Mosconi Cup match. A combination of joy and relief came over Strickland, who collapsed into his teammates' arms following the win.
But the Team USA's Achilles Heel was evident through the remainder of the day, dropping all three singles matches, while winning two of three doubles contests. Styer was first out, facing Alcaide, who had looked uncomfortable in the previous doubles match with Shaw. But the 43-year-old veteran stormed to a 5-2 win, the beneficiary of strong breaks and open layouts, while Styer's impressive break shot deserted him at the worst possible time.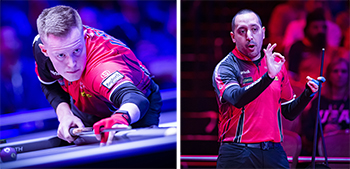 Team USA, with Dominguez (right) and Styer (left) was A-OK after Day One.
With the match once again leveled, Woodward tried in vain to regain the lead and leave Strickland with some momentum heading into his subsequent singles match against Ouschan. But the American duo never looked in synch, and the up-tempo pairing of Filler and Sanchez Ruiz raced to a 5-2 win, culminated by Sanchez Ruiz's golden break to end the match.
Strickland once again jumped to a quick lead in his singles contest, leading Ouschan 2-0. But once again, several questionable decisions and critical misses buried the legend's chances and the quiet, steady Ouschan rattled off five straight games for a 5-2 victory. The win pushed Team Europe's match advantage to two games at 7-5. Once again, Team USA's stars stopped the bleeding, with Van Boening and Woodward pitching the event's sole shutout, an emphatic 5-0 pasting of Team Europe's golden boys, Shaw and Filler. As the Americans approached the match-winning 9, Woodward used his extension to high five and fist bump U.S. fans who'd stormed from the bleachers in celebration. Again, the Bally's ballroom was sent into a raucous frenzy, with Team USA back within a match, 7-6.
While a bevy of missed shots and squandered opportunities would haunt Team USA following the contest, it was the day's final match — Dominguez versus Shaw — that proved to be, perhaps, the most critical moment in the 2022 Cup.
A win by the Americans would send the event into its final day tied, 7-7. A tied overall score would give each captain complete freedom (although likely a sleepless night) in setting its lineup for the final day, which concludes with all five players required to play singles and a captain's choice single match to decide the Cup if the overall score is tied at 10-10.
A two-match advantage, however, completely changes the lineup dynamic, with the trailing captain all but forced to front load his lineup to try to get his team even, and then hoping for the best if the team can extend the contest. Conversely, a two-match cushion allows the leading captain to save his best players for the last few matches, knowing that the opposing side will have already used its best players early.
While Dominguez was clearly the underdog against Shaw, the Scotsman had looked ordinary in the previous doubles match and was well under his MVP form overall. But like Alcaide, Shaw suddenly got hot while Dominguez couldn't seem to get a ball to drop on the break. The match was knotted at 2-2, but another critical U.S. miss was all it took for Shaw to streak to a 5-2 win and ensure the Euros a two-match advantage heading into the final day.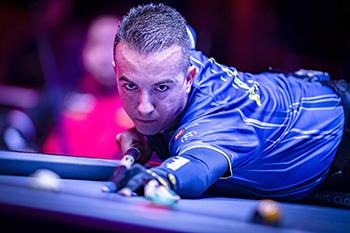 Alcaide brushed off any criticism with a sterling performance.
"The players who lost in doubles and then came back to win in singles — David, Jayson, Albin — to me was the key," understated Lely. "And the time between matches is very intense in the moment. You only have a few minutes to take the player from what happened in the previous match to what needs to be done in the next match. "Missed shots or bad rolls will stay with some of the players more than others," he continued. "You have to get them 'there' quickly. Most times, you have to get them to be more aggressive and less tentative."
DAY FOUR
The importance of the Dominguez/Shaw match on Day Three was magnified on the final day, which started with the Fan's Choice doubles match. With Strickland having already played the Fan's Choice singles contest, it was all but certain that America's top pairing of Van Boening and Woodward would get the call in doubles. While most pundits assumed Filler would be paired with Sanchez Ruiz for the Europeans, the fans chose the World Cup winners, Sanchez Ruiz and Alcaide, instead. The Americans were up to the task against the seasoned Spaniards, storming to a 4-2 lead and securing the point with a 5-3 win.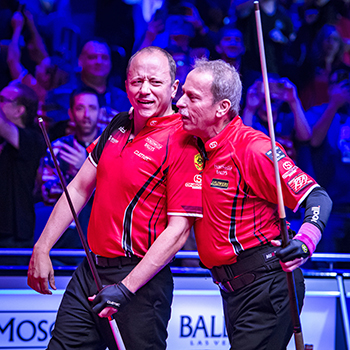 Strickland (right) earned a point with the help of Van Boening.
That set the table for a singles lineup that featured Woodward returning to the table against Alcaide. With a win, Woodward, a near-perfect human highlight reel throughout the event, would pull the U.S. even, with Van Boening on deck to face Shaw.
True to form, Woodward blazed to a 3-1 lead and appeared on his way to a 4-1 cushion when a long reach diagonally across the table and already exhausted extension caused him to poke at a 7 ball. The stunned crowd could only watch as the ball rattled and hung in the jaws of the pocket.
"I thought I could reach the shot with my cue extension," Woodward said later. "When I got down, I realized I couldn't put a stroke on the cue ball. There were only 10-12 seconds left, so I didn't have time to get the bridge. I just had to shoot, and it caused me to poke it. I punched it right into the rail. After that, everything went their way."
Alcaide still had work to do, jumping over the 8 to pocket the 7, then going rail first to pocket a long, almost straight shot along the rail on the 8. From there, Alcaide, like Shaw and Ouschan, found an almost unstoppable rhythm and won three more consecutive racks to deflate the American crowd and reestablish Team Europe's two-match cushion.
Upon depositing the final 9, Alcaide slapped his hands on the table, yelling in Spanish, "Here is where I do my talking!"
"Of course, it was a big surprise when he missed," Alcaide said. "Then I made a few big shots to get going. They played so great in the doubles, it made the singles match tough. I just tried to stay strong. It was maybe the biggest point for my team."
In addition to stealing a point that Team USA was counting on, the respected Spaniard vanquished the fans who criticized — sometimes in very personal social media assaults — his selection to the team.
"This has been hard on my family," he later admitted. "Some people say terrible things. Very personal."
"I feared the rail-first shot by David," Jones admitted. "It's the kind of shot that takes away the nerves and he's so good at those shots. It's the type of shot that can get you going, which is what it did.
"Meanwhile, if you take away that one shot, it's an absolutely complete Cup for Sky. He played a Mosconi Cup at a level that not many players reach."
Things went from bad to worse in the next match, as Shaw tortured Van Boening with maddening rolls that seem to get the American off his game. Leading 2-1, Van Boening could only shake his head when Shaw missed a shot, only to leave Van Boening hopelessly snookered. The miss resulted in Shaw eventually gaining ball in hand. Shaw promptly hooked himself but escaped with a jump shot. At 2-2, both players badly missed multiple shots. Eventually, Shaw seized control of the match and took Europe to the hill with a 5-3 win. Despite posting an overall Total Performance Average (TPA) of just .827 through the event, Shaw went 3-0 in singles play.
Needing to win the final three singles matches to force a captain's pick match, Team USA sent out Styer, who had played well throughout the Cup, to face Filler. Filler, who sank the final 9 and earned MVP honors in this first Mosconi Cup in 2017 in Las Vegas, took advantage of frustration and wild attempts by Styer to bolt to a 4-1 lead. But the determined Wisconsin native clawed his way back into the match and seemed to have momentum on his side and the crowd in full throat as he worked through a rack that would have tied the score at 4-4.
Instead, Styer missed a cinch 8 ball in the top corner. He stood up, his left hand cupping the back of his head in utter disbelief.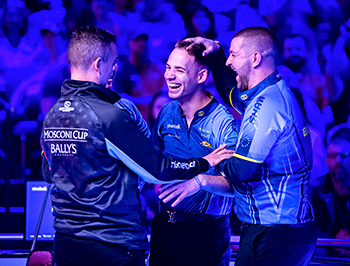 Filler had his ups and downs, but earned his second MVP trophy.
"I was trying to avoid the point on the side pocket," said the despondent Styer. "So, my focus was on the cue ball instead of the object ball, and that's always a mistake."
To his credit, and to the admiration of the pro-U.S. crowd, the normally demonstrative Filler (the same player who jumped up and down, pumping his fists after a fluked 9 in the opening team match!) made quick work of the final two balls and immediately consoled Styer before starting the ultimate celebration with his squad.
"I told him I was sorry about that miss," Filler said. "I thought for sure it was going to be 4-4. He made a great comeback.
"I won MVP, but I missed a lot too," Filler added. "Lots of pressure out there, the table was tough, the break was unpredictable, and the noise was unbelievable. This is how it's supposed to be." Surprisingly, the post-match celebration was subdued, likely due in part to the exhaustion that seemed to overcome both teams at the event's conclusion. Team Europe even stood atop the match table facing and applauding the American fans.
"This was the best Mosconi ever," gushed Woodward. "When we needed them, the fans were on point. I love it like this. I hope there are 5,000 fans in London next year."
"It was wild," concurred Shaw. "They really put a lot of heat on us. This year was closer and more of a grind than last year."
"This was so intense," added Ouschan. "It's crazy but crazy good. It's more intense here than in London because of the mentality of the American fans. In Europe, if you don't perform your fans will sometimes turn against you. That would never happen to the American players over here. There's too much respect."
Much of that respect was aimed at Strickland, who Jones said was overwhelmed on Day Three by how much the crowd was behind him.
"It really hit him when he realized how many people were there cheering for him," said the captain. "I'm disappointed in my performance," Strickland said. "It's amazing I'm here at 61, but I had opportunities to win a couple of points. The atmosphere was unbelievable. The table was very difficult. Everybody was missing balls."
Woodward carried Team USA with a near-perfect performance in Las Vegas.
"It was a great event with a lot of tension," said the winning captain, who subsequently announced his decision to not seek a fourth year at the helm of Team Europe. "The heat was okay. It's how it should be. I definitely wasn't sleeping well. And Team USA played well. It would have taken very little for this event to go to the very end."
Still, the difference between the squads is apparent in the scoreline. Woodward was the only Team USA player to win a singles match (winning two of three). The other four players combined for an 0-7 record in singles. Also, the team failed to earn a single point in a match that did not include either Van Boening or Woodward.
"You have to get the younger players to contribute those extra points," Jones said. "We have to start looking ahead to younger players with good training. They need to train better and have better results in tournaments. Shane and I talked about it. We need three strong players to win the Cup, and right now we're still at two of the level needed.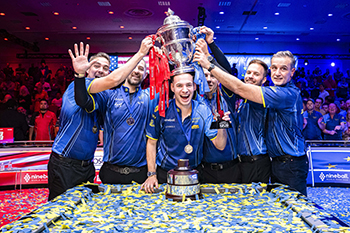 Team Europe played a heady Mosconi, with (l-r) Sanchez Ruiz, Shaw, Filler, Alcaide, Ouschan and Lely once again lifting the hardware.
"Whether I'm involved or not," he continued, "my goal is to get some of these young players going. When they get around better players and have better thoughts, you just never know when one is just going to take off. It takes a lot of training and knowing how to get there the right way."
One thing was evident in Las Vegas. When those young players do arrive, thousands of U.S. fans will be in the stands waiting to explode.