Current Issue

Previous Page Page 2 Next Page >



8-Ballers Enjoy Sleep of the Victors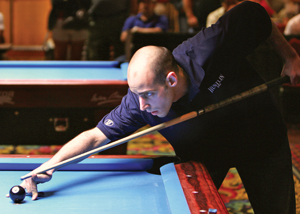 Barnes played some mean 8-ball, taking titles in singles and team divisions. (Photo © Ashi Fachler, BilliardPhotos)
The first singles championship match pitted Danny Barnes of Monroe, Mich., against Samuel Kirby in the Men's Open Singles division. Kirby had a dispassionate, poker-player's gaze as he sized up the table for his runouts. Despite his position in the hot-seat, Barnes, 23, watched every roll with a furrowed brow and lined up his shots with the grave expression of a man defusing a bomb. A crowd stood on chairs for a better view as Barnes pulled away for victory.

He seemed remarkably calm for a man who'd just beaten out about 1,500 division-mates ("One thousand, four hundred and eighty-six, exactly," he said) for $11,000. "I just keep my eyes on winning, grind it out, stay in there and keep myself focused," he said.

It wasn't quite time for a victory lap yet. "We've got a team event starting tomorrow," he explained, as a group of guys that looked like the Beastie Boys or the cast of "Entourage" loomed over his shoulders. Their team name was "Hustlin'."

"We got a pretty good team, so we're hoping to win that one too," Barnes said of the Men's/Mixed Open Team division.

The Men's Super Senior Singles division was a good-natured contest between two old lions: Donald Harp and master-level pool instructor Randy Goettlicher. Goettlicher wore a shirt with the logo of his Houston-area billiards academy. One audience member watched him intently, murmuring, "I took a class with him about three years ago - it was amazing." The between-shots banter between the competitors was nearly as entertaining as their game. After Harp feigned playing his pool cue like a guitar, he grinned as his opponent surveyed the table.

"You think you can make it?" Harp asked.

"What do you think?" Goettlicher smirked back, as the 12 bounced off the rail and clacked neatly into the pocket. But Harper would leave with first place and $3,000.

One table over, the Men's Master Singles final was in full swing, as Jeff Boucher faced off against 20-year-old Justin Bergman. With spiky blonde hair, an enormous polo shirt and a habit of applying extra flourish to his windup stroke, Bergman was a stark contrast to the black-clad, no-nonsense, Diet Coke-swilling Boucher.

Hot-seat dweller Bergman won the match, 7-3, while Boucher walked away shaking his head. "I didn't break good, he did," Boucher said. "He ran away from me, and that's how it goes."

Despite not even being old enough for a celebratory cocktail, Bergman didn't get to the winner's circle on luck. "I've been playing since I was 5," he said. "My dad got me into it. But I got better than him when I was, like, 6. I've been playing in tournaments since I was 8. I got second-place here two years ago in the Open."

The real crowd-pleaser of the day - and the match people would still be chatting about days later - was the Women's Open Singles final between Campos and Rakin.

Once Campos had broken into the top 16, "I breathed a big sigh of relief, because I had done what I set out to do," she said. "I started playing loose. And I was running out good."

She went undefeated through the final. There she met teenager Rakin of Daly City, Calif. - the winner of the 2006 and 2007 World Junior Championships. It was a compelling pairing - semi-celebrity Rakin against Campos, confined to a wheelchair due to a lifelong muscular malady.

Rakin forced a deciding set, which went down to the wire. Tied at 2-2 in the race-to-4, Rakin broke and ran out. Campos returned the favor, setting up a hill-hill game. After the winning 8 ball rimmed out for Rakin, Campos cleared her last two balls and was straight-in on the 8.

"Mary came over and gave me a hug; she was a great sport," Campos said.

Rakin went immediately to the final of the Scotch Doubles Open division with partner Colin Mazaika. She hung tough after her defeat to Campos, but the division-winning match went to Michael and Susan Williams of Chandler, Ariz. Coming from the one-loss side, Rakin and Mazaika pulled off a 4-3 victory in the first set, but lost a hill-hill heartbreaker in the second.

Meanwhile, Campos had a quick celebratory drink with friends at the Riviera's Splash Bar and then headed upstairs to call her parents. She meant to continue her evening, but, ironically, fell asleep.


Previous Page Page 2 Next Page >

Top