Current Issue

Previous Page Page 3

Versatile Hopkins a Player First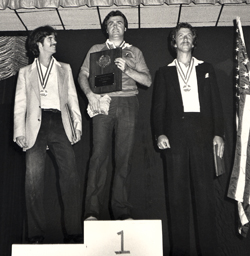 Hopkins won in a golden era that included Keith McCready, left, and Rempe.
Among his most vivid memories, Hopkins recalls beating the legendary Lassiter in a 1,000-point straight-pool match for $5,000 at Mike Ash's room in the early '70s.

"I was such a young kid back then," he recalled. "I had an unbelievable balls-per-inning average in that match, and 'Wimpy' called me a 'young whipper-snapper,' and said it was some of the best shooting he'd ever seen. "Imagine that coming from Luther Lassiter."

Hopkins also recalled taking just two innings to beat Jean Balukas at the PPPA World Open in 1980.

"I was so psyched up to play her," he remembered, adding that Balukas was far and away the best woman straight-pool player ever. "She'd beaten a few pretty good players, including Cisero [Murphy], and I was afraid to even let her get to the table."

And while Hopkins had a birds-eye view of all the top players of his generation, it takes him only a second to name the very best of the best.

"Mike Sigel was the best pool player I ever saw," Hopkins said. "He was never the underdog. Ever.

"Buddy Hall was the best 9-ball player," he added. "And Efren is the smartest player I've ever watched."

Sigel and Hall were just as quick to repay the compliments.

"Allen was a great player," said Sigel, when informed of Hopkins' selection. "He was always at the top in 14.1. And he was also a great one-pocket player. Those two games required brains, and he has all the knowledge.

"He ran out as good as Efren or anyone, but I always felt like the break shot is the only thing that kept him from winning more 9-ball titles. He didn't have the break to string racks, but if he did get a shot the game was over."

"I think I played Allen in the finals more than any other player," added Hall. "We had similar games. Allen and I both played the thinking game, the position game. ... We weren't slammers.

"In fact, Allen and I were the only players who consistently beat Efren when he first came over. He was such a smart player. He deserves where he's at today."

And where Hopkins is "at," is the pinnacle moment of his career, a moment he vows to cherish.

"Getting into the Hall of Fame is the perfect topping to any career," he said. "There's nothing greater you can add to your resume. And it makes my career worth all the effort.

"Winning tournaments is great. And trophies are great, because no matter how bad your game gets or how far removed from the game you get, they can't go back and say you didn't win. They can't take that away from you. And the Hall of Fame is the highest form of proof of that. I'm in the Hall of Fame for my accomplishments, and they'll always be there."

And while he still competes, Hopkins' hope for the future doesn't revolve around more titles or accolades.

"I still hold out hope," he said, "that someday I can sit on my couch and turn on the TV and there will be pool players playing for big money.

"I love this game, and a lot of the things I did, I did for the players. I want to see the day they hit it big."


Previous Page Page 3
Top